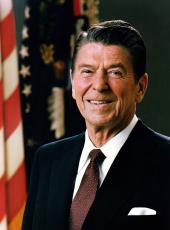 Remarks on the Observance of the 25th Anniversary of the Office of the United States Trade Representative
The President. Clay and Jim Robinson, Senator Long, I appreciate this opportunity to join you in commemorating the 25 years of service of the Office of the U.S. Trade Representative. This office was organized in 1962—and maybe you've been told that already-to enable the Executive Office of the President to provide leadership and coordination in the conduct of our trade policies.
I want to extend a personal word of congratulations to Clayton Yeutter for the terrific job that he's been doing, along with the rest of you, in championing the cause of free and fair trade among the nations. Clayton, I'm grateful for all you've done. The U.S.-Canada Free Trade Agreement and the Uruguay Round negotiations are two examples of the outstanding contributions you and your staff are making to achieve a more open world trading system. You've got a lean, mean fighting machine here, Clayton. [Laughter] All working Americans, as well as consuming Americans, rely on the talent and the dedication all of you put into your job. You've got a team of which to be proud.
I understand that a new fellowship you've just been told about, and I've just learned about, has been established to provide advanced training for your USTR negotiators in honor of Senator Russell Long. He served for 15 years as chairman of the Senate Finance Committee and was always a champion of responsible trade policy. Senator, I hope our future negotiating team will be as tough and responsible as you always were.
I heard a story recently about two fellows who were always on the same team. They played baseball together all the way from the sandlot games, through high school and college and finally right into the major leagues. And then, tragically, one of them died. It was about a month after the funeral, and his buddy got a phone call—picked up the phone and heard his friend's voice. And he said, "Is that you?" And he said, "Yes, don't be afraid. I just want to tell you what heaven is like." "Well," he says, "okay, what's it like? .... Well," he says, "there's good news and bad news." He said, "The good news is there's baseball up here," and he said, "and I'm playing second base, just like always." "Well," he said, "what's the bad news?" He said, "You're slated to pitch this coming Tuesday." [Laughter]
Well, there's bad news and good news about trade. The bad news is that the trade deficit remains far too high, and we must remain absolutely diligent in our efforts to bring that deficit down. And that's the bad news. The good news is that solid progress has been made. The latest figures give us reason for hope—not reason to let up, mind you, but reason for hope. September figures released last week show both an $800 million increase in exports and an $800 million decrease in imports. The trade deficit dropped by 1.6 billion, down to 14.1 billion, the best showing in 4 months. Manufactured exports were up a strong 1.1 billion.
Progress against the trade deficit is taking place on a wide front and in every major trading market. The trade deficit with Japan dipped slightly. And it's still far from satisfactory, but better than the previous month's $4.9 billion high. At the same time, imports from the European countries, or the European Common Market, I should say, fell by $400 million, while exports rose by 325 million.
Perhaps one of the greatest misconceptions about today's economy is the idea that our country is no longer producing those products, that, somehow, America's becoming deindustrialized. Well, to paraphrase Mark Twain, the reports of the death of America's industrial base have been greatly exaggerated. In fact, as a percentage of real gross national product, manufacturing has remained almost constant since 1960. Now, that's not to suggest stagnation. In fact, we've been living through a time of great change in American manufacturing. Foreign competition—which is one of the positive and indispensable roles such competition plays—has spurred on our domestic producers to improve quality, bring down costs, and to invest in state-of-the-art technology.
One of the goals of our economic recovery program, early in the administration, was to encourage much-needed investment in America's manufacturing infrastructure in order to meet foreign competition. Today, we can see it beginning to pay off. Our working people are still the most productive in the world because they've got the modern tools and equipment needed to keep them competitive. In fact, worker productivity in manufacturing grew at an annual rate of nearly 5 percent since the recovery began. Now, that's the right way of protecting American jobs, and it seems to be working. Manufacturing output during this expansion has increased 37 percent. And while the service sector has grown faster, manufacturing has still moved forward. Manufacturing profits are up, and those September figures tell us that manufactured exports are 20 percent higher than a year ago.
These positive figures underscore the importance of sticking to a responsible program to bring down the trade deficit, rather than succumbing to irrational calls for protectionism. This is especially true when the volatility of the stock market is all too apparent. How many times does it have to be repeated that the Smoot-Hawley tariff helped bring on the Great Depression before the protectionists will back off?. When I hear about some of the protectionist ideas floating around Capitol Hill, I can't help but recall a quote that is attributed to Yogi Berra: "It's a deja vu all over again." [Laughter]
Well, we're not about to let anything that will destroy our country's economic wellbeing happen all over again. I recently received a letter, cosigned by 38 Members of the Senate, pledging to oppose enactment of economy-killing protectionist legislation. Now, that's the kind of letter I enjoy getting from Capitol Hill.
What we must do now, and much of this falls on your shoulders, is make certain that our manufacturers get as fair a shake overseas as importers get here. Now is the time to be opening markets and hammering out agreements that will increase the flow of trade and not restrict it. So, we're all counting on you to be aggressive in promoting the interests of our country and in furthering the cause of an open and fair trading system. All I can say is: I have absolute confidence in you, and I appreciate the fine work that you're doing.
I couldn't help but see when I came in some signatures up there, and I can't resist an opportunity to autograph— [laughter] —
Mr. Yeutter. We'd be pleased, Mr. President. We'd be delighted.
The President. I will. I have to tell you all that one of the reasons why I'm so anxious to do that was, back in those days when I was in show business, I—oh, you've got a pen all ready

Mr. Yeutter. I got a good one.
The President. I was on Fifth Avenue in New York walking down the street, and a man about 30 feet ahead of me, coming this way stopped, pointed, and he yelled, "I know you. I see you all the time on the screen and on television." And he starts toward me. Well, you know New Yorkers-they all kind of stood back on the street, and everybody stopped. And he came down the lane between them, reaching in his pocket for a pen and paper—and he's talking all the time—and he gets there to me, sticks out the paper and the pen and says, "Ray Milland." [Laughter] So, I signed "Ray Milland." There was no sense in disappointing him.
Note: The President spoke at 1:21 p.m. in Room 450 of the Old Executive Office Building. In his opening remarks, he referred to Clayton Yeutter, United States Trade Representative, and James D. Robinson III, Chairman of the President's Advisory Committee on Trade Negotiations. Following his remarks, the President signed an anniversary card for the Office.
Ronald Reagan, Remarks on the Observance of the 25th Anniversary of the Office of the United States Trade Representative Online by Gerhard Peters and John T. Woolley, The American Presidency Project https://www.presidency.ucsb.edu/node/251722