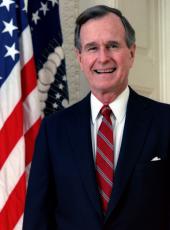 Remarks on the Observance of Hanukkah
The President. Thank you very much, all of you. I particularly want to single out Rabbi Zaiman. From now on in the White House, we'll be thinking in terms of a thousand and nine points of light over here. I'm sorry Barbara is not here. She started to walk over here, and then there was this catastrophic ice skating accident in which one of our grandchildren bit the dust and is now getting a stitch in his lip. So, life goes on, and she is very sorry not to be here.
We're grateful to Rabbi Zaiman and the Synagogue Council of America for the gift of this menorah. And Dan Quayle and I talked about it, and I assure you that it will stand proudly here, as it stands around the world, as a powerful symbol of faith and freedom. This menorah, this ancient vessel of light, is an eloquent statement of the Jewish people's struggle in history's first recorded battle for religious freedom. It shines with courage and with constancy, with conscience and with strength in the centuries-long struggle for religious tolerance.
Hanukkah, I've learned, has always been an observance of optimism, a holiday of hope and steadfastness. And it comes in the darkest time of year as a hopeful beacon in a long and moonless night. Just as each new candle adds to the menorah's light, each year brings new meaning in Hanukkah's observance. And just as Masada symbolizes resistance against great odds, and strength in adversity, it is faith that provides mankind's most enduring refuge. Tomorrow, as candles are lit around the world, their light will affirm that faith. And this year, the Feast of Light may shine more brightly than ever before. In the midst of great and wondrous changes in Eastern Europe and the Soviet Union, we can see new hopes, new opportunities for freedom, and new reason to have hope worldwide.
As you know, I met recently with Chairman Gorbachev, and I presented him with the names of 20 refuseniks that deserve freedom. The first one on that list was Vladimir Raiz. His wife, Karmella -- somewhere with us today. Karmella, will you stand up? [Applause] Let me assure you, we'll do all in our power to free your husband and those like him. And if I ever slip, if I ever look like I don't remember fully, the man sitting next to you, [Secretary of Housing and Urban Development] Jack Kemp, who has been in the forefront of the fight for Soviet Jewry and the fight to release refuseniks -- he'll be all over our case. So, we'll get the job done.
For the sake of the children who are with us today, from countries that still deny freedom of faith, we will strive for the religious freedom their parents have never known. Even kids who grow up here in America face problems because of faith -- their own faith, but here those problems have answers.
When a local temple here was desecrated by two high school students, ministers and the surrounding community came together in support of the congregation and their rabbi, Laszlo Berkowits, who's with us today, too. Where is Laszlo? Right there. Welcome, sir. And kids at the high school -- all faiths, all faiths -- banded together, planting a dogwood tree at the temple to symbolize growth, renewal, and friendship.
And when Rabbi Berkowits went to the school and powerfully described his experiences in concentration camps, including Auschwitz, all eyes were upon him. Some -- we all know that feeling -- some filled with tears, but no heart was untouched. The rabbi's survival of the Holocaust had only affirmed and strengthened his commitment to religious tolerance, religious freedom, and respect for diversity.
Just as the Temple of Jerusalem was rededicated on Hanukkah, so are we rededicated to freedom of faith around the world. We will keep the light of hope burning, always before our eyes. And so, "The light of a candle," wrote Bahya Ben Asher, "is useful when it precedes you. It is useless when it trails behind." And so, we must look forward to a day when no nation interferes with the faith of any of its people.
Thank you all very much for coming to the White House today, and allow me to wish you all a very Happy Hanukkah and a great and prosperous 1990. Isn't it exciting as we look down the road into the 1990's at the end of this year of change, 1989! Thank you all, and God bless you.
Note: The President spoke at 11:29 a.m. in Room 450 of the Old Executive Office Building to members of the Jewish community. In his opening remarks, he referred to Rabbi Joel Zaiman, president of the Synagogue Council of America.
George Bush, Remarks on the Observance of Hanukkah Online by Gerhard Peters and John T. Woolley, The American Presidency Project https://www.presidency.ucsb.edu/node/264374