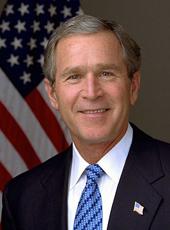 Remarks on the Nomination of R. James Nicholson To Be Secretary of Veterans Affairs
The President. Thank you all. Please be seated. Good morning. I'm pleased to announce my nomination of Ambassador Jim Nicholson to the—to be the Secretary of Veterans Affairs.
Jim Nicholson is a patriot, a man of deep conviction who has answered his country's call many times. As a young man from Iowa, raised in modest circumstances, he became a cadet at West Point in the late 1950s and went on to become an Army Ranger and paratrooper. As a Ranger, he fought in Vietnam, where he won multiple decorations for bravery in combat, including the Bronze Star and the Combat Infantry Badge. After 8 years on active duty, he joined the Army Reserves, where he served for 22 more years before retiring as a full colonel.
Throughout his career, Jim has shown the same honor, integrity, and commitment to service that defined his life as a military officer. He and his wife, Suzanne, have given back generously to their community and have been leaders in numerous volunteer causes in their home State of Colorado. He was a respected chairman of the Republican National Committee. And for the past 3 years, he has served as the United States Ambassador to the Vatican. Jim has worked with the Vatican to advance many vital foreign policy goals, including fighting poverty, hunger, AIDS, expanding religious liberty around the world, and ending the brutal practice of human trafficking.
I'm grateful to Jim for his superb work as our Ambassador, and I now have asked him to accept a new assignment, to serve his country and his fellow veterans.
As Secretary of Veterans Affairs, he will lead a department of more than 230,000 employees responsible for ensuring our Nation's—that our Nation's veterans receive the health care and other benefits our country has promised them. Twenty-five million Americans are military veterans who stepped forward to serve when the Nation needed them. The Nation owes them in return a VA that is dedicated to effective, prompt attention to their needs. That has been a commitment of my administration for the last 4 years, and it will remain a commitment for the next 4 years.
When confirmed by the Senate, Jim Nicholson will succeed Tony Principi, who has been a fine member of my Cabinet. Secretary Principi is a man who insists on results, and he has gotten results. Thanks to his leadership, veterans and their families have seen many improvements in VA services. They're receiving better care, and their claims are processed more quickly. Tony Principi has made it the Department's highest priority to assist veterans with service-related disabilities, low incomes, and other special needs. He's also launched a program to help homeless veterans find permanent housing. In all his work as Secretary of Veterans Affairs, Tony Principi has shown himself to be an outstanding executive, a friend to his fellow veterans, and a goodhearted man. I'm proud of his service, and I wish him and Liz all the very best.
Jim Nicholson will build on Tony Principi's achievements in continuing to modernize the VA, especially the VA health care system. Jim has the judgment and the character and the management expertise to do this job well.
I thank him for agreeing to serve. I also thank Suzanne and other members of their family. I want to thank their son Nick and his wife, Charlotte; daughter, Katie, and son-in-law, Bo. I hope the Senate will confirm Jim Nicholson very soon. I look forward to welcoming him to my Cabinet.
Congratulations.
[At this point, Secretary-designate Nicholson made brief remarks.]
The President. Good job, Jim. Thank you. Congratulations.
NOTE: The President spoke at 9:47 a.m. in the Roosevelt Room at the White House. The transcript released by the Office of the Press Secretary also included the remarks of Secretary-designate Nicholson.
George W. Bush, Remarks on the Nomination of R. James Nicholson To Be Secretary of Veterans Affairs Online by Gerhard Peters and John T. Woolley, The American Presidency Project https://www.presidency.ucsb.edu/node/212664