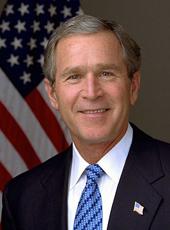 Remarks on the Nomination of Michael O. Leavitt To Be Secretary of Health and Human Services
The President. Thank you. Good morning. I am pleased to announce the nomination of Michael O. Leavitt as the Secretary of Health and Human Services. Last year I welcomed Mike to my Cabinet as the Administrator of the Environmental Protection Agency. In that office, he has enforced high standards and a spirit of cooperation and with good common sense. He has upheld this administration's commitment to sustain improvements in the quality of the natural environment. He has managed the EPA with skill and with a focus on results. I've come to know Mike as a fine executive, as a man of great compassion. He is an ideal choice to lead one of the largest departments of the United States Government.
The Department of Health and Human Services touches the life of every person in this country. From the safety of our food and medicine to the Medicare program to preparing for any kind of health emergency, HHS has comprehensive responsibilities for the health of Americans. To meet those responsibilities, the Department needs many thousands of skilled professionals and a leader who is able to act on many fronts all at once.
For the last 4 years, HHS has served the American people extremely well under the energetic leadership of Tommy Thompson. Early in his tenure, our Nation went on a wartime footing and had to prepare for emergencies of a kind never seen before. Secretary Thompson led the effort to prepare the medical infrastructure for any terrorist challenge.
At the same time, he has presided over dramatic increases in medical research, adding to the promise of hopeful new cures. He's helped set in motion major improvements in Medicare, which will benefit seniors all across America. He has worked closely with State and local officials to ensure that public health programs function as effectively as possible. And throughout his career as Governor and as Secretary of Health and Human Services, Tommy Thompson has led efforts to reform welfare laws and to help more people transition from welfare to work. Tommy Thompson is a good friend who has given every day of the last 38 years to public service. As he and Sue Ann move on to new challenges, Tommy has my deep gratitude for a job well done.
My new nominee for HHS Secretary, like Tommy Thompson, served many years as a Governor. The people of Utah elected Mike Leavitt to three terms, and during his administration, Utah was named one of the best managed State governments in the country. Governor Leavitt was a leader in welfare reform, resource management, and environmental stewardship. He improved child welfare services in the State and made strides toward expanding access to health care for children. He made government services more accessible through the Internet, and he always insisted that the government remain accountable to the people it serves.
When confirmed by the Senate, Mike Leavitt will be charged with a broad agenda for the health and safety of the American people. In this new term, we will implement the first-ever prescription drug benefit for seniors under Medicare. We will expand Federal cooperation with faith-based groups that provide essential services, such as counseling and treatment for addictions. We will continue pursuing the great promise of medical research, always ensuring that the work is carried out with vigor and moral integrity. We will not relent in our efforts to protect the American people from disease and the use of disease as a weapon against us.
Mike Leavitt is the right leader to lead HHS in meeting all these vital commitments. I thank him for accepting this new responsibility. I also thank his wife, Jackie, and their son Westin for being with us today. I urge the Senate to confirm Governor Leavitt's nomination as soon as possible.
Congratulations.
[At this point, Secretary-designate Leavitt made brief remarks.]
The President. Good job.
NOTE: The President spoke at 10:38 a.m. in the Roosevelt Room at the White House. The transcript released by the Office of the Press Secretary also included the remarks of Secretary-designate Leavitt. The Office of the Press Secretary also released a Spanish language transcript of these remarks.
George W. Bush, Remarks on the Nomination of Michael O. Leavitt To Be Secretary of Health and Human Services Online by Gerhard Peters and John T. Woolley, The American Presidency Project https://www.presidency.ucsb.edu/node/215289