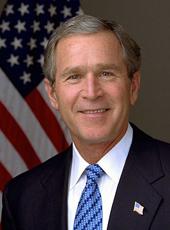 Remarks on the Nomination of John D. Negroponte To Be Deputy Secretary of State and J. Michael McConnell To Be Director of National Intelligence
Mr. Vice President, thank you. Madam Secretary, thank you for joining us. Ladies and gentlemen, welcome to the White House. I am pleased to announce that I intend to nominate Ambassador John Negroponte to be our next Deputy Secretary of State and Vice Admiral Mike McConnell to be America's next Director of National Intelligence.
Under the leadership of Secretary Rice, the men and women of the State Department are working to expand freedom and defend America's interests around the world. The Deputy Secretary of State is a key role in shaping American foreign policy and in guiding our diplomats deployed around the globe. The Deputy Secretary also helps our Nation's chief diplomat manage the State Department and helps coordinate with other Federal Agencies so that America speaks to the world with one voice.
I have asked John Negroponte to serve in this vital position at this crucial moment. John Negroponte knows the State Department well. After all, he started there in 1960 as a foreign service officer in the administration of President Eisenhower. In the four and a half decades since, he has served our Nation in eight foreign service posts, spanning three continents. He served as Deputy National Security Adviser to President Reagan. He represented America at the United Nations. He served as our first Ambassador to a free Iraq. And for nearly 2 years, John has done a superb job as America's first Director of National Intelligence.
John Negroponte's broad experience, sound judgment, and expertise on Iraq and in the war on terror make him a superb choice as Deputy Secretary of State. And I look forward to working with him in this new post.
Ambassador Negroponte leaves big shoes to fill as the Director of National Intelligence. The DNI has become a core part of our national security team. The DNI determines the national intelligence budget, oversees the collection and analysis of intelligence information, ensures that intelligence agencies share information with each other, and creates common standards for intelligence community personnel. The vigilance of the DNI helps keep the American people safe from harm.
Admiral Mike McConnell has the experience, the intellect, and the character to succeed in this position. He served as Director of the National Security Agency during the 1990s. He was the intelligence officer for the Chairman of the Joint Chiefs of Staff during the liberation of Kuwait in Operation Desert Storm. Admiral McConnell has decades of experience, ensuring that our military forces had the intelligence they need to fight and win wars.
He's worked with the Congress and with the White House to strengthen our defenses against threats to our information systems. He has earned our Nation's highest award for service in the intelligence community. As DNI, Mike will report directly to me, and I am confident he will give me the best information and analysis that America's intelligence community can provide.
I thank John and Mike for taking on these new challenges. I appreciate their service to our country. Each of them will do good work in their new positions. And it is vital they take up their new responsibilities promptly. I'm confident the United States Senate will also see the value of these two serving in crucial positions, and I would hope that they would be confirmed as quickly as possible.
Congratulations to you both. Thank you very much.
NOTE: The President spoke at 9:45 a.m. in the Roosevelt Room at the White House. The transcript released by the Office of the Press Secretary also included the remarks of Secretary-designate Negroponte and Director-designate McConnell.
George W. Bush, Remarks on the Nomination of John D. Negroponte To Be Deputy Secretary of State and J. Michael McConnell To Be Director of National Intelligence Online by Gerhard Peters and John T. Woolley, The American Presidency Project https://www.presidency.ucsb.edu/node/268983