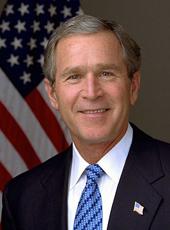 Remarks on the Nomination of Dirk Kempthorne To Be Secretary of the Interior
The President. Good afternoon. I'm pleased to announce my nomination of Governor Dirk Kempthorne to be the Secretary of the Interior. The Department of Interior is responsible for managing our national parks and public lands, conserving our natural resources, and pursuing environmentally responsible energy development on Federal lands and waters.
I've nominated Dirk to succeed an outstanding public servant, Gale Norton. As the Secretary of the Interior for the past 5 years, she was instrumental in establishing the Healthy Forests Initiative to protect communities from catastrophic wildfire and to improve the habitat. When Hurricane Katrina devastated the gulf coast region, she helped lead the efforts to restore offshore energy production so that Americans would not suffer further supply disruptions and price increases.
Future generations of Americans will be able to enjoy our great national parks and wildlife refuges because of Gale's untiring work. Gale was one of the original members of my Cabinet and the first woman in American history to hold the post of Secretary of the Interior. I appreciate her dedicated service, and Laura and I wish Gale and John all the best.
Dirk Kempthorne is the right man to build on this progress. As Governor of Idaho, he worked closely with Gale on a variety of important initiatives. They worked together to resolve a longstanding water rights issue, to return responsibility to Idaho for managing the local wolf population, and to make the Healthy Forests Initiative a reality in Idaho.
As Governor, Dirk has been a responsible steward of Idaho's 30 State parks and recreational trailways that serve millions of visitors each year. He has launched the statewide Experience Idaho Initiative, which will fund needed improvements within Idaho's State parks to preserve public spaces and expand recreational opportunities for visitors. Last August, I had a chance to enjoy those recreational opportunities firsthand when Dirk and I biked some of Idaho's trails together.
As Secretary of the Interior, Dirk will continue my administration's efforts to conserve our land, water, and air resources; reduce the maintenance backlog of our national parks; support historic and cultural sites through our Preserve America Initiative; and develop the energy potential of Federal lands and waters in environmentally sensitive ways.
Dirk brings wide experience to these important tasks. He has served at every level of government: as mayor of Boise, as Governor of Idaho, and as a United States Senator. While in the Senate, he chaired the Subcommittee on Drinking Water, Fisheries, and Wildlife, and he chaired the Armed Services Personnel Subcommittee.
He built bipartisan support to enact comprehensive reforms to the Safe Drinking Water Act. Dirk understands that those who live closest to the land know how to manage it best, and he will work closely with State and local leaders to ensure wise stewardship of our resources.
Dirk has had a long and abiding love for nature. When he and his wife, Patricia, were married, they chose to hold the ceremony atop Idaho's Moscow Mountain at sunrise. Dirk said, "I don't think there's a more beautiful cathedral than the outdoors."
I appreciate his willingness to take on this important post, and I ask the Senate to confirm him promptly as the 49th Secretary of the Interior.
Thanks for agreeing to serve.
[Secretary-designate Kempthorne made brief remarks.]
The President. Thank you all.
NOTE: The President spoke at 5:29 p.m. in the Oval Office at the White House. In his remarks, he referred to John Hughes, husband of Secretary of the Interior Gale A. Norton. The transcript released by the Office of the Press Secretary also included the remarks of Secretary-designate Kempthorne.
George W. Bush, Remarks on the Nomination of Dirk Kempthorne To Be Secretary of the Interior Online by Gerhard Peters and John T. Woolley, The American Presidency Project https://www.presidency.ucsb.edu/node/214598