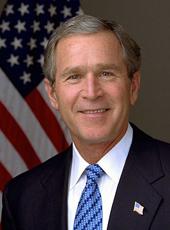 Remarks on the Nomination of Bernard B. Kerik To Be Secretary of Homeland Security
The President. Good morning. I'm proud to announce my nomination of Commissioner Bernard Kerik as the Secretary of Homeland Security.
Bernie Kerik is one of the most accomplished and effective leaders of law enforcement in America. In his career, he has served as an enlisted military police officer in Korea, a jail warden in New Jer-sey, a beat cop in Manhattan, New York City corrections commissioner, and as New York's 40th police commissioner, an office once held by Teddy Roosevelt. In every position, he has demonstrated a deep commitment to justice, a heart for the innocent, and a record of great success.
I'm grateful he's agreed to bring his lifetime of security experience and skill to one of the most important positions in the Federal Government. Bernie is a dedicated, innovative reformer who insists on getting results. As the head of New York City jails, he cut inmate violence by more than 90 percent. As Mayor Rudy Giuliani's police commissioner, he had great success in reducing crime in New York City. His broad, practical, hands-on experience makes Bernie superbly qualified to lead the Department of Homeland Security.
When confirmed by the Senate, Bernie Kerik will build on the historic accomplishments of Secretary Tom Ridge. As the Department's first leader, Tom oversaw the large reorganization—the largest reorganization of the Government in nearly a half-century. He met urgent challenges with patience and purpose, and because of his service, our country is safer.
Tom also carried out his duties with skill and honesty and decency. He's been my friend for more than 20 years. He is one of the great public servants of our generation. Tom Ridge has our Nation's gratitude; he's got my gratitude; and I wish he and Michele all the best.
My nominee to succeed Secretary Ridge has the background and the passion that are needed to protect our citizens. As police commissioner on September the 11th, 2001, Bernie Kerik arrived at the World Trade Center minutes after the first plane hit. He was there when the Twin Towers collapsed. He knew the faces of the rescuers who rushed toward danger. He attended the funeral of the officers who didn't come back. Bernie Kerik understands the duties that came to America on September the 11th. The resolve he felt that morning will guide him every day on his job. And every first-responder defending our homeland will have a faithful ally in Bernie Kerik.
As he prepares for new responsibility, Bernie Kerik has the love and support of his family, his wife, Hala; his children, Joseph, Celine, and Angelina and Lisa. He will always be inspired by his father and hero, Donald Kerik, Sr., and his caring stepmother, Clara. Bernard Kerik has devoted his life to protecting his fellow citizens, and his example has led many others to take up that calling. He loves his country. He has gained the trust and admiration of millions. I call on the Senate to promptly confirm his nomination as the Secretary of Homeland Security.
Thank you for serving, Bernie, and congratulations.
Secretary-designate Kerik. Mr. President, thank you.
The President. Yes, sir.
[At this point, Secretary-designate Kerik made brief remarks.]
The President. Good job. Thank you, sir.
NOTE: The President spoke at 9:54 a.m. in the Roosevelt Room at the White House. In his remarks, he referred to Rudolph W. Giuliani, former mayor of New York City; and Michele Ridge, wife of Homeland Security Secretary Tom Ridge. The transcript released by the Office of the Press Secretary also included the remarks of Secretary-designate Kerik.
George W. Bush, Remarks on the Nomination of Bernard B. Kerik To Be Secretary of Homeland Security Online by Gerhard Peters and John T. Woolley, The American Presidency Project https://www.presidency.ucsb.edu/node/213470