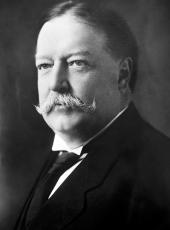 Remarks at the New Bowery Mission in New York City
My Friends:
I am just about as much surprised at being here as you are at seeing me. I had a note from your benefactor, Dr. Klopsch, asking me to come down to a mission which he had established in the Bowery, after the meeting at Carnegie Hall. Now, I have known Dr. Klopsch—well, not very long—but I have known him in a way that perhaps you know him. I know him by what he has done.
It has been my fortune in life to play a good deal of the part of a figurehead. Some men do the work and others are figureheads; and nature developed me in such a way that I play a pretty good part as a figurehead. So they put me at the head of the Red Cross, and as the head of the Red Cross I came to know the enormous energy and the tremendous power for good which Dr. Klopsch could exercise through the Christian Herald in raising hundreds of thousands of dollars to relieve human suffering wherever it might be in the world. And so when he wrote and asked me to come here, I was not exactly advised as to where I was coming, except that it was on the Bowery, and I have always had a good deal of curiosity (for I have not lived in New York) to know the Bowery, and I felt certain that where Dr. Klopsch and the Bowery met there would probably be the best part of the Bowery, and so I came here.
Now, your superintendent has been good enough to say some complimentary things about my coming from Carnegie Hall down to the Bowery to meet you. I am not conscious of deserving any credit for that at all. As I look into your faces I see that you are earnest American citizens. To use a colloquial expression, some of you "down on your luck" perhaps, but nevertheless responding in every fiber of your body to the same sentiments of loyalty and patriotism and love of country and decency and aspirations for better things that I hope every other man in this country has. I am glad to be here, if, by being here and saying so, I can convince you that the so-called chasm between you and people who seem for the time to be more fortunate is not a chasm, and that there is extending over whatever is between you and them a deep feeling of sympathy and a deep earnest desire that you shall have that equality of opportunity, that means of getting onto your feet, of earning your livelihood, of supporting your families, that we hope every man under the Stars and Stripes may fully enjoy. I am glad to come here and to testify by my presence as to my sympathy with the great work of Dr. Klopsch in this mission by which he shall from time to time and constantly, help you and other men over hard places, help you over the times when things seem desperate, when it seems as if the Lord and everybody else had turned against you—help you over those times to believe that there are people in the world who sympathize with you and wish for better things, and enable you to achieve those better things that the equality of opportunity may, I hope, in this country enable you to achieve.
I know it is difficult for you to believe that I, who for the time being am receiving a large salary from the United States and living in comfort, could understand or take into my heart, the feeling that you may have of desperation and of a sense of injustice that you have not had the chance that other men have had; and yet I assure you that, in spite of that seeming difference, your fellow-citizens and mine are not the greedy, oppressive persons that sometimes people would make you believe, but that, more to-day than ever in the history of the world, their hearts are open and their desires to help the needy and lift the suffering out of their suffering are greater to-day than ever before and are growing every month. Dr. Klopsch is one of those through whom I hope that thought is being conveyed to you, so that you may not burn with a sense of injustice, but that you may hope on and struggle on with the belief that the future is brighter for you.
APP Note: Dr. Louis Klopsch was and author and owner of the newspaper The Christian Herald and a very active supporter of relief work and Christian institutions. He was the originator of the practice of printing Bibles with the words of Jesus in red ink.
William Howard Taft, Remarks at the New Bowery Mission in New York City Online by Gerhard Peters and John T. Woolley, The American Presidency Project https://www.presidency.ucsb.edu/node/365202