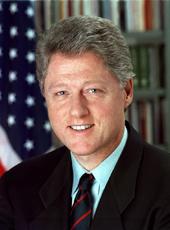 Remarks to the NCAA Football Champion University of Nebraska Cornhuskers
Please be seated. Welcome to the White House on this beautiful morning. I am delighted to welcome all of the members of the national championship Nebraska Cornhuskers here, along with Chancellor Spanier, your athletic director Bill Byrne, and of course, Coach Osborne and all the players. I welcome the Nebraska congressional delegation: Senator Exon, Senator Kerrey, and Representatives Barrett, Bereuter, and Christensen. I do want to say a special word of regret, too, that Bob Devaney couldn't be here today, but we all wish him a very speedy recovery.
I have been, since I was a very small boy, an ardent college football fan. I know that Coach Osborne's record alone justifies a national championship, an 820 percent winning percentage. Most of us would like to have that here. [Laughter] Cornhuskers have been to a bowl game in each of his 22 years, and as I said when I called him the night Nebraska won, nobody deserves it more.
I want to congratulate your three first team All-Americans, linebacker Ed Stewart, tackle Zach Wiegert, and guard Brenden Stai, and also your three first-team Academic All-Americans, tackle Terry Connealy, tight end Matt Shaw, and the Academic All-American of the Year, who I just understood has never made a B, Rob Zatechka. We could give him a job here at the White House. It's sort of like playing for pro football.
I want to thank this team and this coach not only for winning the national championship—that's obviously a great honor—but for the way that it was won and the character and teamwork and spirit that Coach Osborne has always displayed and that this team displayed. I think it inspired people all across the country who are fans of athletics, and I think even people who are not great football fans or particularly knowledgeable about all the details, who read about the Nebraska team, who saw not only that you had three All-Americans but three Academic All-Americans, and who have followed the work of Tom Osborne over the years. It inspired them all to believe in the value of teamwork and sacrifice and discipline, and certainly you were rewarded in ways that were well justified.
I'd also like to say, I asked Coach Osborne on the way out if this was the largest football team ever to win a national championship, and he said, "Yes, but they're good students, too." I liked it because I felt this is the only—when those three guys walked out with me, this is the only football team in America that could make me look like a ballerina. [Laughter] I liked it.
So I welcome you here. I honor your achievement. We're delighted to have the players here. And I'd like to ask Coach Osborne to take the microphone now.
Coach?
NOTE: The President spoke at 11:51 a.m. on the South Lawn at the White House. In his remarks, he referred to Graham Spanier, chancellor, and Bob Devaney, athletic director emeritus, University of Nebraska. Following the President's remarks, Coach Thomas Osborne made brief remarks, and the team presented the President with a team jersey and an autographed football.
William J. Clinton, Remarks to the NCAA Football Champion University of Nebraska Cornhuskers Online by Gerhard Peters and John T. Woolley, The American Presidency Project https://www.presidency.ucsb.edu/node/221247