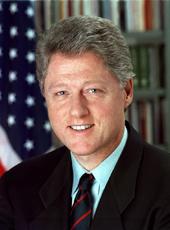 Remarks to the NCAA Football Champion University of Florida Gators
The President. Thank you very much. Please be seated. President and Mrs. Lombardi, Athletic Director Foley, Mayor Jennings, Congresswoman Thurman—I know what a happy day this is for you. Senator Breaux, we're glad to see you here. Senator Breaux thinks he represents anyplace that's perpetually warm. [Laughter] We're honored to have you here.
Let me say, when Coach Spurrier and Danny and I walked in I was hoping, when I hobbled in, that one of you might mistake me for a member of the team who just had a rough time in the bowl game. [Laughter] But I remembered that a few years ago Danny had a little knee injury, and if I come back from mine as well as he did from his, my future is secure, I think.
I am delighted to be here with you. I look forward to these occasions every year, but I especially want to congratulate you on a wonderful season and an astonishing championship game. The 32-point margin of victory, I'm sure all of you know, against the number one ranked team is the largest in bowl history and something that the University of Florida can always be very proud of.
I'd also note—it's somewhat difficult for me to note this, being from Arkansas, but every year I've been President, Florida has won the Southeastern Conference championship. [Laughter] I was impressed not only by the stars on the team—by Danny Wuerffel and Ike Hilliard, and by the fact that Terry Jackson joined his brother, Willy, in Sugar Bowl history by rushing for over 100 yards—I was impressed by the teamwork of this team. And I have followed college football very closely for nearly 40 years now, and I really believe that the University of Florida, in the last 5 or 6 years, has written a whole new chapter in college football, in much the way that Oklahoma did a few decades ago with the wishbone. You have changed football forever and for the better. It is more exciting than it has ever been before, and you do it better than anyone else.
I know that this national championship was a special triumph for Steve Spurrier because when he played for the Gators, he won the Heisman Trophy. He came back as a coach to have many successes, but there is no success like winning the national championship. And doing it for your alma mater after so many efforts and so many fine performances and, frankly, when it doesn't come so easily, when you have to keep fighting for it, even sometimes when you think it's not quite fair, must make it all the sweeter.
I've also been in a position of having to try to defeat someone who once beat me for something I cared a great deal about, and that makes it a little better, too. [Laughter] So again, let me say it's a great honor to have you in the White House. I know I'm too old to play for this team, but don't hold my injury against me.
Coach Spurrier, the floor is yours.
Thank you.
[At this point, head coach Steve Spurrier and quarterback Danny Wuerffel made brief remarks and presented the President with a jersey.]
Coach Spurrier. I don't know if you can wear that jogging or not.
The President. Yes, I can. Thank you. Move that out of here so we can take a good picture of this.
Thank you very much.
NOTE: The President spoke at 5:55 p.m. in the East Room at the White House. In his remarks, he referred to John V. Lombardi, president, University of Florida, and his wife, Cathryn; Jeremy Foley, Athletic Director, University of Florida; and Mayor Edward Jennings of Gainesville, FL.
William J. Clinton, Remarks to the NCAA Football Champion University of Florida Gators Online by Gerhard Peters and John T. Woolley, The American Presidency Project https://www.presidency.ucsb.edu/node/224414