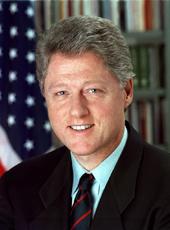 Remarks to the NCAA Basketball Champion University of Arkansas Razorbacks
The President. Thank you. I want to welcome Coach and Mrs. Richardson and the Razorbacks, all the staff and the friends who came with them from Arkansas. I want to also recognize the presence here in the audience—I see Congressman Thornton, but I think that Congresswoman Lambert and Congressman Dickey and Congressman Hutchinson are here. And Senator Bumpers and Senator Pryor called me and said that they were told they had to stay and vote. And I told them that their priorities might be a little out of order, but—[laughter]—they allowed as how you elected them to vote, and they're voting in the Senate, and they're very sorry they can't be here.
I think one reason I like basketball so much is it's gotten to be a lot like my job. It's more and more physical all the time. [Laughter] You get behind, and then you get ahead. You never know whether you're going to win until the end of the game, and people are questioning your judgment calls all the way through. [Laughter] I just wish that on every close issue, I had Scotty Thurman there at the end to make the shot.
I also would tell you that since I've been here, I've been crossways with a lot of interest groups, whether it was the NRA or some insurance companies or when we decided that we'd try to help sweep the housing projects in Chicago, we had the ACLU and the NRA mad at us. So people are always questioning how I manage to make so many organized groups mad at me. But I never did anything quite so crazy as to risk the 51 electoral votes of Michigan, Arizona, and North Carolina—[laughter]— all in a row by going to those games. And when one of the reporters asked me about it when I got back, I said, "If you'd been waiting for this as long as we have, it would be worth it all, including that." [Laughter]
I want to say to the coach and to the team that all of us, I think, were very, very proud, not only of the fact that they won the national championship but the way they won it, with hard, clean, aggressive basketball. That championship game was the way every national championship ought to be decided, aggressive, tough, close to the end, with very, very high standards, and yet a very clean and honorable game. I was very proud of that.
I'd also like to say that Nolan Richardson has done a lot of remarkable things in his life, often against all the odds. But it's a rare thing to be able to put together the chemistry of young people in the way that this team was put together. And so I say to him and to all the players, you did your State proud. You made the President happy. But more importantly, you showed America the best about what college athletics should be. And we are all very, very proud of you.
We have an enormous number of Razorback fans here today, some of whom live in Washington now, including, obviously in addition to the First Lady and myself, our Chief of Staff, Mack McLarty, many people who work here in the White House, throughout the Government. I think perhaps Representative Cardiss Collins of Illinois is also here, who has worked with Coach Richardson and other coaches throughout the country. And I just want to say to all of you here in Washington, you're welcome. And to all of you who made the long trip from Arkansas, we are elated to see you. We miss you, and this is a nice extra thing for me.
I'd like to now present, if I might, the Presidential commendation to honor the victory of the Razorbacks, one to the coach and one to the team. And I think that the officer has them. So, Coach Richardson, would you come up here and receive yours.
This says: "The President of the United States awards this commendation to Nolan Richardson for his many years of coaching excellence, his steadfast leadership in guiding the Arkansas Razorback basketball team to the NCAA national championship, for his exceptional contributions to college basketball in Arkansas, and for his relentless commitment to excellence in both education and athletics."
Thank you.
I'd like to ask the two captains to come up here. Who else—or who's going to get it? The seniors, you all come up too. Come on, Roger and Ken. This is the same commendation, which notes the record of the season and the national victory. And I want to give it to you guys. And we're glad to see you walking around and looking so good. [Laughter]
Thank you. Congratulations.
[At this point, Coach Nolan Richardson briefly thanked the President and presented gifts.]
The President. I asked for somebody to say something on behalf of the team. I'm sorry it's so warm here, but I didn't want you to feel lonesome away from Arkansas, so we—[laughter]. I did get to go with these, some of those patented Razorback basketball pants which would, if I could ever figure out how to run in them without tripping over my ankles, would end all those unseemly comments about my legs, because they go down below my knees. [Laughter]
Let me say also, I was anxious to see Corliss up here with his cast up close. He's the only guy I know that plays games with broken bones that plays better than he does when he's healed. But nonetheless, we're glad he's on the mend. I got to sign the cast; that was fun.
Mr. Thurman, why don't you come up and say something on behalf of the team—since you didn't——
Scotty Thurman. I kind of feel like a politician up here.
The President. You look like one.
NOTE: The President spoke at 2:48 p.m. in the Rose Garden at the White House. In his remarks, he referred to Rose Richardson, wife of Coach Nolan Richardson, and team members Scotty Thurman, Roger Crawford, Kenneth Biley, and Corliss Williamson.
William J. Clinton, Remarks to the NCAA Basketball Champion University of Arkansas Razorbacks Online by Gerhard Peters and John T. Woolley, The American Presidency Project https://www.presidency.ucsb.edu/node/219485