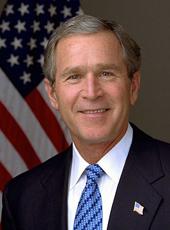 Remarks by the National Security Advisor at the Leon HR Sullivan Summit Awards Dinner
Marriott Wardman Park
Washington, D.C.
DR. RICE: Thank you very much. I am deeply honored to be here with you this evening. And I am honored to receive the Leon H. Sullivan International Diplomacy Award. Thank you, Ambassador Young.
I was so moved -- I told Ambassador Young earlier that he doesn't even remember when he first met me. He came to speak at the University of Denver at my father's class. I was probably 13. And I knew then that this was a very special man. I know how special he is to all of you. And I just want to thank him very much for that warm and wonderful introduction. (Applause.)
Reverend Sullivan was a good and brave man who changed the way the world thinks about the nations of Africa, and helped to change the way his own nation treats citizens of African descent. His legacy is a better America and a strong, productive relationship between the United States and the nations of Africa.
To Mrs. Grace Sullivan, the widow of Reverend Leon Sullivan; to Hope Sullivan, the President and CEO of the Leon H. Sullivan Foundation, and the daughter of the great Reverend Sullivan; to President Obiang of Equatorial Guinea; and to President Girma of Ethopia; members of the diplomatic corps; Senator Clinton; members of Congress; distinguished guests; thank you very much for coming here tonight to honor Reverend Sullivan, and thank you very much for the honor of being with you.
A little more than I year ago, I stood with President Bush and Secretary Powell in Senegal, at Goree Island, gazing on the "door of no return." It was a moment to reflect on the past -- America's past and Africa's past -- and to look forward to a better future. The histories of Africa and America are inextricably linked, and the destinies of Africa and America are inextricably linked, as well. The President said that day in words that tugged at all of us, "By a plan known only to Providence, the stolen sons and daughters of Africa helped to awaken the conscience of America. The very people traded into slavery helped to set America free." (Applause.)
Today -- in America and in Africa -- the descendants of slaves and the descendants of slave masters work together in common to secure the peace and to promote human dignity. Because Africans and Americans share a commitment to the values of liberty and justice, we also share a responsibility to promote those values and to see them prosper.
President Bush has been devoted to that agenda. His record of engagement with Africa has been robust. He has welcomed more than two dozen African leaders to the Oval Office. And last year, in what he described as perhaps the best trip he took abroad, he traveled to Africa, visiting five countries to discuss important issues with our African allies and friends. We've had many, many Cabinet officials visit Africa -- Secretaries Powell, Rumsfeld, Evans, Abraham, O'Neill, Thompson, Chao and Ambassador Zoellick. And we do that because engagement with the African continent is important to America's central goals -- the goals of strengthening alliances to defeat global terrorists, terrorism, and end regional conflict; the goals of fighting disease and hunger and literacy; of working to ignite economic growth through free trade and free markets; and of the spread of liberty and freedom across all the continents of the world so that all human beings can live in dignity.
Peace and security much come to the continent of Africa. We have made achieving peace on the continent of Africa a priority. In Sudan, with the help of Kenyan diplomacy, Africa's longest-running civil war is now closer than ever to a peaceful end. But we must continue to lead the effort to demand that the government of Sudan deal with an end in Darfur. (Applause.) In Liberia, we have a model of how Africans can work together with their international partners to secure their own future as Nigeria and Ghana, and other regional parties took the responsibility and the lead in bringing peace to that troubled country. We are working with South Africa, the nations of the African Union, and the United Nations for peace and democracy in Burundi and the Democratic Republic of the Congo. (Applause.) And the war in Angola, which raged for three decades, is now over. Cease-fires have been negotiated in all of the five major conflicts that were underway at the beginning of the administration. We are moving toward a permanent peace in all these cases because the Africa continent, in order to prosper, needs peace.
Last week at the G8 Summit, the President announced a new, global effort to train and equip 75,000 peacekeepers over the next five years to help bring stability and security to troubled regions, with an initial focus on Africa. The United States will commit $660 million over the next five years to that effort. (Applause.)
We also have excellent partners in counterterrorism in Africa. The nations of Africa have responded to the terrorist threat by breaking up terror cells, disrupting terror plots, bringing killers to justice, and freezing terrorist assets. And they have established a regional counterterrorism center. We have good and firm allies in Africa in the war on terrorism, and I want to say to all: America is grateful for their cooperation and for their steadfastness. (Applause.)
But as important as it is to end conflict, it is also important to realize that the advance of human dignity depends on the advance of justice, of health and well being. This means turning our attention to the pandemic of AIDS. There is no greater scourge. There is no greater moral challenge than to deal with problem of AIDS. History will treat us unkindly if those of us who had the means and those of us who had the way were unresponsive to this great crisis. And thus, the President has planned for an Emergency Plan for AIDS for a five-year, $15 billion dollar initiative that aims to prevent 7 million new infections, treat at least 2 million people with life-extending drugs, and provide care for 10 million people affected by AIDS. (Applause.) The current budget of the United States is a budget request $2.8 billion for fighting AIDS globally.
The health and well-being of Africa also depends on defeating hunger. We have an initiative to end hunger, seeking to increase long-term productivity by harnessing science and technology. Africa is a continent that should be self-sustaining. It should be able to feed its people. And we should work to that end. (Applause.)
We are also, of course, helping African nations develop vibrant and free economies. And trade is the engine for that. Four years ago, under President Clinton's leadership, Congress passed the Africa Growth and Opportunity Act giving greater access to American markets for African products. It has proven a benefit to both Africa and America, as good partnerships always do. Duty-free exports to the United States increased 10 percent in 2002, and U.S. exports to Africa increased 15 percent last year. The President welcomes the passage of the House AGOA bill to extend the benefits of this great program, and he is determined -- (applause) -- he is determined to work with the Senate to get this important agreement extended beyond 2008. (Applause.)
But prosperity depends also on the responsibility of wealthy nations to provide development assistance. Building on the momentum of NEPAD, building on the momentum of the Millennium Challenge, the President has created a Millennium Challenge account, a commitment to provide new aid to countries that rule justly, embrace economic freedom, and invest in their people. And last month, the first 16 Millennium Challenge Account nations were announced -- eight are African. (Applause.)
But there is nothing more important than the work that we must do together to ensure that the democratic revolution that has begun in Africa reaches every nation on the continent of Africa. The last decades of the 20th Century were extraordinary and hopeful. As liberty has taken root on the continent, Africans have shown that they are ready and able to embrace democracy's challenges. The road ahead is not be easy, and every nation in Africa will travel that road at a different pace. We Americans know from our own history that democracy is a very, very tough journey. When the Founding Fathers said, "We, the people," they didn't mean me. My ancestors were three-fifths of a man in 1789. It took a second founding in the United States -- with the defeat of slavery, and finally with the defeat of Jim Crow, and a revolution in the hearts of Americans -- to finally realize the high minded principles of our nation's birth. This reminds us to be humble about the road to democracy. (Applause.) We know that achieving liberty and justice is always hard, but it's always possible -- and it's always necessary.
Americans must never excuse tyranny or corruption in Africa. A quarter century ago, Leon Sullivan developed the Sullivan Principles to "promote human rights, social justice, and economic opportunity," and to encourage Western companies to challenge the apartheid regime in South Africa. That regime is gone, replaced by a successful, multi-ethnic democracy. Yet the spirit of the Sullivan principles remain as important and as relevant as ever. The people of Africa want and deserve the same freedoms for which African-Americans fought for 400 years. And we in this room -- many of us the sons and daughters of Goree Island -- have an obligation to help them achieve lasting liberty.
Today, a new chapter in Africa's history is being written. Thanks to the vision and courage of great African leaders like Nelson Mandela, and great American leaders like Leon Sullivan, many of the nations of Africa are achieving freedom for their peoples, and political equality within the rest of the world. The challenge of our time is to take up their mantle, to ensure that the people of Africa achieve social and economic equality with the people of the developed world, to ensure that we take up their mantle so that the age of African independence can give way to the age of African prosperity, peace and liberty.
Thank you very much. (Applause.)
END
George W. Bush, Remarks by the National Security Advisor at the Leon HR Sullivan Summit Awards Dinner Online by Gerhard Peters and John T. Woolley, The American Presidency Project https://www.presidency.ucsb.edu/node/281787