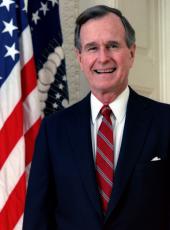 Remarks at the National Prayer Breakfast
Thank you very much for that warm welcome. And let me just greet Prime Minister Henry here and Prime Minister Ratu Mara and President Goncz over here, and all the other visitors from overseas.
And I want to pay my special respects to the members of the Senate and House Prayer Group. I would also like to single out Doug Coe, who has been such a guiding light in all of this. And, of course, our special thanks to Joe Gibbs and to Governor Buddy Roemer for sharing in such a personal way their faith.
My heartfelt thanks goes out to everyone involved in this marvelous event. Dr. Graham was reminding Barbara and me when we came over here of its genesis and how President Eisenhower, he felt, seemed very nervous about whether this would be the right thing to do and whether it would be a fulfilling experience for the people that attended. And I expect Ike would -- if he could have attended this one -- would have had no doubts whatsoever.
I want to thank everyone for their concern and prayers about Barbara's recent accident. In these days of environmental terrorism -- [laughter] -- I can happily report that the tree is very well and so is Barbara Bush -- doing very well, I might say. And I say that with considerable pride.
This is a diverse group. I've never seen anything quite like it -- politically or anything else. But we do have one thing in common: We stand together in prayer. Let me just share a letter -- a true letter I received here from a mother who told me a story about her 5-year-old son's evening prayers. As he knelt by his bed -- this kid was kneeling in prayer, and his parents explained that they were going to pray together for President Bush so that he would have the wisdom to get the hostages out of Iraq. And after a minute of deep thinking, the little boy said, "Mom, how is a bush going to get the people out of the rock, and how did they get there in the first place?" Well, the mother, in her wrap-up of the letter, said that it was a good thing the Lord knew what the boy was praying for, because he sure didn't. [Laughter] But, you know, the hostages came out of Iraq. [Laughter]
So, I believe the Lord does hear our prayers. Joe put it very beautifully here. I know our country is praying for peace. And across this nation the churches, the synagogues, the mosques are packed -- record attendance at services. In fact, the night the war began, Dr. Graham was at the White House. And he spoke to us then of the importance of turning to God as a people of faith, turning to Him in hope. And then the next morning, Dr. Graham went over to Fort Myer where we had a lovely service leading our nation in a beautiful prayer service there, with special emphasis on the troops overseas.
So, I expect when Barbara and I were there at that prayer service, we were only doing what everyone in America was doing -- praying for peace.
You know, America is a nation founded under God. And from our very beginnings we have relied upon His strength and guidance in war and in peace. And this is something we must never forget. Just yesterday -- you're going to think I do nothing but read the mail -- [laughter] -- but just yesterday I got a letter from a man who pointed out to me that during the State of the Union Message that I had neglected to make any mention of God. And I was somewhat defensive about that, so I quickly went back and I did see at the very end "may God bless America." But then I got realizing that this man was correct. I have learned what I suppose every President has learned, and that is that one cannot be President of our country without faith in God and without knowing with certainty that we are one nation under God. So, I think I should have made that clear -- more clear that God is our rock and salvation, and we must trust Him and keep faith in Him.
And so, we ask His blessings upon us and upon every member not just of our Armed Forces but of our coalition armed forces, with respect for the religious diversity that is represented as these 28 countries stand up against aggression.
Today I'm asking and designating that Sunday, February 3d, be a national day of prayer. And I encourage all people of faith to say a special prayer on that day -- a prayer for peace, a prayer for the safety of our troops, a prayer for their families, a prayer for the innocents caught up in this war, and a prayer that God will continue to bless the United States of America.
Note: The President spoke at 9:50 a.m. in the International Ballroom at the Washington Hilton Hotel. In his opening remarks, he referred to Prime Minister Geoffrey Henry of the Cook Islands; Prime Minister Ratu Mara of Fiji; President Arpad Goncz of Hungary; Douglas Coe, event coordinator for the National Prayer Breakfast; Joe Gibbs, coach of the Washington Redskins football team; Gov. Buddy Roemer of Louisiana; and evangelist Dr. Billy Graham. Mrs. Bush had fractured her left leg while sledding at Camp David, MD.
George Bush, Remarks at the National Prayer Breakfast Online by Gerhard Peters and John T. Woolley, The American Presidency Project https://www.presidency.ucsb.edu/node/266013