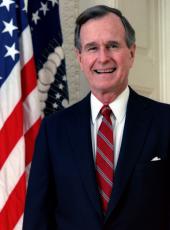 Remarks at the National Prayer Breakfast
Thank you, Senator Heflin, for such a lovely introduction. To Dan and Marilyn, the Vice President and Mrs. Quayle; to the members of my Cabinet here; to the Members of Congress, all, so many here in faith; to General Powell; especially to our host, Ted Stevens; to our dear friend Billy Graham; and to all gathered.
Let me first just say a special greeting to Prime Minister Ratu Mara of Fiji. This is not his first time here; I'm sure it won't be his last. But he's an inspiration to all of us that know him and consider him a friend, as I do. May I salute our other guests from overseas. And though sometimes you might feel like it, we don't consider you overseas, those who serve in the State legislatures, and we're glad you all are here. [Laughter]
Four principles, four ideas really, inspire America. And I think they're all here this morning reflected in one way or another: Freedom, family, and faith, that Dan Quayle talked about, and to that I would add fellowship. So many people brought together by a shared spirit, the simple joy of praying to God.
Slava, that was a tremendously moving story and one of the most dramatic moments in recent history. You referred to sound. If sound has anything to do with entry into heaven, I believe you can choose the fluffiest, most generous cloud in the firmament up there when you get there. [Laughter] And thank you for your inspiring message.
But I think you reminded us all of the powerful role that prayer has played in the unprecedented events of the past year. Since we last met, nations have been reshaped, and the lives have been restored throughout the land and throughout the entire world. And the force that unites them, as we've heard here today from the Vice President to General Powell, is faith in God. The link they share is prayer.
When I last stood here, as Colin reminded us, we were at war. Compelled by a deep need for God's wisdom, we began to pray. And we prayed for God's protection in what we undertook, for God's love to fill hearts, and for God's peace to be the moral North Star that guided us. Abraham Lincoln said, and we remember it, everyone in this room would remember it, "I've been driven many times to my knees by the overwhelming conviction that I have nowhere else to go." And in his example, we came together for a special National Day of Prayer. And Americans of every creed turned to our greatest power to bring us peace, "peace . . . which passeth all understanding." And at the end of the war, we prayed as one during our National Days of Thanksgiving.
Let us pray that as a people we will continue to bring the power of prayer to bear on all the challenges we confront. And let us pray that we will strengthen the values that this great land was founded on, that we will reverse any threat of moral decline, and that we will dedicate ourselves to the ethic of service, being what I call a Point of Light to someone else, someone in need.
In this work, we are not without inspiration. We need look no further than the handful of men who became heroes by their courage, their strength, and above all their faith -- last of whom returned in December. I'm talking about our hostages. And in brutalizing conditions, as we've heard this morning, they prayed together daily in what they called the "church of the locked door." They unwove floor mats in order to make rosaries. These men, who every day lived the story of Job, treasured their first book, the Bible. When Terry Anderson was released, one of the first things he did was to thank strangers across the world who had prayed that he be set free. "Your prayers made a big difference," said this man who, imprisoned, had rediscovered the faith that sets and keeps men free.
There's another story from last year's news that tells of the transformation of faith. While it's a story familiar to all of you, it's intensely personal to Barbara and me and to others in this room. We lost a dear friend last March, Lee Atwater, a restless, fiercely driven, fun-loving good ol' boy from South Carolina who rode life as hard and fast as he could. But he also lived a kind of miracle because his illness reintroduced him to something he'd put aside, his own faith. And in his last months, he worked intensely to come to grips with his faith. And through reading the Bible and through prayer, he learned that, as he put it, "What was missing in society was what was missing in me, a little heart and a lot of brotherhood."
He was so right. Prayer has a place not only in the life of every American but also in the life of our Nation, for we are truly one Nation under God.
May God bless this very special gathering. For those of you who have come from overseas, for those of you from across our land, for those of you right here in the Nation's Capital, thank you for participating in this celebration of faith.
Thank you very much.
Note: The President spoke at 9:10 a.m. at the Washington Hilton Hotel. In his remarks, he referred to Senator Ted Stevens, evangelist Billy Graham, Prime Minister Kamisese Mara of Fiji, and National Symphony Orchestra director Mstislav Rostropovich.
George Bush, Remarks at the National Prayer Breakfast Online by Gerhard Peters and John T. Woolley, The American Presidency Project https://www.presidency.ucsb.edu/node/266935