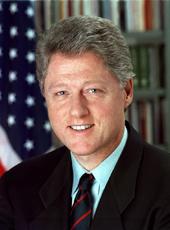 Remarks to the National Medical Association
The President. Good evening, ladies and gentlemen.
Karen Mouton. Good evening, Mr. President.
The President. It's nice to hear your voice, and I appreciate what Dr. Walton said. I'm sorry I'm not with you tonight. I know that this evening marks the beginning of a very special year in recognizing the 100th anniversary of the National Medical Association and its contribution to the health of our Nation.
I'm certainly impressed with the star-studded cast for this evening's program, and I want to give my own salute to the physician honorees, whose accomplishments touch on every area of the medical profession. And of course, I want to say I am especially pleased to note that our own Surgeon General, Dr. Joycelyn Elders, is one of your honorees. I thank you for that.
I also want to thank the National Medical Association for the key role you've played during the past 20 months in our joint effort to seek health care reform. Dr. Tracy Walton and Dr. Leonard Lawrence, your president and immediate past president, were especially effective during the health care debate. And I don't want you to be too discouraged that legislation didn't pass. After all, this was the first time in the history of the United States that comprehensive health care legislation made it to the floor of both Houses of Congress. And the problem is not going away. We now know from the census report that over a million Americans lost their health insurance just last year. There are still challenges that have to be met, and in the end, the spirit, the leadership, the guidance of the National Medical Association is going to be rewarded with comprehensive health care for all Americans.
If you won't give up, I won't; we'll keep working. The First Lady is here with me, and we want to tell you that we're proud of you, we're grateful to you, and we want to keep working for health care reform.
Let me also thank you for supporting a lot of our other initiatives, for helping us pass the crime bill, which in itself was a public health bill to reduce violence and crime and drug addiction among our people, especially our young people; for your support of the economic program to bring the deficit down and get the economy going again. It's produced over 4 1/2 million new jobs in the last 20 months. But most of all, I want to thank you for your partnership. We're going to keep working together. We're going to keep making progress together. We're going to keep moving America forward together.
You know this health care reform issue is literally a matter of life and death for many African-Americans, because of the higher rate of preventable diseases and the great at-risk nature of so much of the African-American population who go without primary and preventive care and health care coverage in general. But we are moving forward. And we have an opportunity now in the next few weeks to send a message to the country and to the Congress when you vote in your communities. We want to keep working forward. We want to keep going forward. We don't want to go back. We know we can make a difference in jobs and crime and the deficit, and we know we can make a difference in health care if we'll stay at the task.
So I ask you to keep doing what you're doing, keep standing for the right things, keep being a shining symbol of America at its best. I look forward to being with you and supporting you, and I am very grateful for the support you've given to me.
Thank you, and God bless you all.
NOTE: The President spoke at 5:57 p.m. by telephone from the Port Authority Terminal in Miami, FL, to the association's centennial celebration at the National Theatre in Washington, DC. Karen Mouton was assistant to program producer Debbie Allen.
William J. Clinton, Remarks to the National Medical Association Online by Gerhard Peters and John T. Woolley, The American Presidency Project https://www.presidency.ucsb.edu/node/218785