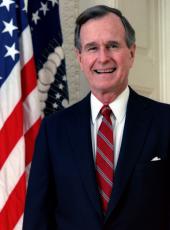 Remarks at the National Hispanic Heritage Presidential Tribute Dinner
Thank you very, very much for that warm welcome. Hey, listen, you've got to eat, too. Cathi -- what a great U.S. Treasurer Cathi Villalpando's going to be. I'll tell you, I'm just so proud of her. And I am delighted to be here. I see so many distinguished United States Senators here: I understand that one of the honorees is Orrin Hatch; and Senator Warner is here with us; Senator Connie Mack, from Florida; Pete Wilson was to be. And I want to salute them. And if I might be accorded a special privilege, I understand there is another former Senator with us tonight, a very special friend and a man who has shown the way in terms of equity for all Americans. And I'm thinking of my own former Senator, Senator John Tower, who is out there someplace -- there he is.
And we're honored to have the Ambassador from our great neighbor here, Ambassador Petricioli. Please stand up so they can see you once more. I'll tell you, I don't believe -- and I say this with tribute to him and to President Salinas -- I don't believe we've ever had better relationships than we have with Mexico today. And I'm determined to keep it that way and make it even better. And this Ambassador is going to be doing a lot of the heavy lifting, I'll tell you.
You see, Bob Estrada was here, and so many others. I am delighted that Lee Atwater is here. He does not have to sing, and that -- [laughter] -- some rejoice in that and others feel deprived. [Laughter] But do what you want; I'm leaving right after I give a speech here. So if Atwater plays, why, you're lucky. I'm grateful that Manuel Lujan, a friend of longstanding, a guy that I served with in the Congress, is our Secretary of the Interior, and he's doing an outstanding job.
I know there are many members of the House here -- House of Representatives -- and those that have taken a very special interest in the National Hispanic Assembly. And I'm grateful to each and every one of them. I'm pleased, also, to be joined by John Sununu. And I want to tell you how lucky we are to have him. When he gets upset that I don't understand source codes and thermonuclear physics, he lapses off into Spanish hoping maybe he can get me on the same wavelength -- [laughter] -- but a versatile Chief of Staff who is doing a superb job.
As I say, I mentioned Orrin. You appropriately are going to honor him later on, so I won't say any more. But he is the Chairman of the Republican Senate Task Force on Hispanic Affairs, and you are appropriately honoring him for his efforts on behalf of the Hispanic community.
Like you, I know many of you had a chance to get away on vacation, and I heard some allusion to mine here. Before I go any further, I want to put an end to the rumor, ugly rumor that's making the rounds since I was up in Maine about a covert amphibious operation off the coast of the American Northeast. [Laughter] There is no truth to the rumor that the bluefish I finally caught was hooked on the line by a Navy frogman -- not true, not true at all. [Laughter]
Actually, about Lee, what a job he's doing as chairman of the Republican National Committee. Really, it is outstanding. In addition to being the Andres Segovia of the Republican Party -- but actually, the tunes Lee likes to play aren't always music to everyone's ears. I hear Lee asked Orrin Hatch, "If I bring my guitar tonight, would you have any special requests?" Orrin said, "Yes, just one. Don't play it." [Laughter]
Let me say that I am deeply honored to meet with all of you. I knew for fact-certain 15 years ago when I was in Lee's job, when I was Chairman of the National Committee, that the time had come for the Hispanic Assembly. And we started it. And over the years, I've watched with admiration all of the energy that you've devoted to advancing the Republican cause. And it is a source of great pride to be able to feel, that at least on that one, I was in there at the beginning with so many men and women right here in this room.
As Lee said in saluting my beloved daughter-in-law [Columba Bush], honoring her for what she has done, all of you have made the 1980's a time of great pride for Hispanic Americans. And I'm honored to enjoy the advice and counsel I mentioned -- of one Cabinet officer that I mentioned, Manuel Lujan, but certainly of another of Hispanic descent, and I'm talking about Larry Cavazos.
Just one week ago, we welcomed someone else to Washington, and she's with us here tonight. And I am so proud of Ileana Ros-Lehtinen and for her victory down there in Florida -- the first Cuban-American to serve in Congress and the 12th American of Hispanic heritage in the 101st Congress, and she's here tonight. And I can tell you after just 1 week: She is going to be a tiger. She is going to be a force to be reckoned with on Capitol Hill and, boy, do we need her up there for good, common sense. But I look at her election, and I see it as just one more indication of the fact that Hispanic-Americans have made it into the mainstream and that more and more are choosing the Republican Party. For everyone in this room tonight, that's the ultimate victory that we're fighting for.
I want to thank Lee again, who's dedicated to making our party the party of outreach and inclusion -- it's driving the Democrat Party right up a wall, the way he is reaching out and bringing people in and opening doors that have been regrettably closed. But what he's trying to do, and where we're all trying to help him, is build it on mainstream values. And I want all Hispanic-Americans to know that they have a home in the Republican Party.
And tonight, I want to announce two more talented individuals that I've asked to join my administration. I will nominate Velma Montoya to serve on the Occupational Safety and Health Administration Review Commission, and Adis Maria Vila as Assistant Secretary of Agriculture -- two more distinguished appointments.
And last week I spoke to the Hispanic Chamber of Commerce -- a meeting that I love to attend and have attended before, but this was their annual meeting, this time in New Orleans. And I talked about the extraordinary accomplishments of the entrepreneurs -- Hispanic entrepreneurs. And you could feel it in this crowd. The enthusiasm there was absolutely electric, and the contribution these businessmen and women are making to the American economy cannot be measured in terms of the gross national product alone. They understand that they are role models to the next generation of Hispanic-Americans -- tangible proof that every door is open and success is within their reach. And the successes we see really come as no surprise.
The values of this community are the very founding values of this nation and of the Republican Party. Faith and family, hard work and individual responsibility, respect for others, and above all, an abiding love of freedom -- those are all the ingredients that anyone ever needs to succeed, anywhere, from the streets of San Antonio or Miami to the halls of Congress, or at the President's table as an officer in the Cabinet.
Our nation and our party need your contributions. And tonight is a night to take pride in all that you've done, and to take home with you a commitment to write the next chapter in the success story of Hispanic-American achievement. Once again, thank you for all you are doing. God bless you, and God bless the United States of America. Thank you very, very much.
Note: The President spoke at 7:42 p.m. in the Regency Ballroom of the Omni Shoreham Hotel.
George Bush, Remarks at the National Hispanic Heritage Presidential Tribute Dinner Online by Gerhard Peters and John T. Woolley, The American Presidency Project https://www.presidency.ucsb.edu/node/264010