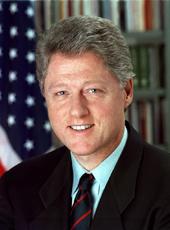 Remarks on the National Economy
The President. Good morning. As all of you know, I'm on my way to the dedication of our Nation's memorial to President Franklin Roosevelt. It will be a celebration of our century's greatest leader, someone whose faith in our country and our people helped us to conquer challenges in a very difficult time. Today, if we have the same faith and confidence in ourselves, we can clearly move into the 21st century stronger and more confident, with the American dream alive, with the American community more united, with America's leadership in the world secure.
Before I go, I want to comment on the very good news we have received on the economy today and what it means for our present work in Washington. The new employment report has just been issued. I'm pleased to report that the unemployment rate has dropped to 4.9 percent; 4.9 percent is the lowest it has been in 24 years.
Our economy has now created over 12 million jobs since the beginning of 1993. Inflation remains low. Our economy is now the strongest it has been in a generation. This is a great tribute to the efforts of the American people and to the validity of the new economic policy that we brought here in 1993.
In late 1992, when we were putting this economic policy together in its final details, we were determined to move away from the failed policies of trickle-down economics to a policy of invest and grow: to bring the deficit down, but to invest more in our people's education and training and technology and science, and to expand trade dramatically so that we could create new jobs at higher wages. This strategy is working. We know now that the deficit will be down, probably by more than two-thirds what it was when I took office by the end of this year. With 4.9 percent unemployment, we know what works. This strategy works.
We need to finish the job now. We need to balance the budget while continuing to invest in our people and in our future. I've been working hard with the leaders of Congress to do just that. I am hopeful that we can get an agreement that will balance the budget and continue our commitments to invest in education and in the health care of our children and in environment and in technology. I am hopeful that we can do this in a way that preserves, enhances, reforms Medicare and protects Medicaid, and deals with the problems of legal immigrants, which I feel so strongly about, and also gives appropriate but disciplined tax relief.
The one thing I am determined to do is to keep on this economic course which has brought us to the lowest unemployment rate in 24 years. Therefore, we have to be very careful not to set conditions in motion which could explode the deficit again because of the way the tax cut is written or other provisions are written after this budget period ends.
So we changed the course of the Nation. This is profoundly important. And we now have to finish the job, not undo it. I'm very optimistic. I'm very hopeful. We've had good conversations late last night and early this morning. But I want to make it clear that we're moving in the right direction, and this budget agreement must continue that movement, not reverse it, not undermine it but continue it and give more Americans the chance to participate in the prosperity that our Nation is enjoying.
Thank you very much.
Q. Mr. President, do you think you'll have a budget deal today?
The Vice President. We're late for the dedication, so questions later.
NOTE: The President spoke at 9:40 a.m. on the South Lawn at the White House, prior to his departure for the Franklin Delano Roosevelt Memorial dedication ceremony.
William J. Clinton, Remarks on the National Economy Online by Gerhard Peters and John T. Woolley, The American Presidency Project https://www.presidency.ucsb.edu/node/224265