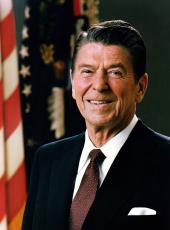 Remarks at the National Defense University on Signing the Department of Veterans Affairs Act
Secretary Carlucci, Admiral Crowe, Administrator Turnage, General Hosmer, veterans of America's Armed Forces. Today we have reason to celebrate. I'll save the second?and a certain bill signing?until after my remarks on the first.
Five years ago, in the silence that awaits the Caribbean dawn, a unit of American naval forces slipped ashore and began the rescue of the tiny island nation of Grenada. Today we commemorate that mission and the heroism of the thousands of soldiers, sailors, marines, and airmen who took part. The men of that force and later contingents came from the United States, yes, but also from Jamaica, Barbados, as well as Antigua, Dominica, St. Lucia, St. Kitts-Nevis, and St. Vincent?the island democracies of the Organization of Eastern Caribbean States that had sent an urgent SOS message to America just days before the mission began.
Yes, a Marxist regime had been established in a corner of the world that had, over the centuries, known little other than peace. Many in our country doubted the significance of this, but not those who lived closest to it. They watched with growing alarm as the Grenadian regime strengthened its ties with Cuba and the Soviet Union and as building began on an airfield that appeared destined to become a major military base. And then the regime itself began to disintegrate and an anarchy began to spread in which only the most violent and ruthless could triumph. Our Caribbean friends believed they could no longer stand by quietly and that we should not, either. It was as if, in those days, the entire eastern Caribbean was crying out for help?and we heard the cry.
All Americans soon came to know the resolute Prime Minister of Dominica and the leader of the OECS, Eugenia Charles, and heard from her about the need those small free nations had for the help of the United States. Here in Washington, in the administration, we heard her plea before the rest of the Nation did?as the crisis was breaking. We had long shared her concern about what was happening in Grenada and to the people of Grenada. We were concerned, as well, about the lives and safety of a thousand Americans there, most of them medical students. And so, with the initial planning conducted under the supervision of Vice President Bush, we responded quickly to the developing crisis. Within hours, our forces were moving toward the island.
Throughout our history, America's men in uniform have always been ready when the cause of freedom called, and they've never let us down. I've often told that when General George Marshall was asked why he was so confident that we would win the Second World War?"We have a secret weapon," he said, "the best blankety-blank kids in the world." Well, it's still true today. We still have a secret weapon, and it's still the best blankety-blank kids in the world.
And 5 years ago, in amphibious craft and in helicopters, by parachute and by plane, the best blankety-blank kids in the world landed on Grenada. Every American has heard at least some of the stories of their courage and resourcefulness under fire. We've heard of how planes carrying airborne troops had to fly in low to get under the antiaircraft fire, and so our paratroopers jumped at just a few hundred feet, barely high enough to get their chutes open before they hit the ground. We've heard how rangers, pinned down on one side of Point Salinas airfield by Cuban fire from the other side, commandeered a bulldozer and used it as a makeshift tank, following behind it as they advanced on the enemy's position. We've heard how a small unit of commandos, assigned to protect the Governor General, battled a much larger Cuban contingent to rescue the Governor General and get him to safety.
Yet most of us haven't heard about the thousands of acts of kindness and generosity that our men did for the people of the island during and after the fighting. When it came time for the last American force to leave Grenada, the Grenadian people didn't want our men in uniform to go. Yes, the people of Grenada treated our forces the way the people of France treated American liberators of another generation, and we're proud of that.
We're proud of something else, too. From the Argonne Forest to Normandy, from Chosin Reservoir to Danang, America has always stood with those who stand for freedom. This is not to say that we eagerly jump into every fight. We don't. But we've always been ready to give a hand to those struggling for freedom when they needed it.
Yet in the years after we withdrew from Vietnam, our leaders seemed to shy away from freedom's battles. In Asia and Africa and even in Central America, they seemed to forget a truth that has guided our nation from its founding: that the cause of free peoples is indivisible. When freedom is diminished anywhere in the world, freedom everywhere is endangered. When the boundaries of freedom expand in one country, freedom for all people expands.
In Grenada, after more than a decade on the sidelines, America at last stepped back into freedom's battles. And in the years since, we've stayed there. Around the world, in Afghanistan, Angola, Cambodia, and yes, Central America, the United States stands today with those who would fight for freedom. We stand with ordinary people who have had the courage to take up arms against Communist tyranny. This stand is at the core of what some have called the Reagan doctrine.
Well, imagine what it means to become a Mujahidin, to fight for UNITA [National Union for the Total Independence of Angola], to join the Nicaraguan democratic resistance. Some have called our support for at least one of these movements bizarre, but I say it's as natural as what makes us Americans?that there is something in our spirit and our history that calls on us to say these battles are our battles and these freedom fighters are our brothers and sisters.
The soldiers in each of these movements are mostly from small towns and villages. Most, at one time, worked the land. They are simple and peaceful people who have stood face to face with Communist oppression. No, oppression is not an abstraction to them. It is a farm seized, a village destroyed, a father or mother murdered. It's an arbitrary ruling elite telling them how much they can charge for their crops. It's a knock on the door at midnight because someone in the family casually criticized the regime. It's the defacement or destruction of the local church or mosque or synagogue. It's the intrusion of an armed and ruthless party into the realms of life that every human being knows in his or her soul should be inviolable.
And so, these simple farmers have taken up arms, an act of almost inconceivable courage. For to be a freedom fighter-whether in Afghanistan, Angola, Nicaragua, Cambodia, or elsewhere?is to face large forces equipped with some of the most terrifying weapons any army has ever faced and to fight against all odds.
We Americans know something about that kind of courage. More than 200 years ago, Americans came out from "every Middlesex village and farm," and from villages and farms all over the 13 Colonies, to face the greatest imperial army in the world-and to defeat it. We learned then that the God-given love of freedom that fills every human heart with strength is the greatest force the world has ever known. No empire, no tyrant, no ruling party can resist it forever. To stand on the side of human freedom is truly to stand on the side of history.
And yet we also found during our own Revolution that when a free people are young and struggling, they need friends. We could not have won our independence without help. Today others cannot win their freedom without help from us. And thanks in part to our help, they are winning. Today in Afghanistan, Angola, and Cambodia, we're seeing moves toward peace and freedom that would have been unthinkable even a few short months ago. In each country, the Soviets and their allies have said they will withdraw, and the reason is clear. In each country, we helped freedom fighters obtain the supplies that, together with their own courage, evened the odds. We were strong and steady friends, and we see once again in the news from those countries that American strength is indeed the greatest force for peace on the face of this Earth.
We could be seeing the same seeds of genuine peace and freedom sprouting in Nicaragua today if we had shown the same steadfast support for the freedom fighters' cause. But doesn't the failure of peace plans and democratic overtures in Nicaragua give anyone willing to look and listen an example of the exception that proves the broader rule? Where we have stood unflinchingly with freedom fighters, peace and freedom have begun to take root and grow. Where we haven't, they haven't.
And yet if the book is far from fully written on the struggle for freedom in Nicaragua, it is much farther along and much more hopeful in Afghanistan, Angola, Cambodia and, of course, Grenada. And so, I say to you that on this day we celebrate something far greater than a military action. It's the irrepressible spirit of freedom that is at home in every human heart. It's a great and generous spirit. And around the world today, as we were in Grenada, America is once again on its side.
While many were still wondering if we'd done the right thing in Grenada and if the danger there had been all we said it was, a plane carried the students we'd rescued back home. And then we saw these students walk down the steps from the plane, fall to their knees, and kiss their country's earth. Many also questioned whether we were right about the strategic threat Grenada was beginning to pose in the eastern Caribbean. And then we found a wealth of documents on the island that showed that the threat had been at least as serious as we had believed.
In a visit to the White House, one young student rescued in the Grenada operation, Jeff Geller, who is here with us today, said: "Let us remember that many lives were lost in saving ours. Let us honor those American men who gave their lives that someday we medical students can save others." Well, all I can say is amen. And I would add: Let us remember all those who fought so freedom itself could once more live and thrive in that small nation. And let us pray that for the cause of freedom it shall always be said, in the words of the Psalms, "The Lord shall preserve thy going out and coming in from this time forth, and even forever more."
Well, I thank you, and God bless you. But I have a few words I have to say?something else near and dear to my heart. All those who have served in America's uniform deserve the Nation's thanks. To show our gratitude, I am about to do something I've been looking forward to for a long time: sign the bill that creates a Cabinet level Department of Veterans Affairs.
It's been 13 years since Army veteran Senator Strom Thurmond introduced the bill. We have it this year because Marine veteran Congressman Gerry Solomon worked to make sure the job would be completed before Congress adjourned. And of course, Army veteran Congressman Sonny Montgomery was one of the leaders in the fight for the legislation. Others in Congress, especially on the Veterans and Government Operations Committees, helped lead the way. This bill gives those who have borne America's battles, who have defended the borders of freedom, who have protected our nation's security in war and in peace?it gives them what they have deserved for so long: a seat at the table in our national affairs.
I've said before that America's debt to those who would fight for her defense doesn't end the day the uniform comes off. For the security of our nation, it must not end. Every time a man or woman enlists in the Army, Navy, Air Force, Marines, or Coast Guard, he or she is ready to lay down his or her life for our nation. We must be ready to show that America appreciates what that means. I like to think that this bill gives Cabinet rank not just to an agency within the Government but to every single veteran. And so, in signing this bill, I'm saying to all our veterans what I say to new Cabinet members: Welcome aboard.
And now I'll quit talking and do a little signing.
Note: The President spoke at 10:51 a.m. in front of Roosevelt Hall at Fort McNair. In his opening remarks, he referred to Secretary of Defense Frank C Carlucci; Adm. William J. Crowe, Jr., Chairman of the Joint Chiefs of Staff; Thomas K. Turnage, Administrator of Veterans Affairs; and Bradley C. Hosmer, president of the university. H.R. 3471, approved October 25, was assigned Public Law No. 100-527.
Ronald Reagan, Remarks at the National Defense University on Signing the Department of Veterans Affairs Act Online by Gerhard Peters and John T. Woolley, The American Presidency Project https://www.presidency.ucsb.edu/node/253813