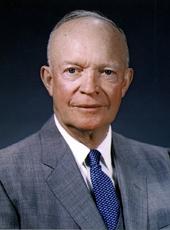 Remarks at the National Corn Picking Contest, Cedar Rapids, Iowa
Mr. Chairman, Senator Hickenlooper, Senator Martin, Distinguished Guests, My Friends:
I am delighted to be out here today to enjoy this colorful contest and to exchange a word of greeting with you.
Now all of us know we are in the midst of a political campaign, but so far as I know, political speeches have never picked any corn. So I won't talk long, and as I stated before, in accepting this invitation, I certainly won't talk politics. I will say this much: if, on this coast-to-coast trip I am now making, I can get on my side the ratio against the other that you people do on the corn-hog ratio, I am going to be most successful.
Now this National Corn Picking Contest, I am told, draws larger crowds than any athletic event in the country, and well it should. It is rather the agricultural world series with a bit of frolic thrown in for good measure. And the Contest dramatizes as nothing else can the tremendous changes which have taken place on American farms.
When I was a boy, this would have been entirely a hand operation. Today it is almost wholly done by machinery. The average in those days in this State, I am told, was 40 bushels to the acre. The whole State crop this year will average more than 63, and much of your acreage is going well beyond the hundred mark. As a matter of fact, a man this morning told me that down in Mississippi there was something of a record of 300 bushels to the acre, for the world record.
Now of course, in spite of this kind of crop, the farmer has problems, but more and more the greatest of these problems is how to determine how best to use these bountiful crops farmers give us. first, to sustain our economy, and second to help us build a stable peace in the world.
Now I happen to be one of those who believes that the farmer should have more freedom to produce, rather than less. And of course, with respect to the farmer, I think all of us, and the farmers themselves, should seek happiness for him, so that he can give his greatest contribution to America's future and to America's happiness.
Now, among all the nations, we use the smallest percentage of our population to produce our harvests. Nevertheless, we produce the world's most bountiful harvest. Our high American standard of living has been built on production, not on restriction.
In our ability to produce, we have a tremendous advantage over the communist world. The free American farm worker out-produces the collectivized farmer of the Soviet Union by something like four or five to one.
Now today the communist world is hard-pressed to feed itself. Communist countries can offer guns to countries outside the iron curtain. They cannot offer food to starving people.
They can create disturbances in struggling nations. They cannot create better diets.
The communists can arouse hatred in people's hearts. They are unable to satisfy the hunger in people's stomachs.
But America can provide food, thereby helping people to advance along the road that all of us want to travel, that of rising standards. Our farmers have therefore given us a great instrument of world diplomacy. American farmers have the know-how to improve agricultural production in distant lands. And so we are exporting that know-how through our technical assistance program. And under the special export programs developed under the 1954 law, nearly one and a half billion people have had an improved diet. food production there, then, is one of our most re-assuring assets in our measures to counter the communist economic offensive.
During the past two years, our food exports have totaled 8 billion, 700 million--the largest in our history. We have succeeded in expanding markets abroad while sharing our God-given abundance with the world's needy people.
So most appropriately, one of our strongest fighters in the cause of freedom today is the farmer of America. I say "appropriately" because freedom has traditionally been the inseparable companion of farm life in America. freedom of choice is the American way. It is the enlightened way. So our farmers should always be free to make their own decisions and to use free markets to reflect the wishes of producers and the consumers.
Now due largely to these practices of freedom, farm prices are going up. Generally, those prices are higher now than when rigid price supports were last in effect. Realized net farm income is up 20 percent over last year.
Per capita farm income is the highest ever.
Gross farm income will set a new record this year.
These things are merely some facts that impress me as I talk to you, the people who fill the nation's breadbasket. But I could not leave an audience such as this, speaking only of technical facts applying to the whole science of agriculture.
Rather, I would talk for a moment, with your permission, of the one outstanding problem, the one that overshadows everything we do in America, whether we are on the farm, in the factory, in the office or working on the road: it is the problem of developing and maintaining a just and lasting peace.
Now, much is often spoken about the American foreign policy. The foreign policy itself is the simplest thing in the world to describe in terms of its basic objectives. first of all, we believe in the avoidance of force as an instrument of national policy. This means we believe in the United Nations, or at least in the principles written into that noble Charter.
Next, we understand that you cannot bargain or negotiate in a world that is tom by dissension, except from a position of strength. We know that we face certain threats--and if we are going to speak about peace, we must do it from a position of strength and not of fear. Consequently, our nation's security must be one of the things, its military security, that commands our attention every day, if we are going to talk peace.
Our national defense mechanisms have as one of their first functions that of supporting diplomacy in seeking peace. And another part of our foreign policy is merely this: firm refusal to countenance communist territorial expansion by force.
We must live by principle. We don't live by deciding upon the value or the lack of value of small bits of territory. We say America has certain principles by which to live, and it is going to have the strength of heart, the courage, the stamina, the readiness, to stand by those principles, well knowing that once you retreat from principle you cannot again turn around and face your enemy.
Now these are just the simple objectives of peaceful purpose. There is, of course, the task of implementing those principles: how do we work, how do we meet the situations that have faced us in these years of Korea and Viet Nam and Iran and Trieste, in Italy--in a divided Germany, in a divided Austria; and when we saw communism almost catch a foothold on our own hemisphere.
These are the matters that force people to study and work and stay up nights in order that America may be at peace.
Not always can any group of people be completely correct. But they can do this: they can be honest enough and courageous enough to stand on the principles that have made America great.
So the United States, facing the great monolithic atheistic dictatorship that is centered in the Kremlin, realizes that the free world will be very much stronger--far stronger--to defend against that threat, if we stick closely together. And so we take a look and see what we need and what those friends of ours need. And we need their strength, often in the front lines, to keep small fires from breaking out. But they need our help, because if they have any kind of military strength at all, often they can't afford it. And there is where not only our agricultural products but other forms of economic assistance can help to make their economies capable of producing the strength we need in these very regions, if we are collectively--all of us--to be safe.
So we give them that kind of assistance in several forms. Sometimes it's money--it's usually in loans. It's technical assistance, and as I say, surplus crops. But more than this, we want to achieve with those people, and we must achieve with all of these friends of ours, a collective, spiritual strength. We must understand that what we are trying to defend today is not merely territory. Indeed, my friends, not merely our hearthstones and our lives, we are defending principles--the things we need to defend. We are defending ideals, and we must make sure that all our friends see that truth as clearly as do we. Because our respect for the dignity and freedom of the human is the great strength of the free world, and the great strength of the United States of America.
My friends, I go now with just this word of thanks to you, and to the Almighty under Whom all of us live. I am grateful for the good harvest. I am grateful for the improvement in farm income. I am grateful that you as individuals are still running the farms, and that we are not trying to turn that job over to the federal government.
And I am grateful that there are no guns shooting today. I am grateful that so well as is possible in this troubled world, peace is maintained. And I have no other thought for the next two years, if the Lord spare me that long, except to work for that one objective--which I know is the closest to each of our hearts.
Thank you very much.
Note: The President's opening words referred to C. Robert Jones, general chairman of the National Corn Picking Contest, and Bourke B. Hickenlooper and Thomas E. Martin, U.S. Senators from Iowa.
Dwight D. Eisenhower, Remarks at the National Corn Picking Contest, Cedar Rapids, Iowa Online by Gerhard Peters and John T. Woolley, The American Presidency Project https://www.presidency.ucsb.edu/node/234113