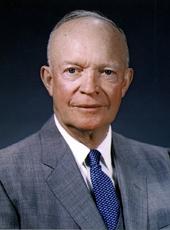 Remarks at the National Conference on Civil Rights.
Mr. Chairman and My Friends:
I came over here this morning primarily to thank you for your undertaking of a work that in my opinion is one of vital, prime importance to the United States and to its future.
Because the problem in which you are involved is an emotional one, it is certain that you have to have qualities of courage to undertake it. But above the quality of courage it is quite necessary that we have within our breasts, if we are to do this work, those feelings of compassion, consideration, and justice that derive from our concepts of moral law.
I say moral law rather than statutory law because I happen to be one of those people who has very little faith in the ability of statutory law to change the human heart, or to eliminate prejudice.
I think that the Congress was wise in establishing this Commission because the very purpose of the Commission is conciliatory, fact-finding, and giving examples to us. Indeed at times I think it holds up before us all a mirror so that we may see ourselves, what we are doing and what we are not doing, and therefore making it easier for us to correct our omissions.
There can be no doubt that America has not reached perfection in attaining the lofty ideals laid down for us in our founding documents and in the amendments that have been made to our Constitution. The important thing is that we go ahead, that we make progress. This does not necessarily mean revolution. In my mind it means evolution. This is what we are talking about.
We are saying that the concept of equality among men is equality in their opportunities, that we do not deny them that opportunity. I think no one could find complete equality between any two individuals in the world, if we wanted to take absolute values in all of their spiritual, intellectual, and physical connotations. But we can talk about equality of opportunity, guaranteed to each person in this Nation.
Just as the members of that commission have undertaken a job that is difficult, so each of the State commissions has done the same. The progress that you are going to help achieve is that of education, promoting understanding to see that we come nearer to achieving our ideals without necessarily, or maybe not even wisely, trying to place on our statute books too many punitive laws.
If I may digress from the exact subject of which I have been speaking, and which, of course, is occupying your thoughts and efforts while you are here, I should like to talk about the word "understanding" for just a moment.
The Federal Government in both its legislative and executive branches is involved in many problems that are most difficult of solution. In fact, some of them, under the particular conditions of the present, seem almost to defy solution: all we can do is to hold the line and wait for some change in either material or, let us say, mental conditions in which people are living. But the big, the strong thing, that must be behind the whole effort of the United States is understanding at home on the basic issues. This is needed to bring about higher standards of living in our own country, to make certain that free areas in other parts of the world do not go under the domination of communism, to make certain that our alliances are stronger through the intellectual, spiritual and material development of those countries with which we are allied.
We are too often swayed by slogans. For example, in the fields in which the United States is attempting to help other free countries so that together we may be safer and stronger and more confident, we use the slogan "give away." I submit, any intelligent man that will look at the world today and can find it in his heart to condemn America's purpose and her efforts to bring other free nations into a higher level of sturdier, better allies, more effective allies, then he is following a line of reasoning which I cannot follow.
All of our domestic problems, including the one now before you--the equality of opportunity of all men regardless of inconsequential considerations--comes in the same category of demanding understanding. This is so whether it be the farm program, the debt program, the need for reducing Federal expenditures, how we want to expand in one direction and contract in another. All demand understanding.
None of these problems, when you come down to it, can be dealt with in a vacuum. They are not mutually exclusive. In almost all cases, you will find them interdependent.
As we achieve a better level of equality of opportunity in this country, our own national prestige and leadership is enhanced. Our economic problems are involved often with this same subject with which you are now dealing. Therefore, not only by developing a better understanding in these basic issues can we help solve the problem with which you are specifically concerned this morning, but by bringing your own minds and hearts into focus on this particular question you help to develop better understanding through the whole of the United States.
Remember, in a democracy, the only motivating, energizing force is public opinion. If that public opinion is well informed, then the United States will act wisely and strongly and fairly at home and abroad.
So you are not solving, or helping to solve, just one problem. You are working for America. I say to you, in my opinion, there can be no better thing to do.
Thank you very much.
Note: The President spoke at the Statler Hilton Hotel, Washington, D.C. The national conference, consisting of members of State advisory committees on civil rights, was sponsored by the Commission on Civil Rights, established by Public Law 85-305 (71 Stat. 626). The President's opening words "Mr. Chairman" referred to Dr. John A. Hannah, Chairman of the Commission.
Dwight D. Eisenhower, Remarks at the National Conference on Civil Rights. Online by Gerhard Peters and John T. Woolley, The American Presidency Project https://www.presidency.ucsb.edu/node/234947