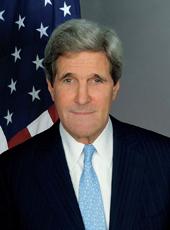 Remarks to the National Association of Latino Elected and Appointed Officials in Washington, DC
I want to thank all of you for coming today. It's wonderful to be back at NALEO. Last year, we met in Arizona. This year, we're in Washington. We're clearly headed in the right direction. With your help, next year we'll have a new place to meet just a few blocks from here.
Last summer, when we met, the primaries were just heating up. Since things turned out so well, I've decided that coming here must've been a good idea. So I'm going to keep coming back. Because together we can take back the White House – and put more of you in elected offices all across America.
I want to thank you for the work you're doing every day to build a stronger America. Hispanics may be the fastest growing group in our country, but you've always held on to your basic values – values that built America: strong families, deep faith, and closely-knit communities. You have never forgotten what Cesar Chavez once said, "We cannot seek achievement for ourselves and forget about progress and prosperity for our community." From the boardroom to the barrio, you embody the American ideal – out of many, we are one. And as you have shown us, now, more than ever, we must stand as one America.
Today, thanks to you, we are one step closer to an America that's stronger at home and respected in the world. And that's what I want to talk about this morning: how together we can create opportunity for Hispanics here at home and build stronger relationships with Latin America.
We're here to fight for good-paying jobs that let American workers actually get ahead.
We're here to make health care a right for all of our people.
We're here to make this nation energy independent.
And we're here to build a strong military, and lead strong alliances, so that our military is never overextended and young Americans are never put in harm's way because we went it alone.
You know, I was born in an Army hospital in Denver, Colorado when my father was a pilot in World War II. My father and my mother taught me the value of service.
I've always been determined to give something back to my country – as a soldier, as a prosecutor, as a Senator. And now, I'm running for President. It's been a great adventure and a great privilege. So many of you have welcomed Teresa and me into your homes and hearts. You have told us the stories of your lives – and they have become the work of my life.
The poet Langston Hughes told the stories in this way: "Let America be America again. Let it be the dream it used to be" – for those "whose sweat and blood, whose faith and pain, whose hand at the foundry, whose plow in the rain must bring back our mighty dream again."
In 2004, we have to bring back our mighty dream again. We have to make America all that it can become.
You know, working families all across our country are living by the oldest and greatest of American values – hard work, service, and caring for one another.
And I'm running for president because I believe that our government should live by those values, too.
It's time to remember a basic truth: a stronger America begins right here at home.
In the last three years, Hispanic American unemployment has soared more than 30 percent. 1.4 million Hispanic Americans are out of work. And those finally getting jobs, are being paid an average of $9000 less a year.
But, as you know better than anybody, as wages are going down, Latino health care costs are going up; tuitions are going up; bills are going up. So, more and more Latinos are working weekends; some of them are working two jobs, three jobs – and they're still not getting ahead.
And to add insult to injury, their hard-earned tax dollars are actually paying corporations to export good American jobs.
Twenty years ago, middle class families with one parent working used to be able to buy a home and pay for college. But today, two incomes barely cover the basics.
And, as you know too well, if anything at all goes wrong – an illness or a temporary layoff – most families can't pay the bills and they risk losing everything they've built and saved for.
In America, a rising tide is supposed to lift all boats. But today, the middle class boat is taking on water. Like most Americans, I believe we can do better than 1.9 million lost private sector jobs, rising costs, and shrinking incomes. I believe in the American economy and American workers.
We all know that the middle class built this country. Franklin Roosevelt understood that. And so did Bill Clinton. But for nearly four years now, Washington has ignored the middle class, putting wealth ahead of work, something-for-nothing ahead of responsibility, and what's right for the few ahead of what's right for America.
I believe in building up our great middle class – especially the millions of Hispanic Americans coming into the middle class – respecting their work, honoring their values, and lifting them up in the toughest of times. I'm running for president because I want an economy that strengthens and expands the middle class, not one that squeezes it.
We're going to cut taxes for the middle class. And we're going to rollback the Bush tax cuts for those who make over $200,000 a year, invest in education, in health care, and we're going to cut the deficit in half.
I want middle class taxes to go down, so your incomes go up.
Let me tell you, we need a president who fights for your job as hard as he fights for his own.
I have a plan to put good paying jobs at the heart of our economy. And when I'm president, American taxpayers will never again subsidize the loss of their own jobs.
We're going to close tax loopholes that pay companies to move our jobs overseas – and we're going to reward companies that create good jobs here in America.
My plan calls for tough enforcement of our trade agreements. We're gonna stop other countries from violating those agreements and walking away with the store. Because I'll tell you what I've seen traveling across this country, if you give American workers a fair playing field, there's no one in the world that the American worker can't compete against.
Trade with our neighbors will make us all stronger. But trade without respect is not what our neighbors want – and neither is one-note insistence on free trade agreements. We need to lift up living standards and working conditions for all working men and women in the US and around the world. As president, I will fight for labor and environment protections in every single trade agreement.
I will also work to strengthen our economic and political ties with our neighbors in Latin America, the Caribbean and Canada. I will bring us back to the negotiating table to develop a Central American Free Trade Agreement that provides economic benefits, creates jobs and includes strong protections for labor and the environment. And I will do the same in our negotiations for the Free Trade Area of the Americas.
Let America be America again.
Being strong at home means extending educational opportunity to every child in America, wherever they live, wherever their parents came from. We need to make sure there is a great teacher in every classroom, especially in our hardest pressed communities, and especially for kids who are learning English in our schools. And through programs like GEAR UP and TRIO, we need to reach out to our children and send them a clear message: if you work hard, if you stick with it, not only will you finish high school, but we will make sure you can afford college, graduate, live the American Dream.
And being strong at home means health care that is affordable and accessible to all Americans.
Right now, there are millions of Americans – including one out of every three Latinos – who go to bed every night without basic health care. And I've met scores of them. Families with names like Gutierrez, Garcia, and Martinez.
I'm running for President because I believe their family's health care is just as important as any politician's in Washington, DC.
Let me just ask you:
Have your health insurance premiums gone up in the last few years?
Have your co-payments gone up?
Have your deductibles gone up?
Then you need to tell this Administration we're fed up and their time is up.
For almost four years, they've had no plan, while rising health care costs are hurting families and making it harder and harder for businesses to compete. My plan will take on the waste and greed in the health care system. It will reduce the average premium by $1,000 a year. It will expand coverage to 95 percent of Americans, including 99 percent of our kids. And, it will crack down on skyrocketing drug prices.
This Administration has it absolutely backwards. They say it's alright to export American jobs. Well, I say it's only right to let Americans import prescription drugs from Canada.
They say we should give billions more to big drug companies. I say we should give seniors a real prescription drug benefit under Medicare.
And in a Kerry Administration, we will stop being the only advanced nation in the world which fails to understand that health care is not a privilege for the elected and the connected or the wealthy – it is a right for every American – so let America be America again.
And being strong at home means always remembering that we are a nation of immigrants. America wouldn't be where it is today – as a country and as a people – if it weren't for immigrants. And neither would I – because I married one! My wife Teresa was raised under a dictatorship in Mozambique. She didn't get to cast a vote in America until she was [24]. But I can tell you, as much as she loves her roots and loves her heritage, I have met few people who love America as much as she does. Teresa is not alone. From soldiers to students, there are thousands of immigrants who have come to our shores and made America a better place.
Every year, hundreds seeking only a better life die in the desert. Millions labor in the shadows of our country, in fear and often abused. This does not serve our economy or our security. It doesn't reflect our values as a country built by immigrants.
It is time to fulfill the promise of America, so that those who work hard and take responsibility can build a better life for themselves and their families. Good people who are living here, working hard and paying taxes should have a path to equal citizenship in the American community. And families should be reunited more quickly. Our worker visa system should be fixed so it protects the wages and working conditions of U.S. workers and temporary workers. And as we do all this, we should improve our border security, fix our watch lists, and make Mexico a real partner, so that our country is safe from those who'd harm us.
A stronger America is also one that's respected in the world. But we will never be respected, unless, as Franklin Roosevelt once said, we are a good neighbor "who resolutely respects ... the rights of others."
Of course, Roosevelt was speaking of Latin America, and the message he sent has influenced every administration, from Kennedy to Clinton. They understood that a strong Latin America is key to a strong America.
The 1990s were particularly good for Latin America and US-Latin American relations. There was an almost universal embrace of democracy and institutional reform -- and Latin America edged ever closer to first-world economies and values. And that was good for the United States. What happens in this hemisphere has a profound effect on Main Street, USA – from our jobs to healthcare, from immigration to schools. In the Americas, foreign policy and domestic policy blur into one. It's fair to say that nearly every corner of the United States feels the effects of our relations with our neighbors.
That's why it's been such a disappointment that this Administration has forgotten Roosevelt's good advice. Instead of being a good neighbor, the president has ignored a wide range of ills – including political and financial crises, runaway unemployment, and drug trafficking. And his one-note policy toward Latin America of one-size-fits all trade agreements have stripped the respect and partnership that marked the Clinton years.
In 1994, President Clinton convened the Summit of the Americas – the first summit in a quarter-century. As president, I will build on that spirit and help forge a new and broader "Community of the Americas." A community where neighbors look after neighbors, recognizing that we all have a stake in each other's future.
At the core of this Community of the Americas will be the bottom-line defense of democracy and the rule of law. While democracy has moved forward in countries like Mexico, Brazil, and Chile, we can't sit by and watch as mob violence drives a president from office, like what happened in Bolivia or Argentina -- or even encourage him to flee, as we did in Haiti. We will not welcome a government named by a military junta, as was the case in Venezuela. Strong democratic states with transparent rules and a broad respect for the rule of law are essential to alleviating poverty and inequality in the region. As president, I will strongly support democratic institutions, assist democracy where it is troubled, and promote democracy in Cuba.
I will create a Council for Democracy with distinguished international leaders who can work with the Organization of American States to resolve crises before order is threatened and blood is shed. I will also triple funding for the National Endowment for Democracy's programs that strengthen democracy in Latin America. And I will support the Social Investment and Development Fund for the Americas. This $500 million fund will promote public and private partnerships in the region, and give training and developmental assistance to startup companies.
I will also create a "North American Security Perimeter" to better facilitate the legitimate travel of law-abiding citizens and crack down on bad actors trying to enter the United States. By working closely with our border neighbors to coordinate our customs, immigration and law enforcement policies, we can better protect the region from terrorist threats.
Finally, we are also losing the hearts and minds of a generation of leaders in Latin America by making it harder for young people to get visas to study here. As President, I will triple the number of educational exchanges, and encourage colleges to give tuition waivers to foreign students in exchange for internships overseas for our students.
The Community of Americas is about working together toward shared goals. In the war on terror, in the war on poverty, in the war on drug smuggling, in our many common battles, we must look to our neighbors as partners, not as second-class citizens, so this can truly be the Century of the Americas.
When I was in Vietnam, I served on a small boat on the Mekong Delta with men who came from places as diverse as South Carolina and Iowa ... Arkansas and California.
We were literally all in the same boat – and we came together as one. No one asked us our politics. No one cared where we went to school or what our backgrounds were.
We were just a band of brothers who all fought under the same flag, and all prayed to the same God. Today, we're a little bit older, we're a little bit greyer. But we still know how to fight for our country. And what we're fighting for is an America where all of us are truly in the same boat.
We're not just Democrats or Republicans. We are Americans. We have to end the divisions in this country. We have to work together for the America we can become.
So, I ask for your help. Talk to your neighbors; talk to your friends. Enlist in our cause.
My friends, this is the most important election of our lifetime. And that's not something I'm telling you. That's something Americans have told me again and again.
In great movements for civil rights and equal rights and the environment, we have come together as one America to give life to our mighty dream.
So come together again and stand up for a great purpose – to make America stronger at home and respected in the world.
We're a country of the future; we're a country of optimists. We're the can-do people. And no one understands that more than America's Latinos. People who've come here to work hard, pay taxes, and raise their children. No one has a bigger stake in America's future. We just need to believe in ourselves.
Que America sea America. Para Todos.
Let America be America again.
Si se puede! Si se puede! Si se puede!
Thank you, and God bless you.
John F. Kerry, Remarks to the National Association of Latino Elected and Appointed Officials in Washington, DC Online by Gerhard Peters and John T. Woolley, The American Presidency Project https://www.presidency.ucsb.edu/node/216868