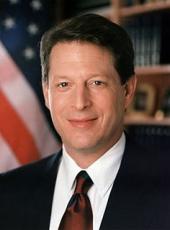 Remarks to the Michigan Education Association in Lansing
Throughout this campaign - starting with my first major policy address, one year ago in Iowa -- I ve talked about the steps we must take to bring truly revolutionary improvements to our schools, with new resources, new accountability, and public school choice.
I ve talked about the need to make education a national priority, with greater national investment -- from universal pre-school, to smaller class sizes, to tax cuts that help families save for college, to tax-free 401(j) accounts for lifelong learning. I ve talked about the importance of demanding more - from students, teachers, parents, and schools. Last week in Dallas, I described my plan for accountability across our entire school system.
I believe very strongly that investment without accountability is a waste of money. And accountability without investment is doomed to failure.
But you and I both know that neither will matter if we don't elevate the teaching profession, and help teachers meet high standards.
And so today, I want to talk about what our country must do for our teachers -- and what our teachers must do in return.
Let me begin with a simple pledge. If I m entrusted with the Presidency, I will ensure that there is a fully-qualified, well-trained teacher in every single classroom, everywhere in this nation, by the end of the next four years.
To meet that basic goal, I believe we have to commit ourselves to three fundamental objectives.
First, we have to attract the most talented Americans to the teaching profession. Second, as you help to ensure higher standards and greater accountability, we have to raise teacher salaries and reward you for success. Third, we have to give teachers the training and support they need to meet high standards of excellence.
My opponent, George W. Bush, has talked about teacher quality. But he has no serious plan to hire the new teachers we need to meet surging enrollments and to reduce class size. He has no plan to raise teacher salaries. He has no serious plan to ensure that all new teachers are well-trained teachers. And instead of giving teachers and students the resources they need to teach and learn, he supports private school vouchers - which would drain precious public dollars away from our teachers and schools.
I believe Governor Bush has the wrong approach. Teachers are some of the hardest-working people in America. We can t improve our schools by shortchanging our teachers.
I have a different view. We should treat teachers like the professionals you are - we should expect high professional standards -- and we should pay you like professionals.
You might say that I was raised on a respect for the teaching profession. My father grew up in a community named Possum Hollow, in Middle Tennessee. When he was just eighteen, he went to work as a teacher in a one-room schoolhouse. He taught in a small mountain community that was nicknamed "Booze" - for reasons we don't have to discuss this afternoon.
When my dad started out as a teacher, he had just three months of college -- but that was enough for his students to call him Professor Gore. I dare say that the teachers here today have done a bit more to earn the respect your students give you. Eventually, my father graduated from Murfreesboro State Teachers College, and became Superintendent of Schools for Smith County - a job he held until he became Tennessee's Commissioner of Labor.
I learned a lot about the power of good teaching from my mother, too. She started her education in a one-room schoolhouse - a lot like the one my father later taught in. She later worked her way through college, and took her blind sister, my aunt Thelma, with her - taking notes and reading lessons for both of them. She then asked the Rotary Club for a $ 100 loan and took the bus to Nashville, where she got a room at the YWCA, waited tables at an all-night coffee shop for 25-cent tips, and became one of the first women in history to graduate from Vanderbilt Law School.
She often told me that without the kindness and help she received from her teachers and professors, she never could have made it all the way to her law school degree. Today, at 87 years old, she still remembers every single teacher who had an impact on her. I ll bet a lot of your students will feel the same way in 70 or 80 years.
We all know that good teaching is the very foundation of our children's future. That is why it is essential that we increase the number of teachers in our schools; recruit highly-qualified teachers all across this country; and reward teachers for the crucial work you do.
You know as well as I do: this challenge has never been greater than it is today.
Student enrollments are rising each year. The generation of students eighteen and under is now the largest generation in history. They just broke the all-time record set by the Baby Boomers - and they ll break the record again next fall, and every year for ten years to come. In addition, our nation's teaching force is aging - which means that more teachers are retiring each year. And at the same time, the wage gap between teachers and other professionals is widening.
Today, we're hiring 100,000 new teachers to help local communities reduce class size - and we're insisting that every new teacher hired under that program be fully qualified.
But there are still far too many teachers in our classrooms who have only emergency certification.
And the truth is, our states and school districts will need to hire 2.2 million new teachers in the next decade - at a time when it is becoming harder and harder to do so. And to meet our responsibility to the next generation, we need to fill those vacancies while raising standards, not lowering them, and while reducing class sizes, not raising them.
Let's also recognize that far too many of teachers today are overworked and underpaid.
As some of you may know, almost every week I hold what I call "School Days" - days when I participate in every aspect of the life of a school. That's why I spent today at Holt High School in Lansing. And before these School Days, I always spend the night at the home of a teacher - and go with that teacher to school the next morning. Last night, I stayed at the home of Margo Strong, a computer teacher at Holt High School, her husband Jay, a first-grade teacher at Holt Elementary School, and their two children, Anna and Nick.
Last month, when I visited L Anse Creuse Middle School in Macomb County, I spent the night at the home of Claudia Amboyer. She's a sixth-grade teacher with twelve years of experience and a master's degree in education. She is recognized as one of the best teachers you can find, and she is at the top of the teaching salary scale in her school district.
Claudia's 19-year-old son just got a job as a web page architect -- and he's making almost the same salary that his mother makes, after she has spent a dozen years in one of the most important jobs in our country. What's wrong with this picture? In too many schools, low salaries are just one part of the burden. We're asking teachers to educate our children in overcrowded classrooms - with textbooks that are out of date, classrooms that are not connected to the Internet, and facilities that are falling down.
I ve been to schools that are so old that the windows don't close properly - and in the wintertime, snow piles up on the floor.
I was in a classroom in Ohio a few weeks ago where a large window had been broken in September -- and it still hadn t been replaced.
I ve been to schools where the facilities are so overcrowded that the children have to eat lunch in shifts -- with the first shift starting at 9:30 in the morning.
I ve been to schools all over this country that no longer have playgrounds or an athletic field because they re covered up with trailers serving as temporary classrooms.
I ve been to schools where the classrooms are so full, and the teachers are so overburdened, students are reluctant to take the teacher's time - even when they don't understand the material - because they feel guilty adding to the obviously crushing burden on their teacher. Those students quietly resign themselves to settle for less - because that's what they see our country doing in not investing adequately in our schools.
Teachers have to shoulder all these burdens - at a time when you re under greater pressure than ever to give our children a world-class education.
No wonder almost a quarter of all new teachers leave the profession within three years.
So how can we boost teacher quality nationwide, and give all our teachers the support they need to succeed? How can we do more to honor and appreciate our teachers - as we summon a whole new generation to careers in teaching?
We have to start by launching an aggressive national campaign - in high-need subjects and in high-need areas - to help school districts put one million new well-trained teachers in America's classrooms. That will make it a lot easier for states and local communities to finish the job of hiring all the teachers we will need.
I propose the creation of a new 21st Century Teachers Corps -- open to talented people across the country. If college students agree to spend four years teaching in a school that needs their help, we ll give them up to $ 10,000 each to pay for tuition. For those already in college who agree to become teachers in the schools that need them most, we should help them pay back their student loans.
For those willing to switch careers and go into teaching, we ll provide a $ 10,000 hiring bonus and pay for training to prepare them for the classroom. And we ll make sure they have high-quality, alternative ways to become certified, without requiring them to take for a second time the courses they have already successfully completed in order to qualify for their present career.
Teaching is one of America's most important professions. All of us share a stake in its success. It's not enough to honor and respect today's teachers - we have to work together, to attract and lift up the teachers of tomorrow. I want to lead a nationwide effort - in partnership with the private and non-profit sectors -- to persuade talented Americans of all backgrounds to choose careers in the classroom.
That brings me to the second challenge we must meet. If we're serious about making teaching a true profession and attracting the most talented Americans to our classrooms - and if we're serious about asking teachers to help us raise standards and accountability -- we should pay our teachers like professionals, and reward good teaching.
I am convinced, after campaigning all across this country for the proposition that education must be our top priority for investing in the future, that the American people do not support spending more money for what they fear would be the same old results. But I have also learned that there is no question that if the American people believe that new resources are going to be accompanied by meaningful reforms and new accountability to reach higher standards, they are extremely supportive of devoting significantly more resources to our schools.
Think about it: we're asking America's teachers to meet our greatest obligation for the future. We're asking them to educate and help mold our children. Yet we pay them far less than other professionals with essentially the same qualifications are now earning. And that is wrong. In communities where schools, teachers, community groups, and local businesses agree on effective plans to raise teacher quality, let's give every qualified teacher a $ 5,000 raise.
Let's give $ 10,000 raises to master teachers, and those who become certified by the National Board for Professional Teaching Standards.
Let's reward all teachers in schools where the entire school meets agreed-upon performance goals - which include higher student achievement. Let's work with teachers and administrators to develop plans that reward individual teachers. And based on the innovative plan negotiated and partly designed by teachers in Denver, I believe we should ask teachers to help us find proper ways to integrate gains in student performance with the other criteria that should be used for rewarding excellence in teaching.
The simple fact is that raising teacher salaries and rewarding excellence is essential to the third challenge I want to discuss -- making sure that all teachers have the professional development and support they need to meet higher standards.
If I m entrusted with the Presidency, I will require states to guarantee that all teachers are fully certified or working toward certification - and that all middle school and high school teachers have a major, a minor, or demonstrated ability in the subject they teach.
According to one recent survey, only 36 percent of teachers consider themselves to be "very well prepared" to meet the standards of their state or school district. Right now, one quarter of all high school teachers don't have even a minor in the subject they teach.
So I will combine greater accountability with greater investment - building on our recent $ 1 billion national commitment to intensive professional development for America's teachers.
For example, I think teachers should have paid time away from the classroom to visit the classrooms of master teachers, in order to pick up new skills and techniques.
I believe all new teachers should have to pass a rigorous and fair assessment -- which includes tests in the subjects they will teach -- before they set foot in the classroom. We should test new elementary school teachers, to make sure they are prepared to teach the crucial subject of reading, as part of a national crusade to ensure that every child can read independently and well by the end of the third grade. And I believe states should be required to conduct these tests as a condition for receiving federal funding.
Every new teacher should be required to meet rigorous standards before being licensed or tenured - and every new teacher should have the mentors and professional support to make the transition into teaching.
Tenure should be based on a careful evaluation of each teacher's performance - including, but certainly not limited to, the academic progress of that teacher's students. Other factors must also be taken into account, factors such as the degree of difficulty confronted by teachers in the communities where they teach, the degree of parental involvement, the degree to which "team teaching" makes it difficult to assess the individual contribution one teacher makes to student performance. And in all cases, the system for granting tenure should be designed with heavy teacher input. But let me be clear on the central point, and it is a point that I know many of you disagree with: tenure should be based, at least in part, on student performance.
The granting of a teaching license should be followed by rigorous but fair performance evaluations, and access to regular training and professional development. And every five years, performance evaluations -- tied to individual professional development plans -- should be used to determine whether a license is renewed. But teachers should have help in paying for the professional development needed.
I urge faster but fair ways, within due process, to identify, help -- and when necessary - speedily remove low-performing teachers. While we know the vast majority of teachers are doing a good job, we know there are a few who are not. And we know that they unfairly reflect on all those who are. That means that while we absolutely must respect due process, we have to put an end to endless delays in removing those teachers who really need to be removed.
We should also empower principals, with the active participation and advice of teams of teachers, to hire their own staffs -- based on expertise and support for the school's academic mission, and not solely on seniority. And we should empower principals, with the participation of teachers, to manage their own budgets.
At its best, teaching is a lifetime vocation. But no teaching license or contract should be a lifetime job guarantee. And let me be clear: we have to give all our teachers the support and training they need to succeed.
I know Michigan's teachers will not agree with me on all of these proposals. But I believe these proposals will move us closer to the goals we share: lifting up the teaching profession, building public support for public schools, and making our schools the best in the world.
Finally, we must realize that we cannot raise the quality of teaching without the support and conditions that enable good teaching. We have to give teachers the smaller classes, modern school buildings, good working conditions, and the real role in decision-making that they need to succeed in the classroom.
My education plan increases our national commitment to public education - and it rejects the false promise of private school vouchers. We will never improve education or increase accountability by taking taxpayer money away from public schools - and giving it to private schools that are not accountable.
These are the steps I believe we must take to increase the number of teachers in America, and to raise the quality of teaching. We cannot meet high standards until we are willing to set high standards - and then reward the teachers who meet those standards. Only by elevating the entire profession can we meet the needs of students and schools, and convince the American people to meet our obligation to bring revolutionary improvement to our public schools.
Governor Bush offers a far different approach when it comes to education.
He seems to think that if he gives a speech on education, the American people won t figure out what his program really is - some soothing words, a tiny bit of help, and a voucher program that would actually drain resources from public schools to private schools.
Governor Bush wants to privatize education - just like he wants to privatize Social Security.
Any teacher in America knows: you don't judge a term paper by its cover. But when you take a close look inside the Bush education plan - well, it's mostly blank pages.
I ve already talked about how Governor Bush shortchanges education investment - with no plan for national school construction, no plan for universal pre-school, and no plan for smaller class size. The contrast is even greater when it comes to teacher quality and accountability.
I make a commitment to raise teacher salaries and reward excellence in the classroom. Governor Bush does not.
I make a commitment to test all new teachers and remove low-performing teachers in ways that are both fast and fair. Governor Bush does not.
I have a plan to put one million new well-trained teachers in the classroom. Governor Bush does not. In fact, he would dismantle our plan to hire 100,000 well-trained teachers. And he only proposes a small increase in an existing teacher recruitment program - and most of that increase is in the budget our administration has already submitted to Congress.
I am proposing a major national investment to make sure teachers have all the resources they need. And I think that we ought to end the common expectation that your net salary can only be calculated after you take out all the money you have to spend out of your own pockets to purchase supplies that the school ought to be supplying to you. All Governor Bush does for teacher resources is give you a $ 400 tax deduction - on the assumption that you will have to forever keep spending your own money, out of your own pockets, on the classroom supplies his plan will never provide.
I guess that's Governor Bush's idea of education investment; our teachers have to do the investing.
To make matters even worse, his major proposal in this campaign is a giant, $ 2.1 trillion tax giveaway - which would be certain to force cuts in public education.
If he thinks that's the way to invest in education, then he may need help from some of the math teachers in this room.
None of this is surprising if you look at Governor Bush's record in Texas. Texas ranks 41st in the nation in standards for teacher quality. Texas teachers are paid less than the national average - which may be why more than a quarter of them work second jobs.
You don't need me to tell you: there is no greater test of our national responsibility than the quality of the education we provide. And there is no more important ingredient in American education than the people who are here today - the hard-working teachers who lift up our children, each and every day.
That is why I am proposing a major national commitment to education - to invest more in teachers and schools, and to demand more in return.
I want to build an America where you are respected and rewarded - and where we expect the very best from you.
I want to build an America where teaching takes its rightful place among the most honored of all professions.
Our future - our children's future - is in your hands, in your classrooms, and in your schools. Let's keep working together - because America's public schools have to be second to none. Let's make them the best. Thank you.
Albert Gore, Jr., Remarks to the Michigan Education Association in Lansing Online by Gerhard Peters and John T. Woolley, The American Presidency Project https://www.presidency.ucsb.edu/node/285643