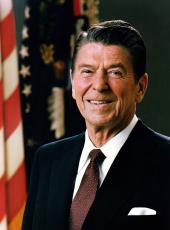 Remarks at the Memorial Service for Edith Luckett Davis in Phoenix, Arizona
Father Doran. We want to welcome all of you to St. Thomas the Apostle Parish. In a sense, it's a home parish for Edie, for though she was not a Catholic, she began coming to this parish in 1951, when we were a little barracks built on the back of the property. And she, as a matter of fact, became one of the first benefactors of this parish, where she came one Sunday in the old, cold barracks—and we were sitting on folding chairs—and she said, "We've got to do something about this parish." So, she went back up to the Biltmore, and she said, "There's a bunch of you rich Catholics around here, and you've got to do something for that young, little"—years ago-"young, little priest that is trying to build a parish. Now, I'm going to give a bingo game Sunday night, and you're going to come, and you're going to dish out." And thus it happened. When she said something, it happened. And she came down the next day very gleefully with a pocket—or, with a bagful of money that she had made for the parish that night.
So, that was her beginning here, and it carried on. As the parish grew, she continued to be a part of it. And one day about 18 years ago, when Edie wasn't feeling particularly well at that time, Loyal got me aside, and he said, "Father, you've got to make a promise to me." I said, "What?" He said, "When Edie dies, you've got to bury her, and you've got to bury her down in that church, where she's been going all these years." So, we are fulfilling a promise. And Nancy and I looked at each other the other night, and we said, "We're fulfilling a promise to Edie. We're also fulfilling a promise to Loyal."
So, it is very appropriate that you join with us today, as we say a very happy word of memory to a very happy person. So, we continue now.
Monsignor Donohoe. From Edie's own little Bible, loaned me for this occasion by her precious daughter, we read one of Mrs. Davis' favorite prayers.
"The Lord is my shepherd, I shall not want. He maketh me to lie down in green pastures. He leadeth me beside the still waters. He restoreth my soul. He leadeth me in the paths of righteousness for his namesake. Yea, though I walk through the valley of the shadow of death, I will fear no evil. For thou art with me. Thy rod and thy staff, they comfort me. Thou preparest a table before me in the presence of mine enemies. Thou anointest my head with oil. My cup runneth over. Surely goodness and mercy shall follow me all the days of my life, and I will dwell in the house of the Lord forever." These are the words of Holy Scripture.
Father Doran. Over many years of priesthood, 22 of which were spent in this parish, I came to know a great number of people, naturally. And I came to build a habit of—when I was saying a few words at their funeral service—of trying to pick out some particular aspect of that person, something that perhaps gave the key to that person's personality. And what I always wanted to do was to choose something that her friends and her family and all who knew her would sit back and say, "Yes, that's right. That's true of him. That's true of her." It was a way of seeking a truth of a person and have it verified by the family and the friends.
So, we looked to the center aspect of Edie Davis, something that would be singular about her. And I think her family and you, her friends, will agree that if you wanted one word to describe Edie Davis it would be "delightful." She was a delightful person. One felt delight in her presence. One felt delight in the anticipation of her presence. One found delight in the memory of her presence. For that is the way of Edie Davis in her life and to all those around her. She reminded me of what a poetess had said: "She walks, the lady of my delight." And that is what I saw, and I have a feeling what you saw, in this lovely woman.
Now, it might be interesting to consider for a moment just what is delight. If you were asked to describe the word "delight," how would you put it? What would you say of it? It's a strange thing that delight is curiously human and intensely intellectual. We experience delight first with our minds. We feel it is not so much a pleasure of the senses as it is a delight of the mind at something that another has said or something that another has done that gives pleasure, delight to those around, to those who hear, to those who experience. So true is this that sometimes, though we're reluctant to admit it, we can be delighted in ourselves at something we have said or something that we feel was particularly good that we might have done. Delight—delight is a reaction. It's a vibration responding to the wisdom or the wit or the outright humor of another person, of the vibrations of that reaching our mind like a spark coming out and igniting a fire of warmth within us.
One couldn't be with Edie Davis for a few minutes, or one couldn't be with Edie Davis for a long time, without experiencing the effulgence of delight which came from her presence or which came from hearing her witty, fun-filled reactions to the vagaries and the varieties of human life. She could turn a formal occasion into a fun-filled occasion with one simple phrase. I remember one time I introduced her to our first Bishop of Phoenix, and she met him very formally, almost curtsied to him. And then she turned to me, and she said, "Well, aren't you and I going to kiss? We always do when the Bishop isn't here"— [laughter] —a typical Edie remark.
She could come back at you. She could answer you in a flash. She called me one time late in a week and asked if I could come for dinner on Saturday night. I said, "I'm not really sure. Let me check." She said, "You have to come. You have to come." And I said, "Why do I have to come?" She said, "The Governor of California is coming over for dinner tonight, and I've got to let Ronnie know I've got some decent friends." [Laughter]
People who knew Edie for a short time began to love her for her warmth, her wit, and her delightful character. One time, she and Loyal turned over their house for what we called, in this parish, a holiday house. People of the parish had made all sorts of things for holiday sale. And we would decorate a house, and it would be an open house for anyone to come. Well, several of the ladies were up there early, getting the house ready, and they came out just simply bubbling at Edie Davis. And then, on the following day when anybody could go through, she stood there almost the whole day long as the great hostess. And over and over again, people coming out remarked, "What a wonderful woman this is. What a delight!" That word was used so often-"What a delight to meet her or to know her."
And so, may I say to the family and to you friends the assurance that something special is in delight in the very eyes of God. You know, God made us humans the only creatures who can laugh. The animals don't laugh, even the angels don't laugh—only humans. It's our human characteristic. And so, we have this power of laughter and of joy and of delight in the grandeur or the lovability or the wit or the wisdom of another. And this gift of God was intended to lighten our days, to make them lighter and brighter by the delight that we see in others. And that same God—I think I can assure you, Nancy—that same God who gave us this power rejoices in our use of that power and certainly will smile benignly at one who used that power with such graciousness and such generosity, who gave delight to others through these many, many years of her life; because there's an old saying—I think it's an Indian saying, but I'm not sure—and it says this: "Laughter is music to the ears of God." And she played a song of music in her life and will have it now. God bless you.
Monsignor Donohoe. In this day of thanksgiving for heritage—heritage for her family and, through the providence of God, heritage for our nation—we go back to the Book of Ecclesiastes and read this passage for ourselves as we go on our pilgrimage to join Edie in heaven.
"To everything there is a season and a time to every purpose under the heavens; a time to be born and a time to die; a time to plant and a time to pluck up that which is planted; a time to kill and a time to heal; a time to break down and a time to build up; a time to weep and a time to laugh; a time to mourn and a time to dance; a time to cast away stones and a time to gather stones together; a time to embrace and a time to refrain from embracing; a time to get and a time to lose; a time to keep and a time to cast away; a time to reap and a time to sow; a time to keep silence and a time to speak; a time to love and a time to hate; a time of war and a time of peace. What profit hath he that worketh in that wherein he laboreth?"
Thus ends the words of this passage.
The President. How do we say goodbye to someone we've loved for so long, someone of innate tenderness who loved us? Indeed, she loved all humankind. We all have our memories, precious memories. I became acquainted with Deedie by telephone. When Nancy and I were courting, if she were calling her mother or her mother calling her and I was there, she—well, she introduced me to Deedie on the phone. And then she would put me on the phone to visit for a while. And it was quite a time before we met face-to-face, but when we did we were already close friends.
To paraphrase Winston Churchill, meeting her was "like opening a bottle of champagne." Nancy and I spent our honeymoon with Deedie and Loyal here in Arizona. And after getting to know her and after a period of that kind together, I have to tell you I have never been able to tell a mother-in-law story or joke since. Somerset Maugham wrote a line that could have been for her: "When you have loved as she has loved, you grow old beautifully."
Many people who only knew about Deedie will remember her as the lady who headed up the great fund-raising charity in Chicago for 25 years. Many more will remember her for all that she did here in Phoenix, raising millions of dollars, particularly for children who were disabled or handicapped. But there are countless more individuals who will remember her for what she did for them, personally, when they had a problem or a trouble or something that made them need help. She didn't just recognize the cop on the corner; they were personal friends. She knew countless other people who just crossed her path-delivery boys, the cleaning woman, Dr.

Loyal's patients, and, yes, his students in the medical school at Northwestern University.
My first inkling of how well she was known and loved came some years ago when, at that time, my television sponsor had brought me to Chicago to appear at a kind of forum. It ran late, and I came out; it was dark. And I was supposed to meet Deedie and Loyal. They had told me the name of the cafe, and I was to meet them for dinner. And I told the doorman about this and that I needed some instructions as to where was that cafe. And was it far enough away that I needed transportation? And in doing so, I, without realizing it, I told him who I was meeting. And he just raised his hand when I said that name. And he left me and went out to the curb, and he started looking, I suppose, for a cab. But the traffic was stopped for the stoplight on the corner, and there was a police car. And he waved the police car over to the curb, and he told them about me and who I was meeting and that I needed to get there. And the next thing I knew, I was a passenger in a police car with two officers who knew Deedie Davis and who drove me right to the door as quickly as they could.
On another occasion, Nancy and I were coming into Chicago on the overnight train from New York, getting in early in the morning in the midst of a blizzard. And there wasn't a redcap in sight. The porters on the cars took the luggage off and sat it down there on the ramp. We were quite a ways from the station. In that blizzard, and all up and down the train, were all the passengers trying to sort out the luggage and trying to find their own bags. And Nancy and I looked up, and coming down the ramp was Deedie, arm in arm with two redcaps. [Laughter] They were having quite a conversation. And as they got closer, I heard she was talking to one about his daughter, and by name. She knew his daughter, also, and how was she getting along in school? And by that time, they were close to us. And Deedie said, "Oh, this is my son and daughter. Could you help them with their luggage?" And so the five of us went back up the ramp. And now Edie was arm in arm with both of us, and the two redcaps were carrying our baggage past hundreds of passengers who had no such help. I remembered one thing that I've never forgotten. She said to her two friends when they caught up with us that I was her son and Nancy her daughter. She didn't say son-in-law.
She gave wit and charm and kindliness throughout all of her life. She also raised a son who was a respected surgeon, an honorable man, caring father, and husband. And she gave the world a loving daughter, a woman who has made my life complete.
In the midst of our grief, Dick and Nancy, I hope you'll take comfort from this: that you were loving children, and you made Deedie happy and very proud. Yes, all of us who are gathered here feel great sorrow. But let's be sure we know the sorrow is for ourselves, for the loss that we now feel. But let us realize that Deedie has just gone through a door from this life to that other life that God promised us, that life that is eternal, where no one is old, where there's no pain or sorrow, and where she is a smiling and loving Deedie we all remember, now once again hand in hand with Loyal, surrounded by others of her loved ones who have preceded her there.
And she's looking back on us with that loving kindness. Yes, she's here. She's seeing us and hearing us now. She's wanting us to be happy in knowing that one day, we will all be together again. And if I know Deedie, that other life that we've been promised will even be better, because she's been there for a while before we arrived.
Note: The President spoke at 2:50 p.m. at St. Thomas the Apostle Roman Catholic Church. Father John Doran and Monsignor Robert Donohoe were affiliated with the parish when Mrs. Davis was a parishioner.
Ronald Reagan, Remarks at the Memorial Service for Edith Luckett Davis in Phoenix, Arizona Online by Gerhard Peters and John T. Woolley, The American Presidency Project https://www.presidency.ucsb.edu/node/251247