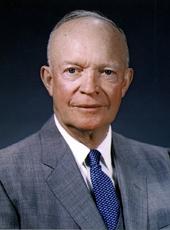 Remarks to the Members of the United States Committee for United Nations Day.
Mr. Watson, ladies and gentlemen:
There is obviously one deep and abiding bond that joins us together--those of us here this morning. You have faith and belief in the United Nations, and so do I. Mr. Watson has thanked me for my efforts on its behalf. Rather, I think, it is up to me, as the political head of this Government, to thank each of you for your voluntary efforts in support of that great institution.
With all its defects, with all the failures that we can check up against it, it still represents man's best organized hope to substitute the conference table for the battlefield. It has had its failures, but it has had its successes. Who knows what could have happened in these past years of strain and struggle if we hadn't had the United Nations? I think it is far more than merely a desirable organization in these days. Where every new invention of the scientist seems to make it more nearly possible for man to insure his own elimination from this globe, I think the United Nations has become sheer necessity.
So when I thank each of you, I am thanking you not only as an official act from a government that is committed irrevocably to the support of this United Nations, but I am thanking you for having the wisdom to see what the alternatives are facing humanity and civilization in the world today and, moreover, for your initiative, your readiness to go forward and support something so necessary to decency, to justice, and to peace in the world.
And that is my word of thanks. Goodbye.
Note: Immediately before the President spoke, Thomas J. Watson, Chairman of the U.S. Committee for United Nations Day, presented him with a bound volume containing testimonials of member organizations reaffirming their support of and belief in the United Nations. The President spoke at 9:30 a.m. in the Rose Garden at the White House.
Dwight D. Eisenhower, Remarks to the Members of the United States Committee for United Nations Day. Online by Gerhard Peters and John T. Woolley, The American Presidency Project https://www.presidency.ucsb.edu/node/232041