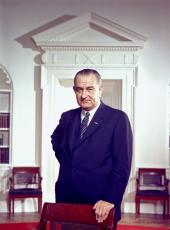 Remarks to the Members of the Davis Cup Team.
Ladies and gentlemen:
I want to welcome you to the White House on this occasion. It is a very proud one for me to be able to come here and meet with you.
Mr. Turville, we appreciate your bringing the Davis Cup winners here where we can, in the first house of this country, congratulate them for their achievements, because they exemplify one of the most important attributes that can be possessed by either people or a nation, and that is the pursuit of excellence.
The Davis Cup winners have brought honor to the United States of America. The honor does not lie solely in winning this athletic event. The honor really lies in the fact that in America we do have young men who are willing to dedicate themselves to excellence and who are ready to set a goal and to work unswervingly toward that goal.
It is especially gratifying to me that these players represent so many parts of the country, and some very good parts of the country, too, I might add. Two of them are products of Trinity University in my State. One is from the University of Southern California, and others from Northwestern University. Still another is a graduate of Yale who is now attending the University of Virginia Law School. So really, as we meet here this morning, we must recognize that the whole Nation shares in this triumph.
Sometimes I know you recognize that it is fashionable in some quarters to deprecate athletic achievement. This is, I think, a very shortsighted view. I think we in modern times sometimes tend to forget the ancient Greeks, whose philosophical thought and standards and beauty and culture still dominate our thinking in the Western World. They really valued athletic excellence with the same fervor that they exhibited in pursuing thoughts of their wise men and their poets. The Olympic games had a standing among the Greek intellectuals equivalent to the discourses of Plato and Socrates and Aristotle. This was because they recognized the value of pursuing excellence in every field, and this Nation can and should do no less.
As you come here to the Capital of your country, and to the first house of this land which belongs to all of you, I should like you to know that the eyes of the entire Nation are upon you. We do recognize the value of pursuing excellence and we do appreciate the manner in which you have pursued it.
Thank you very much.
Note: The President spoke in the Cabinet Room at the White House at 11 a.m. Edward A. Turville, president of the U.S. Lawn Tennis Association, to whom the President referred in his opening remarks, responded briefly. The text of Mr. Turville's remarks was also released.
Lyndon B. Johnson, Remarks to the Members of the Davis Cup Team. Online by Gerhard Peters and John T. Woolley, The American Presidency Project https://www.presidency.ucsb.edu/node/238741