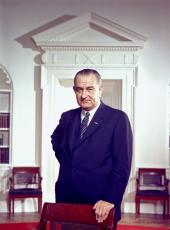 Remarks to the Members of the Consumer Advisory Council.
THERE IS a particular pleasure for me in meeting with you this afternoon.
I consider this group one of the most important that can be assembled in our Government. I was heartily in accord with President Kennedy's consumer message in March of 1962. I intend to press forward with consumer programs with all the vigor at my command. And I specifically urge you to proceed with the work begun before the tragedy of November 22.
In this computer centered world, we run the very real risk of forgetting what our society is all about. Production figures, cost estimates, statistical charts, bar graphs, and all the paraphernalia of the electronic age have a hypnotic quality. We become fascinated with the devices that have multiplied our productive capacity beyond the wildest dreams of the past. And unless we are careful, we can easily become fascinated with production for the sake of production alone.
What should be merely a means can become an end in itself.
From an economic standpoint, I like to think of society as having two functions. First, it must direct its attention to the age old problem of converting the earth's resources into goods and commodities. Second, it must direct its attention to placing those goods and commodities into the hands of the men, women, and children who use them.
This, of course, is an oversimplification. But it is a useful oversimplification--particularly when we are thinking in terms of our Federal Government.
An official of the Federal Government has a tendency to think of production and consumption in mass terms--simply because the problems that are handled are massive. This preoccupation with mass is understandable. But we do our country a disservice if we permit the concern of the consumer--the individual American--to be lost in the statistics that cross our desks every day.
In the Federal Government, you are the voice of the consumer. And I hope that your voice will be loud, clear, uncompromising, and effective. I assure you that it will always have my attention.
In our society, the marketplace is the method of distribution. And I do not believe it is mere coincidence that in a country of the free marketplace we have succeeded in raising living standards to the highest level in all human history.
The excellence of the marketplace as a device for distribution is beyond question in our minds. But we must not be so unquestioning that we ignore those forces which can undermine our system for exchanging goods. Of these forces, one of the most dangerous is price instability.
A constantly rising level of prices and costs can eventually flood and smother the marketplace. And if this should happen, our society would become a very different thing indeed.
We have been fortunate in recent years. The record of price and cost stability has been excellent. Average wholesale prices are still below the level of early 1961. Consumer prices have risen only 1.2 percent per year. Average increases in wage rates have stayed within the limits of increases in labor productivity and unit labor costs have held steady and, in some cases, even declined.
There have been specific price increases in recent months--especially in manufactured goods--that could be a cause for concern. But we are counting on the sense of responsibility of the Nation's industrialists and labor leaders to extend the excellent price and cost records of recent years.
In the free marketplace, of course, it is normal for prices to go up and down. This is merely a market adjustment to the economic facts of our world. But I believe that there are factors at work which will enable manufacturers, on the average, to hold the line on prices.
First, we have unused industrial capacity and unemployed workers that can and will be drawn upon as demand increases.
Second, because unit costs of production have held steady or declined, and volume has risen, corporate profits have reached an all time high and are still rising.
Third, the tax cut will further reduce costs and strengthen markets--so that earnings will continue to rise even at present price levels.
For my part, I will do whatever I properly can to be helpful. Like our late President, I do not believe that the Federal Government should be a meddlesome busybody, sticking its nose into every aspect of private decision-making. But I am deeply aware of the fact that a renewal of the price-wage spiral would endanger our domestic expansion and our international balance of payments.
The public interest and the consumer interest must be foremost in our minds. To that end, I will work with you, and with the leaders of industry and with the leaders of labor to maintain price and wage policies that accord with the noninflationary guideposts. I believe that all of us--as prudent men and women--realize the urgency of this matter. I also believe we all realize it would be a tremendous mistake to become complacent because at this point the record is good.
People cannot eat records nor wear statistics. Neither can they be housed, transported, or educated by self-congratulations. We can draw lessons from the past, but we cannot live in it.
You have a heavy responsibility. We know you will discharge it with distinction. And in the days that lie ahead, remember that this office is always open to you in your efforts to help the person that is the real center of our economy--the consumer.
Note: The President spoke at 3:40 p.m. in the Fish Room at the White House.
On the same day the White House announced that the Advisory Council had that day made the following recommendation:
"The Consumer Advisory Council continues to be concerned about announced price increases by various basic manufacturing industries. The multiple effects which such price advances may have on the prices consumers pay warrant the continuing attention of the Consumer Advisory Council.
"The Consumer Advisory Council is convinced that the pending tax reduction, which it has endorsed as a measure to stimulate the growth and prosperity of the economy, must be accompanied by responsible price and wage behavior. Tax reduction will increase the disposable income of consumers and should improve the profit position of industry both directly and through increased sales with fuller use of productive capacity and consequent lowering of costs per unit. If price stability is maintained, the full stimulating effect of the tax cut should be felt throughout the economy, to the benefit of all groups."
Lyndon B. Johnson, Remarks to the Members of the Consumer Advisory Council. Online by Gerhard Peters and John T. Woolley, The American Presidency Project https://www.presidency.ucsb.edu/node/239200