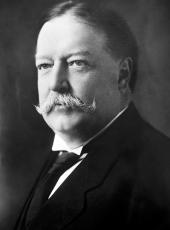 Remarks at the Meeting of the Board of Trustees of the Hampton Institute in Hampton, Virginia
Dr. Frissell, Ladies and Gentlemen, and Members of Hampton Institute:
I have had to do, during the last sixty days, a good deal of speaking without preparation, and it was my habit to gather the ideas of those who had preceded me and mix them up and use them to the best advantage. But the trouble about this afternoon has been that I have been so intensely interested in everything which I have heard that I have not had any time to mix them up or give them in any different form from that beautiful one in which they have been presented.
I am very proud that I have had the honor to be elected a member of the board of trustees of this institution, and I am proud because I have been thought worthy. I am glad because I know that I can not come into contact with men like Dr. Frissell, Mr. Ogden, Bishop McVickar, George Foster Peabody and others who for the joy of service have developed this institution, without absorbing some of those virtues which have guided their efforts in building up this wonderful work. Now, in the first place, I could not help thinking, as I heard Dr. Eliot say what I hoped was true, and what I have ventured to say before, and what I now know is true because he said it, of the reform in education here, of another great reform that had come to the English people in a similar way. The depraved condition of the civil service in the English Government received its remedy and became better, and such a model service as it is now, through the lessons that were learned by the English statesmen from the Indian Civil Service, and so it is here.
We had been struggling along for several hundred years with our system of education. There was presented to General Armstrong, the founder of this institution, the question of what we should do for the Negro and the Indian races in their almost helpless condition as we found them after the war. The necessity for helping their condition led him to undertake this system of education, that of manual dexterity, united with the teaching of life as it was to be. It has now developed not alone for Negroes and Indians, but for the white people throughout this land. I have always thought that, and, when the foremost educator of the land says so, I am going to assert it.
The second thought, and in certain aspects the most important phase of this system which General Armstrong founded and which Dr. Frissell has continued with such success, is the fact that right here in Hampton, in "Little Scotland," we have seen worked out what I regard as the solution of what we call the race question in this country. I do not mean that it is settled and I do not mean that the problem is solved, because problems like that are not solved in a decade. It takes a number of decades. But when you take the speech of former Governor Montague on the one side, and the speech of Major Moton on the other, and put together and give effect to the spirit that actuated both, you have the solution of the race question. Major Moton was sure that he wouldn't make a good Indian or a good white man. Well, I don't know about that; but I am sure that he makes a pretty good Scotchman, if one can judge by the way he leads his chorus in Scotch airs. If ever those beautiful airs were rendered with finer harmony, and better understanding of their meaning, and sweeter tones, than were rendered here this afternoon, I have never heard them—perhaps they are in Scotland.
I am not going to detain you long. I am glad to be here to testify my deep personal interest in this institution, my deep respect for those who have brought it to what it is, my recognition of it as a national institution, the wisdom of the suggestion of Dr. Eliot that there ought to be schools all over this country patterned after it, and while I hold, temporarily, the Presidency of the United States, I am glad to use that office, so far as I can by representation, to testify to the interest of the American people in the problem which is being worked out here.
William Howard Taft, Remarks at the Meeting of the Board of Trustees of the Hampton Institute in Hampton, Virginia Online by Gerhard Peters and John T. Woolley, The American Presidency Project https://www.presidency.ucsb.edu/node/365206