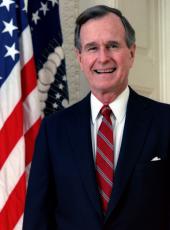 Remarks at the Liberty University Commencement Ceremony in Lynchburg, Virginia
Thank you so much. And to all of you who are done medium well or medium well-done up here in the stands, I'll try not to keep you too long. [Laughter] But I am delighted to be here. And to Dr. and Mrs. Falwell, thank you for your hospitality. Jerry, I'm glad to have been introduced by a loyal friend. Thank you very much, sir. And to President Guillermin and my dear friend John Warner and Mayor Bryan and members of the board of trustees and the faculty, administrators, parents, and graduates, thank you for that welcome and introduction and for this most generous reception. I was privileged to address the students and faculty of this wonderful university before. And now, as then, it's good to know that if it takes divine intervention to save my remarks, help is close at hand. [Laughter]
I couldn't help but notice the honorees, and I would like to say that I am proud to be numbered among them -- Reverend Henderson, Reverend Theis, Reverend Cox, Reverend Irvin and, of course, Mr. Williams, who's been such a benefactor to this wonderful university and to many other great causes. And let me say how it's not all just religion around here, because I recognize Eric Green over here. How many small colleges have a first-round draft choice for the National Football League? Eric, stand up there. [Applause] And I think we all can recognize that Eric didn't do it alone. Sam Rutigliano is a pretty good influence on these kids around here.
This afternoon, I'm honored to be back here and to join my fellow graduates. Of course, I also want you to enjoy today. Therefore, I'll renew my promise: I will be brief. After all, you've worked and studied for 4 long years, and now comes the hard part: listening to a commencement address. [Laughter]
Looking around campus as we flew in, I marveled at the changes since I was here last: new name, certainly a beautiful new stadium, three times as many students. And it got me to thinking how college itself has changed since my days as a undergraduate. The students are so much younger -- [laughter] -- I can't understand it -- and so much smarter -- that I can understand. Nowadays, with computers, bringing an apple to the teacher has a whole new meaning. [Laughter]
This spring, I've spoken in each of my commencement addresses about another kind of change: the democratic change that in 1989 and '90 has stirred and amazed the world. Last week, at Oklahoma State University, I discussed how this change will affect our Atlantic alliance. Yesterday in south Texas, at Texas A&I, I talked about how the American adventure in democracy inspires greater deeds here at home and around the globe. Earlier today, at the University of South Carolina, my subject was the importance of the rule of law to the emerging democracies in Eastern Europe. This afternoon, I'd like to talk about another element of democratic change, what I call individual empowerment: loving our neighbors, helping them help themselves.
True democracy, of course, has always entailed putting power in the hands of the individual. The ancient Greeks spoke of it. Millions have given their lives on behalf of it. Perhaps Woodrow Wilson said it best: "I believe in democracy because it releases the energy of every human being."
More than 200 years ago, we secured democracy through the American Revolution, ensuring rights like freedom of speech, due process under the law, and to think and dream as we choose -- also, I might add, the freedom to pray as we choose, which is why I support a constitutional amendment restoring voluntary prayer. We need the faith of our fathers back in our schools. The rights of free elections, free markets, and the expression of free will form the very essence of America. And over the past year, they've become the message of America, helping liberty triumph over dictatorship in every corner of the globe.
Jerry referred to it, but look at Panama. And he referred to Romania. Look at Romania, where tyrants fell, or Hungary, holding its first multiparty parliamentary election in more than four decades. Look at Czechoslovakia, where last week U.S. soldiers returned to the small town of Plzen they freed exactly 45 years before. Finally able to celebrate, the Czechs greeted the GI's as brothers, liberators. Love united strangers. There was magic in the air.
What I call the Revolution of '89 has been a year of democratic change, and never has democratic change spawned a greater age of freedom. Nor have individuals your age had a greater chance to enrich the Earth. Yet as I said 2 weeks ago, addressing the National Prayer Breakfast, with opportunity comes responsibility. "America not only is divinely blessed, America is divinely accountable." This accountability means assuring that government does what it must and does it well, but it also means increasing what individuals can do, empowering people politically by showing them how democracy works and economically by fostering the entrepreneurship and competition and investment so crucial to private enterprise. Empowerment must also be spiritual and intellectual through the scholarship vital to everything we are and can become. Great goals? Yes. Obtainable? You bet. By acting as what I term a Thousand Points of Light: volunteers who measure life by holding themselves accountable for the well-being of their community.
The idea of voluntarism, or community service, is rooted, first, in faith. Perhaps a little boy put it best with this simple prayer: God bless mother and daddy, my brother and sister. And, oh, God, do take care of yourself, because if anything happens to You we're all sunk. [Laughter] Like that boy, we believe that God requires us, as He says in Micah 6, "to act justly and to love mercy."
Community service is also grounded in our history. Think of the pioneers who tamed a wild frontier -- clearing forests and building towns -- or the teachers of a century ago -- ill-supplied, paid less than $30 a month, often boarded in small homes with large families. They knew the future lay in children, through education. Remember Clara Barton? She, too, was a catalyst who empowered individuals. And today we have with us Art Williams, whose magnificent We Can Make a Difference program is helping to make kinder the face of the Nation and gentler the face of the world. For over 200 years, we have freely accepted, as Dwight Eisenhower said, "whatever sacrifices might be required of us." The reason: In a world with so much emphasis on imports and exports, America's major export has always been generosity.
Today, more than ever, we need to use that generosity to combat such global problems as hunger and health care, literacy and helplessness. Remember, individually, we can change a life; collectively, we can change the world. Each of you can reject membership in a "me" generation, proving that yours is the "we" generation, and in the process show how a definition of a successful life must include serving others.
Abroad, this will require real commitment -- drawing inspiration from the heroes of Leipzig and the gulags and Tiananmen Square. In Beijing, students last year quoted Jefferson. Their image of America is not dollars but democratic ideals. We must uphold those ideals through what I call one-on-one caring. And here at Liberty, you are.
Dr. Falwell was telling me about your Kenya relief project and the annual scholarships that you offer to two students from every foreign country in the world -- you talk about an academic United Nations. You've helped a children's home in Korea, a school in Costa Rica; provided medical supplies and clothing to countries in Asia and Europe. This June a student team will complete construction of a medical clinic and food distribution center in Rio de Janeiro. I salute these deeds of the heart, as you give of yourselves -- missionaries in the finest sense of the word.
Yet I also challenge you to build on these deeds once you graduate. You know, there was once a mother who told her son, "I have a pretty good idea that you skipped your piano lesson and played baseball." The son said he hadn't. The mother said, "Are you sure?" The son said, "Uh-huh. And I have a fish to prove it." [Laughter] That's what I call American ingenuity, the kind of ingenuity that can help newly democratic countries secure the freedom and opportunity that we simply take for granted in our great country. Whether raising a family, pursuing a career, continuing your studies, or all of the above -- it doesn't matter -- you can help all America do as a nation what you are already doing locally.
Let me tell a story which illustrates how. It's about an American, Richard Neimeyer, who was part of an HHS initiative -- paid his own way to Romania to address the needs of institutions for disabled children. A 70-year-old man greeted him in tears. "God bless you for being here," he said. "Everything about Americans is true. You are here when we need you." Finding no trained aides, no nursing schools, as many as seven babies in a crib, Dr. Neimeyer was soon to return to Romania accompanied now by nurses and doctors and therapists and hope.
This American shows how each of us can make a difference in the life of another, from Poland to Panama, not through a central bureaucratic state but, rather, individually and through the Chamber of Commerce, the Red Cross, your church, or through the Peace Corps, which is operating in Eastern Europe for the first time. In Hungary and Poland, soon to be in Czechoslovakia, volunteers will be teaching English and providing management training. Earlier today at the University of South Carolina, I announced the creation of a Citizens Democracy Corps for Eastern Europe. It will be a clearinghouse for private voluntary organizations, assisting them and challenging their energy and initiative into programs to support Eastern Europe's transition to democracy and free market economies. Yet the need for involvement in the lives of others is not just a problem outside our borders: empowerment must be for Americans, too.
Here at Liberty, you've shown how a Thousand Points of Light can become a galaxy of people working to solve problems in their own backyard. I think of your Elim Home for Alcoholics, your Center for Urban Outreach, and the Liberty Godparent Home for Unwed Mothers. And now let America follow your lead.
Today the choices for your future are many. Make one of them, just one of them, continued commitment to community service. Be tutors at inner-city schools or candy stripers at local hospitals. Assist those without food to eat or a place to sleep or those coping with AIDS. Help not merely colleagues but strangers, stemming their desperate aloneness to make them feel needed and loved. And if you become a lawyer, ask the firm to do pro bono work. If a teacher, volunteer for counseling. Let the Office of National Service -- which our administration formed last year to encourage voluntarism -- let it know what you're doing. Serve at day care centers, homes for the elderly, shelters for the addicts. Join what Edmund Burke called little, but mighty, platoons. Become a light unto the world.
In this more peaceful time, when our armies can become smaller, we must mold a world where the armies of people -- people helping others -- can become bigger, using what has been given to us, freedom and opportunity, to give back of ourselves. Through the adventure of community service, we can unlock new frontiers of empowerment, joining hands and linking hearts to further the work of God and man.
Thank you for this special occasion. Good luck to each of you in the graduating class. And to each of you my most heartfelt congratulations. And God bless the United States of America. Thank you very, very much.
Note: The President spoke at 4:16 p.m. in Willard May Stadium on the campus of the university. In his opening remarks, he referred to Rev. Jerry L. Falwell and A. Pierre Guillermin, chancellor and president of the university, respectively; Reverend Falwell's wife, Macel; Senator John Warner; Rev. Daniel Henderson, pastor-teacher of Los Gatos Christian Church, in Los Gatos, CA; Rev. George Theis, executive director of the Word of Life Ministry; Rev. David Cox, missionary; Rev. James Irvin, director of Pro-Missions in Memphis, TN; Arthur L. Williams, president of A.L. Williams Insurance Agency, in Atlanta, GA; Eric Green, a member of the Liberty Flames football team and first-round draft choice of the Pittsburgh Steelers; and Sam Rutigliano, coach of the Liberty Flames. Following his remarks, the President returned to Washington, DC.
George Bush, Remarks at the Liberty University Commencement Ceremony in Lynchburg, Virginia Online by Gerhard Peters and John T. Woolley, The American Presidency Project https://www.presidency.ucsb.edu/node/264803