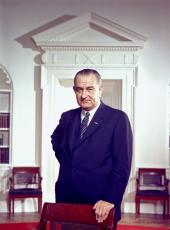 Remarks to the Joint Chiefs of Staff and to Officials of the Department of Defense.
Mr. Secretary, Mr. Under Secretary, the Service Secretaries, members of the Joint Chiefs of Staff, my fellow Americans:
It is a very proud moment for me to come before you as Commander in Chief of the Armed Forces of the United States of America. There is no higher calling than yours, and none with a greater importance for the peace and the safety of our country and the world. There is reason for pride in all forms of public service, but a very special place must go to those who are responsible for the defense and the security of this Republic.
For 24 years, as a Member of the Congress, I was intimately concerned with the problems of national defense. I have worked long and hard with hundreds of friends in the Army, and the Navy, and the Marine Corps, and the Air Force. And I have known the quality of American military men, not only in the process of legislation, but in the field.
In the last 3 years, as Vice President under our late, lamented, and beloved President, John F. Kennedy, I have seen the critical importance of our military strength. And I have seen it in crisis after crisis: from the tests of determination in Berlin in 1961 to the great confrontation over missiles in October 1962; from Viet-Nam to the Congo, to the counter-insurgency programs in Latin America.
I know the progress made by our late Commander in Chief in helping you to rebuild the real power of the United States, and in really lifting the spirit and the temper of our Armed Forces. And I learned it firsthand. I take great pride in this progress, and I am pledged to carry it forward. I know from the first dark months of the Second World War what it means to have to fight and to have to fight without adequate supplies, have to fight with incomplete training, have to fight with second-rate equipment, and to fight against great odds. So you can count on me, as you could always count on President Kennedy, for the support that the Armed Forces of our country deserve at all times.
But the other side of the matter is that I must also count on you. Right now I want to count on you, in particular, to get full value for the vast expenditures of the national military budget, a dollar's value for every dollar spent.
Our defense expenditures now are almost 15 times greater than the entire Federal budget was when I came to Washington 32 years ago in Mr. Hoover's administration. It is true that the dollar does not go as far now as it did then, that our responsibilities throughout the world have greatly increased, and that we must meet the new requirements of this age of nuclear weapons. But I think it's also true that in this enormous expenditure there must be some room for saving.
So, gentlemen, I look to you not only to protect your country and your country's security, but I plead with you to protect your country's purse, to safeguard not only her military strength but her financial stability. I count on you and I plead with you to put a premium on sparing instead of spending, to get along with less while you are doing more.
I emphasize these matters in the Defense Department because this department has a responsibility for more than half of the national budget. And if the example begins here and if it's set here it can be followed elsewhere and it will permit me to hold you up as a guiding light. So I have come here today to call on this department to make the largest effort to achieve the biggest savings, to show the way in effective economy as well as in dedication to the national security. And in this commitment to economy, let me tell you again, I do not intend for one moment to give up the gains in strength which this country has made in the last 3 years and which I supported.
Our late, beloved President used to speak of the need for armed forces which are "lean and fit"--and he was right. He was also right, and fortunate--and all America ought to be grateful--for his finding as his chief lieutenant in this great purpose one of the greatest American executives, Robert McNamara. This country has never had an abler or a more dedicated Secretary of Defense-and I have known them all and have worked close hand with them all. Mr. McNamara and the men who work with him in the office of Secretary of Defense have had, during my 3 years as Vice President, my absolute and complete confidence. And they have it today.
I want to say the same thing for my three friends, the service secretaries: Paul Nitze and Cy Vance and Gene Zuckert. I have equal confidence and respect for the outstanding officers who now serve us as members of the Joint Chiefs of Staff and I expressed that admiration to them personally only a moment ago.
I know the tradition of the Joint Chiefs as it was forged in the furnace of the Second World War, and the present chiefs are worthy successors to the great officers who began that tradition. I believe in the chiefs, and in reinforcing their effectiveness as the President's senior military advisers. I have special confidence in General Taylor. He and all the chiefs will have my support in their efforts to discharge their duties and to discharge them responsibly and effectively. While final responsibility must rest with me under the Constitution, I have already made it clear to the chiefs that the military voice must be fully heard in all major national security decisions. I look to the Joint Chiefs and to all the armed services for candor in council--candor in council and unity in action.
Unity to me is more than just a matter of loyalty within one's service or even within one department of this great system of government of ours. We need unity across the board in the execution of the national security policies of these United States of America. I am proud of the determination to work together which the Secretary of Defense and the Secretary of State have demonstrated in the last 3 years as I have watched them in close quarters. Their cooperation is based on respect, respect for the military responsibility of the Department of Defense and respect for the final responsibility of the Department of State, under the President, in the conduct of our foreign relations. I expect this cooperation to continue and to grow. My object then, in short, is a united administration and never a divided Pentagon.
We have much work to do together. In two areas in particular there is urgent business before us. We must press on with all our energy against the spread of Communist subversion into South Viet-Nam, where I have asked your distinguished Secretary to go almost immediately in my behalf, and against the spread of Communist subversion in the Caribbean. In these two areas we must be constantly alert to every opportunity, every opportunity to sustain and to strengthen the forces of freedom. So in these urgent duties, and in others of equal long-range importance, we are really bound together, you and I, not only by our oaths of office but by the loyalty which underlies them. So in that spirit I came here today to ask for your help, to plead for your support--and I pledge you mine.
Thank you very much.
Note: The President spoke at 1:30 p.m. in the Auditorium at the Pentagon. His opening words "Mr. Secretary, Mr. Under Secretary" referred to Robert S. McNamara, Secretary of Defense, and Roswell L. Gilpatric, Deputy Secretary of Defense.
The President's remarks have been transcribed from a tape recording. Although excerpts of the remarks were quoted or paraphrased by the Press Secretary at his news conference held at 3:10 p.m. on December 11, the text was not made public as a White House press release.
Lyndon B. Johnson, Remarks to the Joint Chiefs of Staff and to Officials of the Department of Defense. Online by Gerhard Peters and John T. Woolley, The American Presidency Project https://www.presidency.ucsb.edu/node/239580