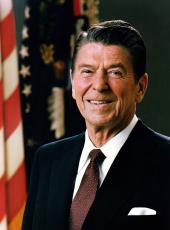 Remarks at the Jewish Community Center of Greater Washington During the Observance of Hanukkah
Well, thank you all very much, and may I just say what an honor and a joy it is to be with you this afternoon for this Hanukkah celebration.
The family activities that you've planned here, so many children, teenagers, and parents, is of great importance to the meaning of America, the wealth of our culture, and the strength of our values. Preserving the strength of families and family values is the key to America's future.
We've just seen the beautiful symbolic lighting of the Hanukkah menorah. At sundown you and your families will light your own menorahs. As we heard, when God kept the oil in the eternal flame burning for 8 days, he gave us the miracle of Hanukkah, a holiday of hope and rededication for every Jewish family.
We're reminded of Jewish unity and diversity by the eight separate branches of the menorah coming together as one. And as the menorah's light grows stronger, with one candle being lit each day, we can feel the flame of freedom burning in your hearts. And that flame should inspire people everywhere.
Hanukkah is symbolic of the Jewish struggle to resist submission to tyranny and to sustain its spiritual heritage. No people have fought longer, struggled harder, or sacrificed more to survive, to grow, and to live in freedom than the people of Israel.
Whether we be Americans or Israelis, we are all children of Abraham, children of the same God. The bonds between our two peoples are growing stronger, and they must not and will never be broken.
Israel's quest for peace and security is in constant peril from those driven by hatred and violence. But as I told Prime Minister Shamir last week, Israel has a friend in America, and good friends stand together.
We're also making sure that Israel is not hurt in the United Nations. Ambassador Kirkpatrick is our watchdog on this, and let me assure you, one thing about Jeane, she is a very determined woman. But just so no one gets any ideas, let me be blunt: If Israel is ever forced to leave the U.N., the United States and Israel will leave together.
I think it's wonderful that the American Jewish community is using Hanukkah to assist Jews in the Soviet Union. And how good it is to know that, at this very moment, Jews who have fled oppression are here with us taking their first steps toward becoming American citizens. On behalf of more than 230 million Americans, may I say to you, welcome to your new family.
We know that the emigration of Jews from the Soviet Union is practically stopped. They're constantly ridiculed, harassed, beaten, and arrested by Soviet authorities. It's no exaggeration to say their entire Jewish population feels it is under siege. Today, Soviet Jews are fighting for their future and their freedom, as the Maccabees once did. But their fight is a peaceful one. Some are struggling to emigrate from the Soviet Union. Many others are trying to assert their rights to practice their religion and preserve their heritage. In their struggle, we must not forsake them. We will not remain silent.
Our hearts go out to heroes like Anatoly Shcharanskiy and Iosif Begun, imprisoned for their love of God and freedom. And there are so many more.
We will not remain silent when Avi Goldstein, a 10-year-old boy being harassed by the KGB, asked visiting Samantha Smith to convey his family's appeal for emigration. We will not remain silent when Lev Furman, one of Moscow's leading Hebrew teachers, has been persecuted, seen his house vandalized, and been robbed of his teaching materials.
To every religious dissident trapped in this cold, cruel existence, we Americans send our love and support. We appeal to people everywhere to open their hearts and to raise their voices in support of our brothers and sisters. Together, let us pray that the warm lights of Hanukkah will spread the spirit of freedom and reach, comfort, and sustain every person who is suffering tonight.
Happy Hanukkah, and God bless you all.
Note: The President spoke at 3:24 p.m. in the auditorium of the community center, which is located in Rockville, Md.
Ronald Reagan, Remarks at the Jewish Community Center of Greater Washington During the Observance of Hanukkah Online by Gerhard Peters and John T. Woolley, The American Presidency Project https://www.presidency.ucsb.edu/node/262034