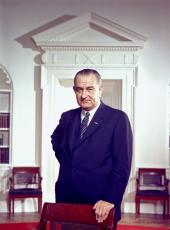 Remarks at the Iolani Palace in Honolulu.
Governor Burns, Senator Inouye, Senator Fong, Mrs. Mink, distinguished public officials, ladies and gentlemen:
With a greeting such as this from people such as you I am almost inclined to reassess my decision to go home on next Thursday. I have been tempted many times to come here to Hawaii and to stay. There are few places in our country that can match the natural beauty of Hawaii, the cordiality of its people, the harmony of its many races, its great economic potential, and by no means least, the quality of its Governor, its congressional delegation, and its public officials.
My friends, I have come back to Hawaii to meet with a leader of one of America's bravest allies--President Park of South Korea. I have come to review the military situation in South Vietnam with Admiral Sharp and with his successor, Admiral McCain.
During the next few days we shall be discussing our goal of peace in Asia. And we shall be discussing the twin paths we are taking to reach that goal, the path of diplomacy and the path of military preparedness.
We shall be discussing our diplomatic initiative in seeking talks with North Vietnam. We shall be discussing the readiness of our allied forces to meet every challenge on the battlefield of South Vietnam.
Both of these paths are essential to our quest for an honorable and secure peace in South Vietnam.
I know how concerned you are--as I am-that this time, after years of fruitless pauses and proposals, the two sides may get down to serious talks about ending this brutal war.
I announced 2 weeks ago that we would sharply limit our bombing of North Vietnam and that we were willing to meet at any suitable place to begin talks. Very promptly we proposed four neutral sites-Vientiane, Rangoon, Djakarta, and New Delhi--where both sides have representatives and adequate communications.
All of these are readily accessible to Hanoi. All of these are located in the region which has the most direct and vital interest in the achievement of a stable peace.

Hanoi has given us two messages and has suggested two locations. We have responded by pointing out certain obvious reasons why each of the two sites was not suitable. As of now we have had no response or comment from Hanoi, other than radio statements, about any one of the locations that we have suggested.
For us, this is not a propaganda exercise. We have sent serious and considered messages aimed at bringing about the earliest possible contact. Ambassador Harriman and Ambassador Vance are ready. What is needed today is an equally serious reply, reacting to our proposals for neutral sites or offering additional suggestions of neutral capitals where both of us have representatives and communications.
It is now 2 long weeks since I restricted our bombing and urged North Vietnam to come to the conference table.
We are eager to get on with the task of peacemaking. Precious time is being lost. Asians and Americans alike are ready to let diplomacy go to work--now--without any further delay.
There will come a time--and I am sure of it--when the guns will be silent in Vietnam, when Asians will know not only peace, but freedom to manage their own affairs-when the reality of Asia's prosperity matches the richness of Asia's potential.
We have contributed much to bringing that day nearer and we and the world will gain from it the only prize worth gaining-security for ourselves and our children, the chance to be free, the chance to live in peace.
I know that many sons of these Islands have paid the price of freedom in this conflict-as in others before it. If we are steady now in our quest for an honorable settlement, we shall redeem their sacrifice in a great Pacific at peace with itself and with all others.
Thank you, my dear friends in Hawaii, for your warmth, for your hospitality, and for your contribution to a great Nation.
Note: The President spoke at 1:50 p.m. at the Iolani Palace in Honolulu. In his opening words he referred to Governor John A. Burns, Senators Daniel K. Inouye and Hiram L. Fong, and Representative Patsy T. Mink, all of Hawaii. Later he referred to Adm. U. S. Grant Sharp, jr., outgoing Commander in Chief of U.S. Forces in the Pacific, his successor, Adm. John S. McCain, Jr., and W. Averell Harriman and Cyrus R. Vance, Ambassadors at Large, appointed as U.S. negotiators at proposed peace talks with North Vietnam.
Lyndon B. Johnson, Remarks at the Iolani Palace in Honolulu. Online by Gerhard Peters and John T. Woolley, The American Presidency Project https://www.presidency.ucsb.edu/node/237875