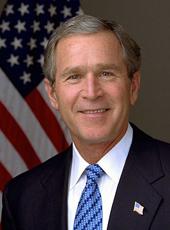 Remarks at the Inaugural Luncheon
Mr. Speaker, thank you, sir. Senator Trent Lott, thanks for being such a great organizer. This part of this day has gone incredibly well, and I appreciate your hard work. Senator Dodd, Senator Frist, other distinguished Members of the Congress, and some who aren't quite so distinguished—[laughter]—it's an honor to be here.
I really want to thank you for your hospitality. Laura and I are grateful for your gifts and grateful for your wonderful hospitality. What a day, and what a special lunch. We really appreciate you having us.
I appreciate the Justices of the Supreme Court being here. I want you to know how touched I was that Chief Justice came to administer the oath. That was an incredibly moving part of the ceremony.
I want to thank the members of my Cabinet who are here. I appreciate General Myers, who is here. And I want to thank all my friends from Texas who have come. I'm surprised that some were able to penetrate the security. [Laughter] But I appreciate you coming.
I'm really proud of Dick Cheney, my Vice President. He is a fabulous man, a man of sound judgment and great character, and I'm honored to serve with you, Dick.
I want to thank President Carter and Mrs. Carter for coming and President Clinton and Senator Clinton for joining us today. It means a lot that both former Presidents were here. I thank you very much for the—for your presence.
I'm also really happy that another former President is with us; that would be my dad. Thanks for coming—and Mother. [Laughter] I appreciate Barbara and Jenna. I love them dearly. I thank them for joining the campaign trail. It was the—like the camping trip I promised to take them on and never did. [Laughter]
I want to thank my brothers and sisters. They have meant a lot to me. Their unconditional love is an important part of keeping perspective here in the Nation's Capital.
I am impressed by this Inaugural ceremony. It is a magnificent event. I think any President who has ever been through one is able to step back and say, "What an impressive moment, not in my life but in the life of the country." It reminds us that we serve a cause larger than ourself. We have one country, one Constitution, and one future that binds us.
As leaders, we have a common duty to achieve results for the people, regardless of our political parties. There's important work to be done, and I look forward to working with Members of both Houses and both parties to achieve that job.
We have a solemn duty to protect our people and to win the war on terror, and we will. We have other vital duties, and we will strive to achieve results on behalf of the people. I'm eager for the work. I'm looking forward to it, and I hope you are as well. I'm looking forward to putting my heart and soul into this job for 4 more years. Together, we can make this great Nation of ours a safer place and a freer place and a better place for all our fellow citizens.
May God bless you all, and may God continue to bless our great land.
NOTE: The President spoke at 2:19 p.m. in Statuary Hall at the Capitol. In his remarks, he referred to Gen. Richard B. Myers, USAF, Chairman, Joint Chiefs of Staff. Prior to the President's remarks, Senator Trent Lott, chairman, Joint Congressional Committee on Inaugural Ceremonies, introduced the President and presented him and Vice President Dick Cheney with engraved crystal hurricane lamps and official photos of the Inaugural swearing-in ceremony, and Representative J. Dennis Hastert, committee member, presented them with flags flown over the U.S. Capitol.
George W. Bush, Remarks at the Inaugural Luncheon Online by Gerhard Peters and John T. Woolley, The American Presidency Project https://www.presidency.ucsb.edu/node/214002