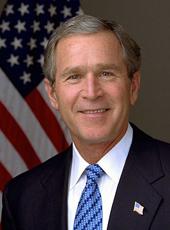 Remarks at the Iftaar Dinner
Thank you all for coming. Please be seated. Ramadan Mubarak. Laura and I are pleased to have you here for our seventh Iftaar dinner. Tonight we celebrate traditions of Islamic faith, which brings hope and comfort to more than a billion people. For Muslims around the world, the holy month of Ramadan is a special time of prayer and fasting. It is a time for charity and service to those less fortunate. It's a time to celebrate Islam's learned and vibrant culture, which has enriched civilization for centuries.
Ramadan is also a good time for Americans of all faiths to reflect on the values we hold in common, including love of family, gratitude to the Almighty, devotion to community, and a commitment to religious liberty. The freedom of worship is central to the American character. It's the first protection in the Bill of Rights. It holds together the fabric of American society, supporting every individual's right to practice his or her beliefs without fear.
Today, our world is at war with violent extremists who seek to tear the fabric of our society and stop the advance of freedom in Muslim societies around the world. They attack holy sites, destroy mosques and minarets, and kill innocent men, women, and children, including Muslims who do not share their radical views. They believe that by spreading chaos and violence they can frustrate the desire of Muslims to live in freedom and peace. We say to them, you don't represent Muslims, you do not represent Islam, and you will not succeed.
America is standing with mainstream citizens across the broader Middle East. We stand with nearly 12 million Iraqis who voted for a democratic future for their children. We're standing with Afghan people as they defend their young democracy against the Taliban and Al Qaida. We're standing with the Lebanese people, who raised the banner of a Cedar Revolution to reclaim their freedom and independence. We're standing with all who seek the blessings of liberty and the peace that freedom brings.
Americans have a history of standing with Muslims facing suffering and hardship, and it's a proud history. Our country defended Muslims in Bosnia and Kosovo after the breakup of Yugoslavia. We supported Kuwait after it was invaded by Saddam Hussein. Americans came to the aid of victims of devastating earthquakes in Pakistan, India, and Iran. Americans responded with urgency and compassion to the wreckage of the tsunami in Indonesia and Sri Lanka and Thailand. We're rallying the world to confront the genocide in Sudan and deliver humanitarian aid for those in dire need. And we support the establishment of a Palestinian democracy to live side by side with Israel in peace.
As you break your Ramadan fast at this Iftaar dinner, let us renew our faith in the universality of freedom. Let us celebrate the millions of Muslims that we are proud to call American citizens. And let us honor the many Muslim nations that America is proud to call friends.
Laura and I are grateful you're here. Thank you for coming. We wish you a blessed Ramadan. And now I ask the Imam to say the blessing.
NOTE: The President spoke at 7:16 p.m. in the State Dining Room at the White House. In his remarks, he referred to Lt. Cmdr. Abuhena M. Saifulislam, USN, Navy Chaplain Corps.
George W. Bush, Remarks at the Iftaar Dinner Online by Gerhard Peters and John T. Woolley, The American Presidency Project https://www.presidency.ucsb.edu/node/276138