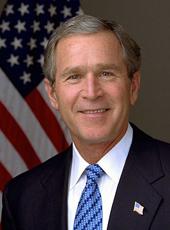 Remarks at the Iftaar Dinner
Thank you all. Please be seated. Thank you. Thank you all for coming, and welcome to the White House, and Ramadan Mubarak. I'm honored to be with so many friends and distinguished guests.
As we gather during this holy month, America is stronger and more hopeful because of the generosity and compassion of our Muslim citizens. Our Nation is safer and more prosperous because we have a close relationship with our Islamic friends around the world. And tonight we honor the traditions of a great faith by hosting the Iftaar dinner here at the White House.
I want to acknowledge our Secretary of State, Colin Powell. I appreciate his great service. I want to thank our Secretary of Energy, Spence Abraham, who is with us today. I want to thank Dr. Elias Zerhouni for his great work at the National Institutes of Health. Thank you. I want to thank all the distinguished Ambassadors who are with us today.
I want to thank the American Muslim leaders who've joined us. I appreciate you coming from all around the country. I want to thank Imam Faizul Khan of the Islamic Center of Washington, who will lead the blessing tonight. And tonight we also remember the late Shaykh Zayid, the founder of the United Arab Emirates, who passed away last week. He was a wise leader, and America joins the people of the UAE in honoring his memory.
For Muslims in America and around the world, Ramadan is a special time of reflection, fasting, and charity. It is a time to think of the less fortunate and to share God's gifts with those in need. It is a time of spiritual growth and prayer, and the heartfelt prayers offered by Muslims across America are a blessing for our whole Nation.
Ramadan is also a time for togetherness and thanksgiving. And Muslims gather to break the fast, and there is so much to be thankful for. I know you're thankful for your families and communities, and we all pray for their safety and happiness in the year ahead. Here in America, Muslims also think of their brothers and sisters in distant lands where lives are being lifted up by liberty and by hope.
In Iraq, families are observing this holy month in a free society. After enduring decades of tyranny and fear, the Iraqi people are guiding their nation toward democracy. And this January, they will choose their leaders in a free election.
In Afghanistan, brave men and women have transformed a country, and they have inspired our world. Just over 3 years ago, the Taliban government controlled Afghanistan. They harbored terrorists and denied basic rights to millions of citizens. And today, the Taliban is gone from power; women have their freedom; girls go to school; and last month, the people of Afghanistan stood in long lines to cast their vote in a free election.
The elections in Afghanistan and Iraq will be counted as landmark events in the history of liberty. And America will always be proud of our efforts to bring liberty and hope to those nations. Freedom is not America's gift to the world; freedom is the Almighty God's gift to each man and woman in this world.
Over the next 4 years, we'll work to ensure that the gift of freedom reaches more men and women in the broader Middle East. By working with leaders in that region, we can advance reform and change in a vital part of the world. And as we do so, we'll build a better future for all mankind.
As we defend liberty and justice abroad, we must honor those values here at home. At our founding, America made a commitment to justice and tolerance, and we keep that commitment today. We reject ethnic and religious bigotry in every form. We strive for a welcoming society that honors the life and faith of every person. We will always protect the most basic human freedom, the freedom to worship the Almighty God without any fear.
In recent years, Americans of many faiths have come to learn more about our Muslim brothers and sisters. And the more we learn, the more we find that our commitments are broadly shared. As Americans, we all share a commitment to family, to protect and to love our children. We share a belief in God's justice and man's moral responsibility. We share the same hope for a future of peace. We have so much in common and so much to learn from one another.
Once again, I wish you a blessed Ramadan. I want to thank you for joining us at the White House for this Iftaar, and may God bless you all.
NOTE: The President spoke at 5:58 p.m. on the State Floor at the White House. In his remarks, he referred to Imam Faizul Khan, administrator, Islamic Society of the Washington Area.
George W. Bush, Remarks at the Iftaar Dinner Online by Gerhard Peters and John T. Woolley, The American Presidency Project https://www.presidency.ucsb.edu/node/215151