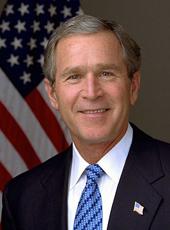 Remarks at the Iftaar Dinner
Good evening. Ramadan Kareem. Welcome to the White House. I'm pleased to host all of you, our distinguished guests, during this blessed month of Ramadan.
For Muslims in America and around the world, this holy time is set aside for prayer and fasting. It is also a good time for people of all faiths to reflect on the values we hold common—love of family, gratitude to God, and a commitment to religious freedom. America is a land of many faiths, and we honor and welcome and value the Muslim faith.
I appreciate Secretary Powell being here today, the great Secretary of State of America. There are members of my administration scattered amongst you, and I appreciate them coming. I particularly want to thank the Secretary of Energy, Spence Abraham, for being here as well.
I appreciate Your Highness Sheik Hamdan bin Zayid, the Deputy Prime Minister and Minister of State for Foreign Affairs for the United Arab Emirates, for coming. I want to thank all the Ambassadors who are here and representatives of the members of the Organization of the Islamic Conference. We're honored you're here tonight. I want to thank the American Muslim leaders who are here with us today. I appreciate my friends coming. I particularly want to thank Imam Faizul Khan, who will lead us in prayer.
According to the teachings of Islam, Ramadan commemorates the revelation of God's word in the Holy Koran to the Prophet Mohammed. In this season, Muslims come together to remember their dependence on God and to show charity to their neighbors. Fasting during Ramadan helps Muslims focus on God's greatness, to grow in virtue, and cultivate compassion toward those who live in poverty and hunger.
The charity, discipline, and sacrifice practiced during Ramadan in America makes America a better, more compassionate country. The family gatherings that break the fast at the end of each day enrich our communities. And the heartfelt prayers offered at this time of year are a blessing in many lives, and they're a blessing to our Nation.
As we gather during this season, we are mindful of the struggles of the men and women around the world who long for the same peace and tolerance we enjoy here in America. Brave American and coalition troops are laboring every day to defend our liberty and to spread freedom and peace, particularly to the people of Iraq and Afghanistan.
The citizens of those countries have survived decades of tyranny and fear. Now, new leaders are emerging. They're emerging in Iraq in the form of medical workers and teachers and citizens of all backgrounds who are coming together to guide their country's future. They're moving toward self-government and practicing their faith as they see fit.
We will continue to support the people of Iraq and Afghanistan as they build a more hopeful future. And we will not allow criminals or terrorists to stop the advance of freedom. Terrorists who use religion to justify the taking of innocent life have no home in any faith.
As we defend liberty and justice abroad, we must always honor those values here at home. America rejects all forms of ethnic and religious bigotry. We welcome the values of every responsible citizen, no matter the land of their birth. And we will always protect the most basic human freedom, the freedom to worship God without fear.
Islam is a religion that brings hope and comfort to good people across America and around the world. Tonight we honor the contributions of Muslims and the tradition of Islam by hosting this Iftaar dinner at the White House.
I wish you all a very blessed Ramadan, and may God bless.
NOTE: The President spoke at 5:50 p.m. on the State Floor at the White House. In his remarks, he referred to Imam Faizul Khan, Islamic Center of the Washington Area.
George W. Bush, Remarks at the Iftaar Dinner Online by Gerhard Peters and John T. Woolley, The American Presidency Project https://www.presidency.ucsb.edu/node/216032