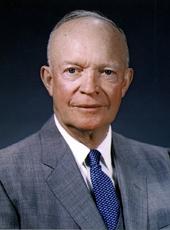 Remarks on the Hurricane-Flood Disaster in the Northeastern States.
ALL OF US know, of course, that there has been a very disastrous flood and hurricane in the East. There is much suffering in that region. I received last evening a telegram from E. Roland Harriman, Chairman of the Red Cross. He addressed me both as President and as Honorary President of the Red Cross. He said--and these are excerpts only:
"In this period of catastrophe among the citizens of the six States affected by floods, I want to assure you that the entire resources of this organization in people, supplies, and money are being fully utilized to bring assistance to all those who are in need. Reports from our chapter in the flood area convince me that the cost of adequately caring for the thousands of families affected will cost many millions of dollars. So that relief work could proceed rapidly I have already made an allotment of $2 million from Red Cross funds and I have appealed to the American people to contribute to a Red Cross disaster fund which will be earmarked entirely for flood sufferers. Since Federal funds released by you are by law primarily for reconstruction of public works rather than direct assistance to individual sufferers, sincerely hope you will urge support of Red Cross appeal which funds will be used entirely to meet human needs.
"At this hour the American Red Cross is operating 107 shelters, housing and feeding 12,000 homeless, and providing clothing to everyone who needs it. We have established headquarters operating around the clock in disaster areas, have more than 400 nurses and 150 physicians who have volunteered for service. Thousands of other volunteers are helping. We estimate over 8000 families will require Red Cross assistance after the emergency is over."
My reaction is, of course, we will pitch in and help. I sincerely hope that before tomorrow night has been reached that Mr. Harriman, Chairman of the Red Cross, will be assured of all the funds he needs to carry out this work with all the help he is getting from the Federal service and from the States affected. The heart of America is not going to stand still while other Americans are in distress and in need of help.
As some of you may know, ever since the beginning of this disaster the Federal Government has been cooperating with the Red Cross in the States affected so as to relieve suffering and to carry on the work of rescue. The Defense Department in particular has been busily engaged in this work and from all States I have had reports of the marvelous work they have done. To assure myself that the Red Cross and Federal Government and the States are cooperating effectively in this regard, leaving no opportunity amiss in order that we may be helpful, I am going to meet Mr. Harriman about eight tomorrow morning in Hartford, Connecticut. To that meeting I have invited the other Governors of the States affected to send representatives or to come in person if their work will allow them to do so just that we may have a little coordinating talk to make sure that everything possible is being done. From there I will proceed to Washington before returning here to Denver Wednesday night.
Note: The President spoke in his office at Lowry Air Force Base, Denver, Colo. His remarks were recorded for broadcasting over radio and television.
On August 23, the White House released the text of messages concerning the disaster exchanged between the President and Her Majesty Queen Elizabeth II. The text of similar messages between the President and Prime Minister Eden of the United Kingdom, King Baudouin I of Belgium, Franz Bluechef, Acting Chancellor of Germany, and President Gronchi and Prime Minister Segni of Italy, were released on August 24.
On October 15, the White House announced interim procedures to assure the Small Business Administration of funds to meet disaster loan requirements in the northeastern States.
The messages and the White House announcement were made public at Lowry Air Force Base.
Dwight D. Eisenhower, Remarks on the Hurricane-Flood Disaster in the Northeastern States. Online by Gerhard Peters and John T. Woolley, The American Presidency Project https://www.presidency.ucsb.edu/node/233509