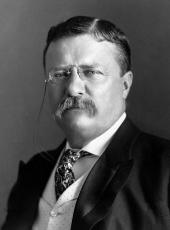 Remarks at the Hungarian Republican Club Dinner in New York City
Mr. President, and you, my fellow Americans:
It is a peculiar pleasure for me to be with you this evening, and with greeting my hosts of the Hungarian Republican Club, I give utterance to the thought of my fellow-guests, Congressman Sulzer and others, when I say that whatever our differences before our election, once the election has taken place, all of us, in public life or in private life President, Congressmen, Judges, Legislators alike—are American citizens, and nothing else.
It is nearly ten years ago that I first took dinner here in the immediate neighborhood of where I am dining now, and at that time, I remember perfectly, when I was first brought up here it was by Mr. Jacob Riis and Mr. Jim Reynolds, and I was told that I would get an awfully good dinner and hear some very good music, and both prophecies proved true; and it was about that time that I grew to be acquainted with so many of my hosts and fellow-guests of this evening.
The others I had known before. With one of my fellow-guests, General Grant, I was then working in common, and at different times I spoke at meetings presided over by or held in the club houses of various of the gentlemen here present, sometimes on political subjects, much oftener on matters of good citizenship affecting us all as good citizens.
I grew in those years, gentlemen, to have a very close feeling of sympathy and affection and regard for the men and women of the great East Side of this city, and I needed no urging when I was invited to come and be a guest at a club of the East Side this evening. President Braun has described how the preliminary invitation took place. It was six years ago that this club gave me a dinner after I had been elected governor, and they then said that they intended to elect me President and that then I must come and take dinner with them again. I told them certainly, that if they would carry out their part of the contract I would carry out mine. I am not perfectly certain that they anticipated that their offer would be closed with so soon. But you see, gentlemen, I closed with them, and tonight I wish to greet you most warmly and to say that I doubt if we could find a more typically American gathering than this.
Americanism is not a matter of birthplace, of ancestry, of creed, of occupation; Americanism is a matter of the spirit that is within man's soul. From the time when we first became an independent nation to the present moment there has never been a generation in which some of the most distinguished and most useful men were not men who had been born on the other side of the Atlantic, and it is peculiarly appropriate, and to me peculiarly pleasant, that in addressing this club of the men upon whose efforts so much of the future welfare of this city, of this State, of this nation, depends I should be addressing men who show by their actions that they know no difference between Jew and Gentile, Catholic and Protestant, native-born and foreign-born; provided only the man, whatever his creed, whatever his birthplace, strives to live so as to do his full duty by his neighbor and by the country as a whole.
And, now, gentlemen, I wish to say that we cannot keep too clearly before our minds the fact that for the success of our civilization what is needed is not so much brilliant ability, not so much unusual genius, as the possession by the average man of the plain, homely, work-a-day virtues, that make that man a good father, a good husband, and good friend and neighbor—a decent man with whom to deal in all relations of life.
We need good laws, we need honest administration of the laws, and we cannot afford to be contented with less; but more than aught else we need that the average man shall have in him the root of righteous living; that the average man shall have in him the feeling that will make him ashamed to do wrong, to submit to wrong, and that will make him feel it his bounden duty to help those that are weaker, to help those especially that are in any way dependent upon him; and while not in any way losing his power of individual initiative, to cultivate without ceasing the further power of acting in combination with his fellows for a common end of social uplifting and good government.
I shall not keep you very long this evening. I have come here not to make you a set speech, but if you will allow me to say so, to speak as an old friend among his old friends. I have seen a good deal of your lives. I know the effort, the toil, the happiness, and the success. I have endeavored when I have been brought in contact with the East Side in the course of any work in which I have been engaged, so to handle myself that the East Side might be a little better for it. I do not know whether I succeeded or not, but I do know that I have always been the better myself for contact with the East Side.
And now, one word in closing upon success in life, upon the success that each of us should strive for. It is a great mistake—oh, such a great mistake—to measure success merely by that which glitters from with out, or to speak of it in terms which will mislead those about us, and especially the younger people about us, as to what success really is.
There must, of course, be for success a certain material basis. I should think ill of any man here who did not wish to leave his children a little better and not a little worse off materially than he was, and I should not feel that he was doing his duty by them, and if he cannot do his duty by his own children he is not going to do his duty by any one else. But after that certain amount of material prosperity has been gained, then the things that really count most are the things of the soul rather than the things of money, and I am sure that each of you here, if he will really think of what it is that made him most happy, of what it is that made him most respect his neighbors, will agree with me.
Look back in your own lives; see what the things are that you are proudest of as you look back, and you will, in almost every case, and on every occasion, find that those memories of pride are associated, not with days of ease, but with days of effort, the day when you had to do all that was in you for some worthy end, and the worthiest of all worthy ends is to make those that are closest and nearest to you, your wife and children, and those near you, happy and not sorry that you are alive. And after that has been done, to be able so to handle yourself that you can feel when the end comes, on the whole, your community, your fellow-men, are a little better off and not a little worse off because you have lived.
This kind of success is open to every one of us. The great prizes come more or less by accident, and no human being knows that better than any man who has won any of them. The great prizes come more or less by accident, but to each man there comes normally the chance so to lead his life that at the end of his days his children, his wife, those that are dear to him, shall rise up and call him blessed, and so that his neighbors and those who have been brought into intimate association may feel that he has done his part as a man in a world which sadly needs that each man should play his part well.
Now, gentlemen, I have to say good night, because this has been such a delightful dinner that I already find I am staying pretty nearly as late as I can stay and catch the train that is to take me back to my regular work at Washington; and I have come, as I said, not to make a set speech, but to thank you for your greeting and to assure you that not one meeting which I have attended since I have been President has given me greater pleasure to attend than this dinner here tonight.
Theodore Roosevelt, Remarks at the Hungarian Republican Club Dinner in New York City Online by Gerhard Peters and John T. Woolley, The American Presidency Project https://www.presidency.ucsb.edu/node/343749