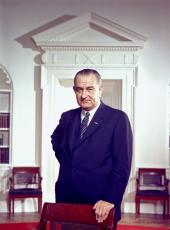 Remarks at the Groundbreaking Ceremony for the Joseph H. Hirshhorn Museum and Sculpture Garden.
Dr. Ripley, Mr. and Mrs. Hirshhorn, Mr. Chief Justice and Members of the Supreme Court, the Cabinet, and the Congress, distinguished friends:
Today and tomorrow are memorable days for this Capital and for this country. Tomorrow, we will celebrate the marvels of science and the spirit of adventure. We will greet, here in Washington, three voyagers who can describe for us sights that have never been seen before by human eyes. Today, we celebrate the enriching power of art and the spirit of creation. We honor a most remarkable man and a most magnificent gift.
Each of the events that we commemorate in these 2 days, the flight of Apollo 8 and the birth of the Hirshhorn Museum, tells us something about this country and its people. We are in love with science, with progress, with change, with adventure, with technology. Our reach into space expresses that enthusiasm and that determination. We are restless, questing, deeply moved by art and symbols that are concerned with inner things. And the establishment of this place of beauty expresses those qualities in us.
So today and tomorrow, we affirm our people's intention to voyage in both directions of human discovery: toward the outer reaches of space, and toward the inner territory of the human heart.
It gives me a great deal of pride and personal pleasure to be here with you today. Pride, because I love this Capital, I love Washington. And I am interested in any event that seems to make this a better place to live and seems to improve this city. Mr. Hirshhorn, with one handsome gift, has assured that the Nation's Capital will always be a center of art almost unrivaled in the world.
To be here gives me pleasure, for other personal reasons. Two years ago, Mrs. Johnson and Lynda Bird went to Connecticut to see the Hirshhorn Collection. They returned to the White House, enthusiastic about this great treasure house of art--and I might say, even more enthusiastic about the man who is its father, Joseph Hirshhorn.
They told me of its magnificence. They told me of its size and they told me of the possibility, just the bare possibility, that we might be able to bring it to Washington.
It was almost too big to give any encouragement to--except that when I was a little boy selling magazines and papers in the streets of my hometown--I never forget the paper--the crusading editor had a slogan. He said, "Minnows are safe. I am out after whale."

So, that is where we started and here is where we are.
I want to say publicly that I share Mrs. Johnson's great respect and affection for Joseph and Mrs. Hirshhorn. This splendid American--an immigrant, the twelfth of thirteen children, a half-orphan, a child of poverty--symbolizes the breadth of opportunity in our America. His story is an American story.
In future years, this gallery and its contents will remind us not only of the man and his generosity, but of the possibilities which our land offers its people. I hope that Congress will show a generosity and a foresight which match Mr. Hirshhorn's, and will provide, in the years to come, the means to enlarge and develop the collection that he has begun.
To Mr. Bunshaft and Dr. Ripley and his great staff, to the Chief Justice and his board, I express the Nation's gratitude.
To Mr. Hirshhorn, on behalf of all of your countrymen, I want to thank you and Mrs. Hirshhorn once again.
I shall take great pride in turning the first spade of earth, and in dedicating this new museum to "the increase and diffusion of knowledge among men."

Thank all of you.
Note: The President spoke at 12:25 p.m. at the site of the new museum near the Smithsonian Institution on the Mall in Washington. In his opening words he referred to Dr. S. Dillon Ripley, Secretary of the Smithsonian Institution, Joseph H. Hirshhorn, donor of the art collection containing more than 6,000 paintings and pieces of sculpture, Mrs. Hirshhorn, and Earl Warren, Chief Justice of the United States. Later the President referred to his daughter, Mrs. Charles S. (Lynda Bird) Robb, and Gordon Bunshaft, architect of the Hirshhorn Museum and member of the Commission of Fine Arts.
Lyndon B. Johnson, Remarks at the Groundbreaking Ceremony for the Joseph H. Hirshhorn Museum and Sculpture Garden. Online by Gerhard Peters and John T. Woolley, The American Presidency Project https://www.presidency.ucsb.edu/node/236237