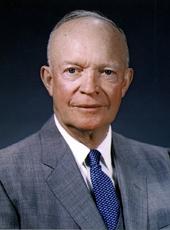 Remarks at the Graduation Exercises of the Foreign Service Institute
Secretary Dillon, Mr. Hoskins, Members of the Graduating Class, Distinguished Guests, and Friends:
To ask anyone whether or not he would like to say some words, if that person has had any experience in political life and omits such an opportunity or ignores it, is truly, if not miraculous, at least an error.
In the years that Secretary Dulles and I served together, he often spoke about the lack of opportunity among high officers of Government, and indeed of high officers in any profession, for contemplation. He felt so strongly about this that he believed that there should be some reorganization in the very highest echelons of the Executive departments so that there could be more time to think about the job.
As a matter of fact, before I leave this Office, I hope to lay before the Congress a plan that I believe will do something of this kind.
Mr. Dulles spoke about this school in the same terms. In keeping with that idea of contemplation, he once said such a school will give some of our foreign officers the opportunity to contemplate their own profession, to think about it not merely as cramming of more information into your heads or talking about new techniques or even possibly any plans or policies or ideas, but of providing the opportunity, under guidance, to contemplate your profession and all it means to the United States.
I would like to voice my own tremendous interest in this school and my support for the idea that a few of our officers should be taken out from the normal activities of their offices, no matter where they are-as secretaries, counselors, or whatever--and be given this opportunity.
Not only can our Government afford this; my belief is it cannot afford to ignore it. So, if I am guilty of lobbying for an appropriation for this particular activity, I plead guilty with the greatest of enthusiasm.
The program that you are undergoing is of course terrifically important. One of the things that I would like to bring out is this: today we are exploring space, trying to expand our universe--but all the time we are contracting our own world.
We are so tied together now with communications that when a man has a bad temper in Moscow or in Bucharest or any other place in that region, we look at our reports to see whether it's going to have any effect before tomorrow morning.
When I was 3 years old--that was 1893--the first ambassador of the United States was appointed. Today there are 77 ambassadors representing the United States abroad. We have representations in 86 different countries, and I think we have large groups or at least representation in something like 285 separate cities.
With each of these ambassadors the State Department is in daily communication--often in communication to the extent of what should be described as trans-Atlantic essays. But these have to be digested. And the next day there must be some kind of action taken on them very shortly. In other words, this world is not only small but it is extremely complicated, and these messages are necessary. Every kind of factor in human existence comes in--psychological reactions, political reactions. There are economic, military requirements to be met, and to think about.
If people are not going to get the kind of opportunity that this school is giving them, then the inevitable result will be to do them in keeping with the past--either by preconceptions or routine or habit.
We must have men who are capable of thinking--thinking objectively on the problem that is before them--who can give the best information with the best interpretation and the best advice they can provide to the State Department.
I would make one other observation: what we call foreign affairs is no longer foreign affairs. It's a local affair. Whatever happens in Indonesia is important to Indiana. Whatever happens in any corner of the world has some effect on the farmer in Dickinson County, Kansas, or on a worker at a factory.
Now this means that even our news is no longer properly called foreign news. It's local news, because it is so important to us. All this means that everyone who is charged with foreign affairs or anyone that has any direct or indirect responsibility concerning them--indeed, I think, every citizen--should think of the oneness of the world.
We cannot escape each other, certainly not until the day we can emigrate to Mars. We just can't escape each other. We must understand people. We must make it our business to know what they are thinking, and why--and what it means to us.
Because no nation, even one so directed and operated as is the Soviets', can dominate all and be the controlling factor. Of course, a democracy would not even attempt it because it would be completely antithetical to their own conceptions and doctrines.
So while I was complimented that the Acting Secretary of State would think it worthwhile to quote from me, I think that expression "soldiers of peace" is a pretty good one. I go back to it to say this: you are soldiers of peace, but you must be soldiers of peace for all men. As long as any man, any significant sector of our world cannot enjoy the blessings of peace with justice, then indeed there is no peace anywhere.
That is the reason that again I express my feelings about the terrific importance of this kind of operation. I extend to each of the graduates my congratulations on your expanded capacity and opportunities for service, and my best wishes for good luck to each of you.
Note: The President spoke at the Foreign Service Institute, Arlington Towers, Arlington, Va. His opening words "Secretary Dillon, Mr. Hoskins" referred to C. Douglas Dillon, Under Secretary of State for Economic Affairs, and Harold B. Hoskins, Director of the Foreign Service Institute.
Dwight D. Eisenhower, Remarks at the Graduation Exercises of the Foreign Service Institute Online by Gerhard Peters and John T. Woolley, The American Presidency Project https://www.presidency.ucsb.edu/node/234985