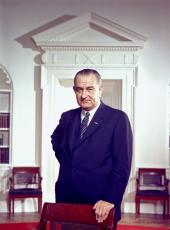 Remarks at the Graduation Ceremony of the Capitol Page School.
Mr. Vice President, graduates of the Capitol Page School, your parents, Members of Congress:
I want to welcome you here this morning to the Rose Garden at the White House because I am very proud to speak to you as a fellow alumnus of Capitol Hill.
You have reason to be proud too, I think, for you have been a part of what we think is the most productive session of Congress in the history of the Republic. You have seen men rise to great challenges, master them, and move on to greater ones.
You have helped to create the fruits of that leadership--the laws that will make it possible for our people to achieve a better way of life.
The landmark legislation that's passed by this Congress will in time, in my judgment, change the face of this entire Nation.
So I want, this morning, to thank you for your part in that effort, and I also want to congratulate you as a graduate.
This is a very good time, I think, to be a young man. More roads are opening every day to more opportunities for more young Americans than at any time in the history of this country. What counts is how you choose those opportunities.
For you, identity is measured by what you choose to do--by the worth of what you achieve.
Even before I came to Washington as a young man, I noticed how many men said what had to be done could not be done. But, as I learned in the Congress, every step that needs to be taken can be taken by men who are determined to join hands and journey forward together.
There is another lesson I learned in Congress-the need for leaders in every branch of public and private life to work together, for parties to seek common objectives.
We have had an excellent example of that here in the White House just in the last few days. I asked the leaders of Congress of both parties to come and talk to Secretary Rusk after his return from the NATO Conference in Brussels, to talk about Vietnam, to talk about the Dominican Republic, and to talk about other important foreign policy matters.
I did not ask them as Democrats or as Republicans. They came here as Americans and as my partners in this Government of the United States of America. I wanted them to have the latest and the fullest and the most complete information that we had in the executive department, because I needed their frank and their informed and their helpful judgments. I received it. I am grateful for it.
I have no doubt that the congressional leadership took away as much confidence and understanding and hope as they left behind. And that is really what leadership means--but it is not all of it.
The White House and the Congress can give only a part of the leadership this Nation requires and demands. The rest is up to its citizens, to the people who make up the 200 million Americans that inhabit our shores. The rest is up to the young and to the old among us.
So this morning I congratulate you and I challenge you and I ask each of you for a commitment to leadership. You could be the leaders, for instance, in education.
Today most of our children are untouched by education until they are at least 6 years old. But we know that the child's mind is wide open as early as 4. In the formative years we now largely ignore it. You can take the lead in remedying that.
You could commit yourself to finding new ways to teach the very young, to train them earlier so that they would be better prepared to enter high school and college, and to enter it earlier--to equip them earlier with the discipline and the purpose that would bring them fulfillment in life sooner.
You could be the leaders in answering other educational questions. If 16 years of elementary and secondary and college education were good enough for present generations, are they going to be good enough for your generation? Should we not keep pace with the knowledge explosion and aim perhaps to give every child an extra 2 years of schooling?
Well, that is an answer we need. That is a challenge we present. And there are countless others your generation must meet and solve. I would welcome discussing them this morning, if you had the time and I had the time.
You are young now, but what will your old age be? Now is the time to think about that, to lead in doing something about it. It takes time, you know--we spent 20 years getting medical care. And from the time you start a program, until you get it inaugurated, a good deal of time elapses.
How could we add 10 more meaningful years to our life? Living longer is not the answer. Greater leisure is not the answer. How to live more completely, or more purposefully, or more productively, how to lengthen real happiness and real fulfillment?
Well, these are the answers we seek. Our older people need new training, and they need new opportunities for not just a longer, but a longer and a much larger life.
We in Government are working on these problems of the very old. And we are certainly concerned with the problems of the very young--much more so now, I think, than we were a few years ago. We are now using the best brains outside of Government to help us master them, and I ask you to join us.
In a few days I am going to write a letter to the Secretary of HEW asking him to set up a very special group to make a very special study about what we can do in the twilight period of peoples' lives in this country-and to come in with strong recommendations that we can evaluate and consider.1
1The proposals of Secretary of Health, Education, and Welfare John W. Gardner on increasing social security benefits are summarized in the President's remarks at the Social Security Administration headquarters in Baltimore on October 12, 1966 (see Item 509).
And I want to ask you to join the best brains in helping us formulate some of these programs. I want each of you to walk out in the world determined--determined to move it, to contribute to it, and to shape it-to be leaders and not followers.
Now that is the commitment that carried me into public life as a very young man. I did not announce when I came here 35 years ago that I was going to roll up my sleeves and remake America, because I had read Rex Tugwell's announcement, and I saw that he telegraphed his shots. He didn't quite succeed all at the same time, although I had the same ideas and the same ambitions.
So you may not telegraph all you plan to do. You may not announce all you plan to do. But I do hope that you have the hope and the idea and the plan to roll up your sleeves and do something about improving conditions in this country and leaving this land a better place than you found it.
I feel that is the commitment that is responsible for me standing here as your President today. And I think one of you could, and very likely will, stand in this same place some day. Someone said to me the other night after seeing the television show I appeared in, "The President's Country"--and my part of this land: "You know, I had always heard all my life that any boy born in America had a chance to grow up and be President and now I believe it."
So I would remind each of you that any boy born in America has a chance to grow up and be President. It may happen to you. I hope if it should happen to you that you will be prepared for it.
Count it a day lost when the people of America can't go to sleep at night without knowing the world is a better place at bedtime than it was at breakfast.
The opportunity is here. Your parents have provided you with tools, ammunition, and implements that are given to no other people of your age in the world. You have more food, more clothes, better per capita income, better housing, more luxury, more recreation, better trained teachers, better schools than your young folks of any other area in the world.
I know that you have taken advantage of it or you would not be here graduating this morning. But I hope in the days ahead you will feel that you have a personal challenge and a personal responsibility to pick up where you are this morning and develop this land--not just by enduring the status quo that you have found, but by improving it, by remaking it, by developing it into a fuller and richer life, not only for all of our older people, but for all of our younger ones that may follow you.

Thank you very much.
Note: The President spoke at 11:32 a.m. in the Rose Garden at the White House prior to presenting diplomas to the 26 members of the graduating class and greeting members of their families. In his opening words he referred to Vice President Hubert H. Humphrey. During his remarks he referred to Dean Rusk, Secretary of State, and Rexford G. Tugwell, author and political scientist who served as Under Secretary of Agriculture 1934-1937 and as Governor of Puerto Rico 1941-1946.
Lyndon B. Johnson, Remarks at the Graduation Ceremony of the Capitol Page School. Online by Gerhard Peters and John T. Woolley, The American Presidency Project https://www.presidency.ucsb.edu/node/238748