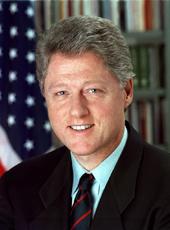 Remarks at the Funeral Service for Henry Oren Grisham in Hope, Arkansas
Reverend Hight, Duayne and Conrad and Falva and Myra and all the family, we come here to celebrate the life of one of the most truly remarkable people I have ever known, a man without wealth or power, without position or any pretense, who was, nonetheless, loved, admired, respected because he was smart and wise, profoundly good, and I might add, very funny.
There will be a lot of tears shed in the family section today, and you might say, well, how could you cry that much for a man who had God's gift of 92 years? Because he was forever young, and we wish he'd lived to be 192.
Everyone who ever knew him had a story about him, about hunting or fishing or farming, about sharing a meal or swapping a tale. One of the young men at the funeral home came up to me this morning just before we came out and said, "You know, he always kept me up. He made me laugh."
One of the members of the family said he was the salt of the Earth and the spice of life. Everyone who talks about him has clear, vivid memories of his wit and his wisdom and, I might add, his remarkable ability to be both brutally honest and always kind.
When I was a young boy, badly in need of a hand up and a little kindness and wisdom, whenever I was at his house and Ollie's, I always felt at home. But he always treated everybody that way. After I became a grown man, he only called me one time, in our whole life together, just once, to tell me that in 1979, a year before all the experts said it, that I could not be reelected Governor because I had made people mad. And I said, "Well, what do you think I ought to do about it?" He said, "Tell them you made a mistake and undo it, for goodness sake." I said, "I can't do that." He said, "Good, after the next election, you'll have a lot more time to spend with me." [Laughter] And he was right.
After Ollie got sick and died, he still continued to drive around and be active. And I told Reverend Hight this morning the funny story he told me. In the last few years, he used to take two ladies who were older than he was, in their nineties, driving once a week. He said, "Nobody else would go take them out, so I would just go take them out once a week and drive them around. We have a grand time." He was about 87 at the time. And I said, "Do you like these older women?" He said, "You know, I do. It seems like they're a little more settled." [Laughter]
The great poet William Wordsworth said that the last, best hope of a good man's life are the little unremembered acts of kindness and love. I'll bet you every person here today who ever met that man has an act of kindness and love that you remember.
He really did the things that matter most in life very well. He was a great husband, a great father, a great grandfather, a great uncle. He was a great friend.
My most vivid memory of him, I think, will always be after Ollie got sick and they had to put her in a place where she could be cared for. And he was going through this awful period when she was failing, and he loved her so much. I stopped to see him one night in his house, and we were all alone there. We talked and shot the breeze for a long time. We laughed, and he told stories, and everything was just normal. And finally, it was real late, and I had to drive back to Little Rock, and I said, "Buddy, I've got to go." He said, "Okay." I was on my way out the door, and he grabbed me by the arm, and I turned around, and he had tears in his eyes—it was the only time I ever saw them—and I said, "This is really hard, isn't it?" And he smiled, and he said, "You know, it is. But when I married her, I signed on for the whole load, and most of it's been pretty good." I have never heard a better testament of love and devotion than that.
So I say of his great life, all of it was more than pretty good. If our country and our world had more people like Henry Oren Grisham, how much better it would be, how many more children would have a happy childhood, how much more peace and harmony there would be.
Conrad's poem said it all, and I'm pretty sure God heard it.
Thank you. God bless you.
NOTE: The President spoke at approximately 10:20 a.m. at the Brazzel/Oak Crest Chapel. Henry Oren Grisham was the President's greatuncle. In his remarks, the President referred to Rev. I.V. Hight, pastor, Unity Baptist Church; and Mr. Grisham's late wife, Ollie, his sons, Duayne and Conrad, and his daughters, Falva Grisham Lively and Myra Grisham Irvin.
William J. Clinton, Remarks at the Funeral Service for Henry Oren Grisham in Hope, Arkansas Online by Gerhard Peters and John T. Woolley, The American Presidency Project https://www.presidency.ucsb.edu/node/224189