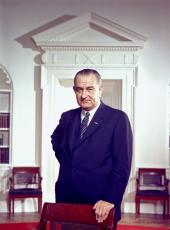 Remarks at the First Meeting of the United States-Puerto Rico Commission on the Status of Puerto Rico.
I AM especially pleased that the initial meeting of the United States-Puerto Rico Commission on the Status of Puerto Rico is being held in the White House. I welcome this opportunity to express my own deep personal interest in the work you are undertaking.
Warmth and mutual understanding have characterized the relationship between the people of Puerto Rico and the people of the United States. I am confident this will continue.
We on the Mainland have watched with admiration and pride the remarkable economic growth that has taken place in Puerto Rico in recent years. That growth will undoubtedly continue and we hope it may accelerate in the years ahead.
The United States has a traditional and deep-seated national commitment to the principle of self-determination. That is why the administration and the Congress responded promptly and affirmatively to the resolution of the Puerto Rican Legislature requesting a review of the relationship between the United States and Puerto Rico.
Your Commission is the result--and I know you recognize that you have a most challenging and interesting assignment.
The members of the Commission have been appointed in accordance with the legislative mandates of the United States Congress and the Puerto Rico Legislature. All of you are unusually well-qualified for this important service. I am especially pleased that your chairman is my old and good friend, Jim Rowe, whom I first met in this House when he was President Roosevelt's trusted assistant. I can tell you Jim Rowe will be an exacting taskmaster--but I am certain all of you will be working with great earnestness and enthusiasm. I am sure the work of the Commission will reflect the objectivity and creativity--the scholarly ability and practical experience--and, above all, the idealistic recognition of human aspirations of you who have agreed to undertake this important assignment.
I am no stranger to Puerto Rico. I have had numerous occasions to meet, to learn to know, and to have admiration and affection for Puerto Rico. I will follow your work closely. And I pledge to your Commission the full cooperation of the executive branch of the Government in your efforts.
Note: The President spoke at 12:15 p.m. in the Fish Room at the White House.
The United States-Puerto Rico Commission on the Status of Puerto Rico was established by Public Law 88--271 Of February 20, 1964 (78 Stat. 17), which provided for the appointment of seven U.S. members and invited the Commonwealth of Puerto Rico to enact legislation providing for the appointment of six additional members. The President appointed James H. Rowe, Jr., as chairman.
Lyndon B. Johnson, Remarks at the First Meeting of the United States-Puerto Rico Commission on the Status of Puerto Rico. Online by Gerhard Peters and John T. Woolley, The American Presidency Project https://www.presidency.ucsb.edu/node/239457