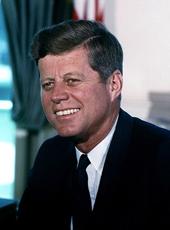 Remarks at the First Meeting of the President's Committee on Equal Employment Opportunity
The President's Committee on Equal Employment Opportunity is meeting for the first time today. I am hopeful and confident that from this time forward the Committee will exercise the great powers given to it by Executive order to permanently remove from Government employment and work performed for the Government every trace of discrimination because of race, creed, color, or place of national origin.
The Executive order creating this committee and granting to it powerful sanctions, is both an announcement of our determination to end job discrimination once and for all, and an effective instrument to realize that objective.
Vice President Lyndon Johnson, Chairman of the Committee, Secretary of Labor Arthur Goldberg, and Assistant Secretary of Labor Jerry Holleman, Executive Vice Chairman, and the other distinguished public officials and private citizens who make up the Committee, will carry the responsibility for implementing equal employment policies in Government and work under Government contracts.
This responsibility I know will be discharged with fairness, with understanding, with an open mind, and a generous spirit of cooperation--and also with firmness. There is no intention to make this a harsh or unreasonable mandate for those sincerely and honestly seeking compliance, nor is there any intention to compromise the principle of equality in employment. American citizens unjustly denied the opportunity to work for the Government, or for those doing business with the Government, will have that opportunity.
This is not only just in itself; it is one of the purposes for which we stand before the world. All Americans can be satisfied today that that high moral purpose is in excellent hands.
Let me just say, speaking personally, that I am grateful to all of you for taking on this responsibility. The Federal Government spends billions of dollars a year and therefore this is a most powerful instrument for accomplishing the objectives which we all seek. All of us agree that Federal money should not be spent in any way which encourages discrimination, but rather should be spent in such a way that it encourages the national goal of equal opportunity. And when Federal budgets are as large as they are, when they cover such a large percentage of employed people of this country, directly or indirectly, this quite obviously can be a very effective instrument to carry out a national objective.
I think that we are particularly fortunate to have the Vice President, who in his high position has undertaken to give this Committee leadership. We are also very fortunate to have Arthur Goldberg, using the agency which he heads as a supporting hand in this effort, and Jerry Holleman, who is the Assistant Secretary of Labor and who already has begun working to implement this objective.
I want to thank all of you. This is an important work. I don't think there's any more important domestic effort in which we could be engaged. This is the way it can be done.
The Vice President has just come back from a trip to Senegal, and in conversation with him about it, he indicated the importance of our establishing our image in accordance with our constitutional promise.
So this is the best way I know to do it. This is not going to be an honorary committee. This is not going to be a committee which issues a number of statements and relies upon. exhortation. This Committee has powers and it has responsibilities, and I think when those powers and responsibilities are put together, we'll be moving along a very important and useful national road.
Thank you very much.
Note: The President spoke in the Cabinet Room at the White House.
John F. Kennedy, Remarks at the First Meeting of the President's Committee on Equal Employment Opportunity Online by Gerhard Peters and John T. Woolley, The American Presidency Project https://www.presidency.ucsb.edu/node/234568