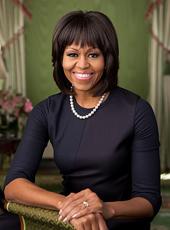 Remarks by the First Lady at a Women's History Month Event Honoring Women Veterans for Their Service to Our Country
MRS. OBAMA: Thank you. (Applause.) Thank you all. Good afternoon. Oh, it is truly a pleasure and an honor to be with you all today as we kick off Women's History Month. Let's just stop and give ourselves a round of applause, ladies. Yes. (Applause.) Just one month, I ask? (Laughter.)
I want to start by thanking Leader Pelosi for that kind introduction and for hosting us here today. This has just been a tremendous, fabulous, exciting program. But I want to thank her for her outstanding leadership every day in Congress.
Now, as you know, I don't get the chance to visit Capitol Hill all that often, but when the Leader invited me, I was delighted to accept. Like so many of you, I am a big fan of our Leader, Nancy, as I like to call her. (Laughter.) Over the course of her remarkable career, she has been such an extraordinary leader and advocate on so many important issues, including supporting those who serve our country. And I'm so grateful to her for everything she's done and everything we will continue to do together in the months and years to come. Thank you so much, Nancy. (Applause.)
I also want to thank Jill, who has been an outstanding partner in Joining Forces and such a dear friend for so many years. We could not have gotten so much done if it wasn't for our friendship and partnership in this effort. (Applause.) Absolutely. To Jill. (Applause.)
I also want to thank Chairwoman McMorris Rodgers for her terrific work. It's been a tremendous partnership. And of course, I want to recognize Brigadier General Wilma Vaught. Thank you for that wonderful history -- (laughter and applause) -- of women in the military and women veterans -- the story that happens to be her life. General Vaught, one of the most inspiring, trailblazing women I have ever met. Every time I see her, I tell her I want to grow up to be just like her.
As we all know, General Vaught wasn't content just to break down barriers for herself. She wasn't content just to pull generations of women in the military up after her -- no, no. In addition to all that, she was also determined to ensure that every person across America knew the stories of these women.
So instead of spending her retirement basking in the glow of her many honors, she's working tirelessly -- has worked tirelessly. Although she is retiring, she has put so much effort and energy into honoring our servicewomen and women veterans. And I am so proud to be here today to honor her for her extraordinary service to this country. Thank you. Thank you so much. (Applause.)
Thanks to brilliant, fearless women like General Vaught, today, more than 200,000 women are serving our country in just about every role and rank. They're flying fighter jets, training new recruits; they're graduating Army Ranger School -- and I met those graduates. They are awesome. Fierce! (Applause.) And as you've already heard, they will soon be welcome in every combat unit in our armed forces.
So there is so much progress to celebrate. But we also know that our women in uniform -– and their 2 million sisters who now hold the rank of veteran -– I think that's now 3 million, it's really 3 million -- still face plenty of challenges as they serve this country and then transition back to civilian life.
One striking reality is that many women veterans don't self-identify as veterans. As a result, too many of them miss out on the benefits that come with serving this country. General Vaught talked about that. Only one in ten women veterans take advantage of their GI bill -- Jill mentioned that earlier. She mentioned three-quarters of women veterans don't use the VA health care system at all.
Now, at first, statistics like these may seem surprising. Folks might wonder, how could these women serve with such honor, and then hesitate to even discuss that service when they come home? But when you meet these women and you hear their stories, you begin to understand why they might be reluctant to tout their status as veterans.
Take the story of Captain Rolona Brown. Captain Brown will celebrate her 17th year in the Army in May. She's deployed to Iraq and served as a company commander. But when she decided to reenlist after spending some time in civilian life, many folks asked her how she could possibly put her career ahead of her responsibilities as a mom -– a question they wouldn't dream of asking her male colleagues.
And then there's Specialist Kate Hoit, who is with us today, rocking a great jacket, by the way. (Laughter.) Kate served as an Army photojournalist in Iraq, documenting war on the front lines, riding in convoys and taking cover from mortar fire. But when she walked into a local VA organization, the bartender took one look at her and offered her the membership application for military spouses.
I've even heard stories like these from a member of my own team, Colonel Nicole Malachowski, the Executive Director of our Joining Forces initiative, who is here with us today, and I love her to death. She is awesome. (Applause.) And she will not acknowledge herself like many of you don't do.
Nicole has served in the Air Force for almost 20 years. She was the first female Thunderbird pilot, and has flown over two dozen combat missions. But here's what Nicole shared with us during the meeting to get ready for this -- she said that when people -- when she would tell people that she was a fighter pilot, they often wouldn't believe her, and she'd get into this back-and-forth thing -- she'd say, "Yes, I am," "No, you're not," "Yes, I am," "No, you're not." And finally, Nicole would just say, "Well, Google me." (Laughter.)
Every single female servicemember in this room can tell stories like these -– stories of misguided questions, outdated assumptions, and interactions with folks who, for one reason or another, still struggle to believe that a woman can serve her country just as well as a man. But I think we all can agree that when these women have sacrificed so much and have served so bravely, they should never have to hide their accomplishments. They should never have to worry about whether their service will be valued equally. And just like every veteran who has served this country, they should be getting every single one of the benefits they've earned -- absolutely. (Applause.)
And that is why I am so proud that my husband and this administration has worked with many folks in this room to increase funding for the VA to unprecedented levels. I will say that again -- to unprecedented levels. (Applause.) And to help expand outreach efforts, particularly to women veterans, to make sure they know about the benefits they're entitled to. That's also why over the past seven years, we've trained 2,400 veteran health care providers in women's health, and established a designated women's health provider at every VA medical center in the country. That's also why we set up a Women's Veterans Call Center -- staffed entirely by women -– to answer questions and discuss benefits, and to provide referrals to women veterans and their families.
But we all know that government alone can't close this gap. We all have to play a role in honoring and supporting our women veterans. And every single one of us needs to step up and do our part.
So today, I want to challenge everyone -- both in this room and folks around the country -- to take action on behalf of women veterans. Let's not just talk about it. If you're a member of Congress, as so many here are already doing, work with us to ensure that all of our veterans get the support they deserve, then go back to your states and your districts, find these veterans and servicemembers and connect them and their families to the benefits and opportunities they've earned.
If you're a CEO, a hiring manager or an HR director, raise the bar and commit to employing more women veterans. As you've heard, they're some of the most skilled, dedicated workers you could ever have. And bringing them on board isn't just the right thing to do, it's the smart thing to do for your bottom line.
If you're a health care provider, make it your point to ask all of your patients if they've served. Make sure every veteran gets the care they deserve. If you're a reporter, a publisher, an editor, tell these stories -- they're amazing. Feature these women in your papers and your magazines. Make sure that folks understand that heroes come in all shapes and sizes.
And finally, if you're a woman veteran, if you've worn this country's uniform and served us so bravely, I want to ask you to stand tall and share your story. I know that so often you're trained to focus on your team and your mission, and not yourself -- that's also part of the challenge. (A phone plays music.) But as the music indicates -- (laughter) -- I can also tell you this: Those years in the military helped to develop skills that uniquely set you apart. I've seen it with my own eyes as I've met with our military members and our veterans all across the country, and our spouses -- they are amazing individuals.
Through your service, you learned what it means to be a real leader -- how to work with all kinds of people in all kinds of situations, including challenging, life-or-death situations that many of us could never even imagine. Some of you learned how to load weapons onto multibillion-dollar aircrafts, or how to steer the biggest fleet in the world, or how to perform the most complex, high-tech analyses using the most cutting-edge technologies. And all of you learned how to build a team, and lead others under pressure, and complete any mission in front of you, no matter what it takes.
See, that's why it's so important that you tell your own stories, like the General is doing -- been doing. You've got to tell your own stories. They're so worth telling. And our girls, our daughters and granddaughters need to hear them, because once people hear about your service and sacrifice, once they see how patriotic you are -- trust me, I've seen it -- they will slowly but surely start to get what we've gotten -- that you all are amazing. You're a gift to us.
So tell people you're a veteran. Tell them proudly. Tell them about the extraordinary things you've done to protect us and keep us safe. And when you start to face resistance, then tell us that too, and know that we will have your back –- every last one of us. We will have your back. Because we all have social media -- even me. We all have access to Facebook and Twitter and Instagram, and we can all use the #WomenVets hashtag to lift up your stories in the way they should be.
And if we all keep on doing our part to celebrate these heroes, if we all keep joining forces, then I am confident that we can serve our men and women in uniform and our veterans as well as they have served this country. And that is the least we can do to honor them for everything they've done on our behalf.
So I want to end today by once again thanking our servicemembers -- our servicewomen, our veterans. It has been an honor to serve you. It has truly been one of the great gifts of being First Lady -- to give you voice and to honor you, and to make sure that you're never forgotten. I want to thank everyone here for being leaders in the world of supporting our men and women in uniform and their families. And, as Jill said, we're going to keep doing this work long after we leave the White House.
Thank you. And God bless. (Applause.)
Michelle Obama, Remarks by the First Lady at a Women's History Month Event Honoring Women Veterans for Their Service to Our Country Online by Gerhard Peters and John T. Woolley, The American Presidency Project https://www.presidency.ucsb.edu/node/320906