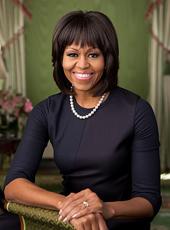 Remarks by the First Lady at a Visit with Chicago Youth at William R. Harper High School in Chicago, Illinois
MRS. OBAMA: I want to hear from you all. And I have as much time as we need to take. I am just thrilled to be back home.
I don't know how much you know about me, in addition to being the First Lady, but I grew up in South Shore, went to public schools here. My parents -- working class folks. And one of the reasons why I like to talk to kids, especially from my city, is to make sure you all know that there isn't much distance between me and you. There really is not.
The only difference that I can see is that -- you know, I went to school every day, worked hard, did my homework, tried not to listen to the haters, tried to take care of my business. And the truth is, is that in this world today, if you stay focused, you can still make that happen, even with all of the challenges that we all face.
And I want to make sure you guys are on track and really understand that the best thing you can do for yourself in life is to really be serious about your education. That is truly the ticket in this country to get where you need to go.
But I'm not going to talk, because we're not going to -- I'm a participant in today's activities. And I want you to feel free to do what you do, but I want you to at some point be able to ask me whatever you want to know. Whatever I can tell you, it's all -- I find that it's always better to hear from you and hear what you want -- to find out what I can tell you.
But I want to do a lot of listening. I want to learn about what's going on in your lives, what's going on in your school, your communities. I want you to tell me what you think I need to know, to tell the President, to tell the rest of the country. So I'm really here to listen.
And I am very excited to be here. You all look good.
STUDENTS: Thank you.
MRS. OBAMA: And I am so proud of you all. And I am honored to be here at Harper. I really am. So I'm going to stop talking for a second.
Michelle Obama, Remarks by the First Lady at a Visit with Chicago Youth at William R. Harper High School in Chicago, Illinois Online by Gerhard Peters and John T. Woolley, The American Presidency Project https://www.presidency.ucsb.edu/node/320143