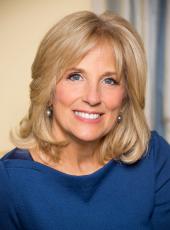 Remarks by the First Lady at a Virtual Event Honoring Warrior Games Athletes
[As Prepared for Delivery]
Thank you, Ken. We can always count on the Fisher House. Thank you to you and your team for your commitment to ensuring our wounded, ill, and injured—as well as their families—have what they need throughout the recovery process.
Secretary Austin, your presence says it all. This is personal to you. That's why you show up, again and again, for those you lead—including through your support of Joining Forces. Joe and I are grateful for you and Charlene and your dedication to our service members and their families.
Twenty years ago, our world broke apart—and the shockwaves of 9-11 continue today. But as the President and I visited the September 11th Memorials this weekend, I was reminded of the humanity that shined through the inhumanity of that day. There was a call to defend the values we hold dear as we waged a global war on terror—and a courageous group of men and women stepped forward to say: "Me. I will go."
And that includes you, Prince Harry. You live by a simple principle: "Serve together, recover together." It's a philosophy not limited by the flag you wear. Your brothers and sisters-in-arms are connected by something so much deeper than the borders that separate us—and you've dedicated your time, talents, and heart to lifting up service members from around the globe.
In fact, it's hard to believe it's been seven years since the first Invictus Games in London. The memories of it are still so fresh in my mind—every race and game more thrilling than the last. But there was one moment I will never forget.
At the start of a swimming heat, a woman wheeled herself to the edge of the pool and carefully lifted herself into the water. When the other racers were through, she was still digging deep to get to the finish line. But her teammates lined up along the side of the pool and cheered as loudly as they could. Then other swimmers and athletes, from different countries, came over as well. With each stroke she took, a crowd shouted and chanted encouragement until she made it to the end.
Her victory—and the community that came together around her—took my breath away.
That heart—that fearlessness to keep pushing through the obstacles—it's what I've seen from this community again and again.
I've seen it in so many visits to Walter Reed—talking to service members who told me that, not only would they walk again, they would run again.
Courage.
Sacrifice.
Resilience.
By being a part of the Warrior Games, you have not only overcome injuries—both visible and invisible—you show us all that our challenges never have to define us.
And I have to say that I've seen something else at those events and hospital visits: families and caregivers serving alongside their loved ones.
Your service didn't end when your loved one came home—in many ways, it was just the beginning.
Every day, you continue to love, honor, and care for our service members and veterans. And they can't thrive if you don't have the resources you have earned. That's why supporting your physical, social, and emotional health is a national security imperative.
Our White House initiative, Joining Forces, is dedicated to doing just that.
We're going to focus on military family employment and military child education.
We're going to make sure you can get quality child care when you need it.
And we're going to make sure that you have mental health support.
Because your families and our troops deserve nothing less.
This community has shouldered the enormous weight of our conflicts for two decades now. And all of you carry the physical and emotional reminders of that sacrifice. It's a debt we can never repay—but we can honor your service and work every day to make your path a little easier.
Now, like all of you, I wish we were here in person today celebrating your victories on the court, at the track, or in the pool. You've worked so hard to prepare for these Warrior Games, only to have them taken away by the pandemic.
Still, I know that, once again, the uncommon strength and determination that has defined this community push you to keep working and striving toward your goals.
So, I'm excited to hear from some of you today, and I can't wait to see the rest of you and your families at the next games!
Jill Biden, Remarks by the First Lady at a Virtual Event Honoring Warrior Games Athletes Online by Gerhard Peters and John T. Woolley, The American Presidency Project https://www.presidency.ucsb.edu/node/352537