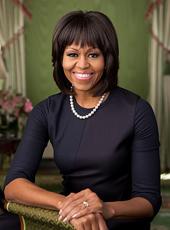 Remarks by the First Lady at USAG Vicenza Base Family Day in Vicenza, Italy
MRS. OBAMA: Hey, everybody! (Applause.) We're here! We made it! (Applause.) How is everybody doing? And it stopped raining I hear! That's a sign, right? You guys look great too! (Applause.)
AUDIENCE MEMBER: We love you!
MRS. OBAMA: I love you more. I really do. No, I do. And that's why we're here. This is such an important part of this trip, just being here with all of you. And it moves me to see you all looking so good and being so happy, with such beautiful little people who are probably tired. (Laughter.) But we got stuff for you guys, so -- we got some good stuff.
But I want to start by thanking General Williams for that very kind introduction and for his leadership. I want to thank his family as well. I also want to recognize your tremendous Base Commander, Colonel Menist, who I had an opportunity to meet. And I also want to acknowledge as well our Ambassador to Italy, John Phillips, and his wife, Linda Douglass, who are dear friends of ours. And they've just been tremendous hosts.
Now, before I begin --
CHILD: I love you, Mrs. Obama!
MRS. OBAMA: I love you, sweetie! I love you so much! You're so cute! (Laughter.)
But before I begin, I just want to take a moment to talk just a little bit about what happened in Charleston, because I haven't had an opportunity to speak to this.
But as my husband said yesterday, simply saying that our thoughts and prayers are with the victims and their families in the community of Charleston simply doesn't convey the heartache that we all feel. We've seen too many tragedies like this. And there is something particularly horrifying about something that happens so senseless in a house of worship.
So my heart goes out to the people of Emanuel and to the people of Charleston. I pray for a community that I know is in pain and -- with the hope that tragedies like this will one day come to an end.
And that's what I always try to come back to -- hope. Hope. And I can do that because of people like all of you. That's the best part of this job. I come here and I have hope. And that's why I'm here today -- to thank you all. To thank every single one of you, the outstanding servicemembers and military families who are serving our country in so many ways.
We have -- I understand we've got Sky Soldiers of the 173rd Airborne here. (Applause.) We also have the U.S. Army Africa here. (Applause.) U.S. Army Garrison Vicenza. (Applause.) We have the 509th Signal Battalion. We have the 414th Contracting Support Brigade. (Applause.) It's just two of you guys? (Laughter.) We also have personnel from the medical and dental clinics. (Applause.) Kids, yay, dentists, your favorite people. (Laughter.) And we've got some servicemembers from the Air Force and the Navy here with us today. (Applause.)
And of course, we have our incredible military spouses and our extraordinary military kids. Let's all give it up for our military families -- yes! (Applause.) And of course, there is an important holiday coming up this weekend -- what is it, young people?
CHILDREN: Father's Day!
MRS. OBAMA: It's Father's Day. Yay for the fathers! So Happy Father's Day in advance, to all the dads. And Malia and Sasha and I, we want to wish the dad in our families a Happy Father's Day too. We miss you. We hope you're not missing us too much. Don't golf too much. (Laughter.) We love you.
Now, I'm not going to speak very long, because I want to spend most of my time shaking hands and giving some hugs and all that good stuff. (Applause.) But I came here today –- and I brought my daughters and my mom and my niece along with me -– because we want you all to know how much we appreciate everything you're doing for our country. We appreciate you guys. Because the truth is -- and you know this so often -- when most folks think about America's military families, they think about men and women in uniform in combat zones, or they think about folks on bases in the States in places like California or North Carolina or Texas. Or maybe they think about a National Guard family that maybe lives in their community.
But a lot of folks in the United States probably don't realize that we have got thousands of troops serving right here in Vicenza, as well as in places like Germany and Korea -– installations that are absolutely critical for our national security.
For many of our troops serving abroad, they bring with them their families, who serve right alongside them. And that means that we've got thousands of kids growing up an ocean away from their families -- their grandparents and their aunts and uncles, and all the people who support them. That means we've got spouses who have to put their careers on hold, oftentimes, or they have to manage a household all alone in a foreign country when their loved one is deployed.
So while I'm here today, I want to make sure that I shine a light -- a really bright light -- on all of you and everything that you do for the folks back at home. I want all Americans to understand that the service of families like yours never stops, even when they're not reading about you in the papers. You all are here doing your part.
I want our fellow citizens to know about the men and women from Vicenza who were the first American military boots on the ground to stop the spread of Ebola. The troops who work every day with our allies here in Italy and all across Europe and Africa -– responding to threats, training other forces, sustaining our collective NATO defenses, and even helping other nations integrate women into their own militaries.
I want folks to know about our spouses and our children who have experienced both the excitement and the challenges of an overseas assignment. I know that some of you possibly never traveled abroad before coming here. And when you arrived, maybe you didn't know a soul on this base, let alone how to say anything more than "ciao" or "grazie" -- which I can barely do. (Laughter.)
So that meant you had to learn a new language while also figuring out how to do all those daily tasks that are just a little more complicated when you're in a foreign country -- things like picking up supplies in town, taking a bus, planning a family trip all becomes just a little more difficult. When one of your kids has a fever or takes a fall, you've got to work through a translator at an emergency room. When something happens back home in the United States, it takes a lot more time -- and a lot more money -– to get back to your family to handle your business.
And on top of all that, you all are constantly living with the knowledge that your loved ones could be whisked away on a mission at a moment's notice with very little time to prepare. In fact, I know that much of the 173rd deployed over the last week or 10 days, so many of you recently had to hug your loved one goodbye, and for so many, that means another Father's Day without Dad around. And I know how hard that's going to be, how hard that is every time it happens.
But I also know that those sacrifices are what make our military families some of the most heroic, patriotic, strong families our country has to offer. And that's true not just here in Vicenza but at installations around the world.
So, as First Lady, one of my highest priorities is to make sure that folks know your stories and they understand your sacrifices. And I want to make sure that we all do our part to serve you as well as you serve us. And that's why Jill Biden and I started Joining Forces a few years ago, because we wanted to rally all sectors of this nation -- businesses, non-profits, schools, faith communities, and everyone else –- to honor and support our families.
And today, we wanted you to know how much we all appreciate you all. And I know you don't hear that enough -- not here. But I'm here to make sure you hear it today. That's why we organized this barbeque. We stopped the rain. (Laughter.) It's why we're going to do Books on Bases, a great, fun even with kids, and we'll do a little reading with the Colonel -- and he's got some funny voices ready for you. Malia and Sasha are going to read to you guys. And then we're going to meet with a group of expectant mothers a little bit later on.
So I want to thank all the organizations who helped put today together -- the USO, Disney, -- yes -- (applause) -- one of my favorite organizations, Blue Star Families, and so many others who helped make this day possible. So let's give them all a round of applause for all they've done for you all today. (Applause.)
But here's the thing -- I know that this can't just be a one-day event. We've got to be serving you not just when the First Lady comes to visit, but every single day of every single year. So on top of saying thank you, I want to put a call out to Americans -– especially our businesses that operate overseas. I want to ask them what they can do to serve your families.
So I'm asking folks, can you donate plane tickets to help families get home for milestones or emergencies? (Applause.) Is there anybody out there ready to do that? Can you find a new way to connect our young people to their friends back home? Can you connect with organizations that are already reaching out to our families overseas and give them even more support?
There are so many ways for the rest of us to give back to all of you who have given us so much. So I'm going to keep working to serve all of you as First Lady –- and trust me, long after I leave this office. And I'm going to make sure that whoever follows us in the White House makes your families a priority; that they raise the bar and they do way more than we ever accomplished. We want to keep raising the bar on this issue.
So that's my pledge to you. Because we owe such --
AUDIENCE MEMBER: We love you!
MRS. OBAMA: We love you! And we're so proud of you -- proud, you know? These kids are sacrificing. And I try to tell them that what they're going through is going to make them so strong and so resilient. And they've got great parents and great families who support them. And we try to do that at our home, lift up our kids, give them love and support. And you guys are modeling that all the way across the ocean. So we are proud of you.
So we're going to keep working. Today we're going to have some fun. So from my family to yours, thank you. Thank you. Thank you. Enjoy this day. We love you.
God bless you. God bless the United States of America. (Applause.)
Michelle Obama, Remarks by the First Lady at USAG Vicenza Base Family Day in Vicenza, Italy Online by Gerhard Peters and John T. Woolley, The American Presidency Project https://www.presidency.ucsb.edu/node/321826