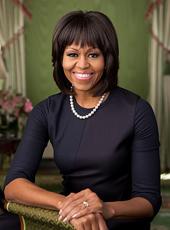 Remarks by the First Lady at a United We Serve Event
MRS. OBAMA: Well, thank you everybody. Thank you, Michael. I want to thank Colonel Laura Richardson, the Ft. McNair Base Commander, for her service and for helping make this day possible. It is so good to see all of you here. We said we'd do it, right? (Applause.) And we're here. (Applause.)
A little while ago we did some other service together. We were able to work at the food bank and get some bags packed, and now we're doing this wonderful work for the children of our servicemen and women who are going to get to go to camp. And I think we've got some great letters, good healthy snacks, a Bo baseball card, which -- (laughter) --
THE PRESIDENT: Very important.
MRS. OBAMA: -- is very important. (Laughter and applause.) And our hope is that we can get 15,000 of these backpacks packed today. And it's just a thrill to see you. We've brought our daughters. Malia and Sasha are going to be here helping out. And it's just wonderful to see you all here again.
There's so much that we can do. This is a part of one of the efforts we've launched -- actually, I helped to launch on Monday -- "United We Serve," where we're asking every single American to think about a way that they can serve. I joined Maria Shriver in San Francisco when we did -- helped to build a play lot, and today we're continuing the service here with all of you.
And the hope is that you go back to your home states, to your communities, and you encourage your family, friends, constituents to find ways to continue to serve. And I am just so delighted to see all of you all here.
And once we get through with our work today, then we'll be able to have a little fun. We've got a great picnic planned, a little luau, with some great hula dancers and tiki torches and all that good stuff. (Applause.)
So you guys have a great time. And it is my honor to introduce my husband, the President of the United States, Barack Obama. (Applause.)
Michelle Obama, Remarks by the First Lady at a United We Serve Event Online by Gerhard Peters and John T. Woolley, The American Presidency Project https://www.presidency.ucsb.edu/node/323746