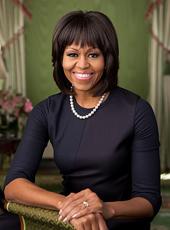 Remarks by the First Lady at the Woodmark Group's Children Circle of Care Luncheon
MRS. OBAMA: You all, thank you so much. (Applause.) Oh, my goodness! Wow. Well, hi. (Laughter.) I'm Michelle Obama, as you heard from Rylie. (Laughter.) It is such a pleasure to be here today at the Woodmark Children's Forum as you celebrate the 25th anniversary of The Woodmark Group, and the 20th anniversary of Children's Circle of Care.
Of course, I have to start by thanking Rylie for that -- that kid is amazing, all right? (Applause.) You're looking in the back, you see the little head -- her little head just right here. (Laughter.) She's a tough act to follow. I could listen to her all day. But I just want Rylie to know that the President and I, that we're so proud of her, and we're inspired by kids like Rylie. And we think she's going to make a fabulous veterinarian -- in fact, I invited her over to the White House; I wanted her to check out Bo and Sunny. (Laughter.) I think that will be the future -- I think her vet needs to look out. Rylie's preparing to take his place. But she's just terrific. Let's give Rylie another round of applause. (Applause.)
And I also have to recognize Rylie's extraordinary parents, Kelly and Tracie. And I particularly want to recognize Kelly for his outstanding service to our country. So let's give the entire Richards family another round of applause. (Applause.)
And of course, I want to thank Bret for MC-ing this event today and for his passionate support of this important cause. And I had a chance to meet Bret's son, Paul, who is here with us as well -– where's Paul? He's pretty -- there you go. So handsome. (Applause.) We're so very proud of him as well. He's going to have a great summer hanging out on the beach. I told him to think of me while he's out there. (Laughter.) He's probably earned it, right? Especially wearing that suit today. (Laughter.)
And of course, most of all, I want to thank all of you for your extraordinary support of so many of our leading children's hospitals. Over the past six years as First Lady, I've had the privilege of visiting children's hospitals across this country, including Boston's Children's, where -- yay! -- (applause) -- where I had the chance to meet with kids who had been injured in the Boston marathon bombing; Children's National Medical Center right here in D.C. -- shout out there, don't be shy -- (applause) -- where, as Rylie mentioned, I go there every holiday season, and I get to read to the kids and they get to ask me great questions and give me suggestions about gifts I should give the President. (Laughter.) One year it was a hot tub -- you remember that? (Laughter.) It was a hot tub. That's what he needed. (Laughter.)
And often, I get to bring Bo and Sunny -- every time I come. I don't think I would be let in without Bo and Sunny. And Sunny has made her way through. She's gotten adapted, and she -- Bo used to bark at Santa. (Laughter.) Yes, I know, that was bad. So we started introducing him to Santa before we went out there. I think he thought Santa was a threat -- and who could blame him? (Laughter.) I mean, the beard, the -- all that was kind of throwing him off. But they're a huge hit, and they pretty much steal the show every year.
And as many of you may know, long before I came to Washington, I served as vice president of a hospital with a very strong children's component. So I have a real passion for the work that you all do, and I have a real, on-the-ground understanding of the impact that you have. I've seen it in the faces of kids like Rylie who are beating cancers like leukemia and who are living longer than ever before with illnesses like cystic fibrosis, because we all know that these advances are made possible by the research you all fund.
I've seen the resources you provide for the families –- equipping hospital rooms so that parents can stay by their children's side, transforming these sterile hospital wards into warm, child-friendly havens, giving kids the support they need to keep up in school, and so much more. I could go on and on and on.
And perhaps most important of all, I've seen how these hospitals never turn a child away because their parents can't afford to pay, so that even kids from the lowest-income families can get the highest quality of care. And all of this happens because people like you dig deep and provide the resources these hospitals need to care for all of our children -– not just advantaged kids, not just kids in certain areas, but all our kids. And I've seen the power of your efforts not just as First Lady or as a hospital executive, but also as a mom.
See, one day -- and we don't share this story often -- but one day about 14 years ago -- Sasha turned 14 yesterday -- I know. I know. (Laughter.) But when she was just an infant, I remember she started crying inconsolably, and she continued for hours. Now, you think, okay, babies cry. But this was something that this baby had never really done before, so I knew that something was wrong. And when I called our pediatrician, he told me to take her temperature. And it was high –- it was so high that he told us to take her straight to the emergency room, no questions asked.
So we rushed to our children's hospital, and it's a good thing because it turned out that Sasha had a form of meningitis. And for those long days, we watched doctors and nurses running in and out of her room, sticking our little baby girl with needles and doing everything they could to make her better.
So as you can imagine, we were absolutely terrified. But we were also so incredibly lucky, because there was a treatment for our daughter's condition, and the kind of treatment that scientists discover when folks like you fund their research. We were also lucky because we had health insurance, so we didn't spend a single minute worrying about the high cost of our daughter's care.
And finally, we were lucky because the hospital provided everything we needed to stay right by our little baby girl's side every hour that she struggled to get better. And I'm here today because I believe that every child in this country deserves the quality of care that our daughter received, and I believe that every family in this country deserves the peace of mind of knowing that if, God forbid, their child gets sick, they won't go broke paying for her care. (Applause.)
And more than anything else, that is truly the mission of this organization. That's what you all are fighting for every single day. And that's also my husband's mission as President of the United States. In fact, that was the driving force, really, behind the Affordable Care Act -- to make sure that everyone in this country can get the health care they need, including our kids.
For example, as many of you probably know, my husband made sure that the Affordable Care Act would prohibit insurance companies from putting lifetime caps on coverage. He did that because he believes, like we all believe, that kids like Rylie and like Paul shouldn't run out of health care before they even reach middle school. That's just unconscionable. That's not who we are as a country.
And I think the President said it best when he said, "This is our first task, caring for our children. It's our first job. If we don't get that right, we don't get anything right. That's how, as a society, we will be judged." And with your support for children's hospitals through Children's Circle of Care, you all have truly decided to own that task. You all have made that "first job" your job.
And on behalf of myself and my husband, I want you all to know how grateful we are for your passion, your dedication, your generosity. Both as President and as First Lady, and as parents, we know the difference you all are making for so many kids and families. And today, I want to once again thank you for everything that you have done and everything you will continue to do to support children's hospitals in the years ahead. And I'll be right there visiting and bringing Bo and Sunny, and doing whatever I can to put smiles on the faces of kids like Rylie and Paul and their wonderful families that you serve so well.
So thank you all so much. God bless.
Michelle Obama, Remarks by the First Lady at the Woodmark Group's Children Circle of Care Luncheon Online by Gerhard Peters and John T. Woolley, The American Presidency Project https://www.presidency.ucsb.edu/node/321864