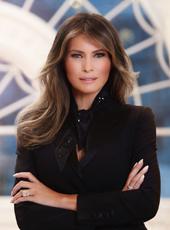 Remarks by the First Lady at the White House Opioids Summit
MRS. TRUMP: Good afternoon. Thank you all for being here today. I want to be here to personally tell each of you that what I [you] do today, it matters.
Everyone in this room knows that our country is in the middle of the opioid crisis. And I'm so proud of the work that this administration has already done to combat this epidemic. We all know there is still much work to be done, which is why you're all here today.
I know one panel will focus on the supply side of this crisis, and the other panel will focus on the prevention, treatment, and recovery. Our unified goal is that of helping all who have been affected by drug addiction. And, for me, that means focusing on babies and young mothers, which is something I have been often seeing in my travels.
I want to read some of a letter I received from a woman named Betty Henderson, a mother who lost her son to drugs. She wrote this letter to me just one month after her son passed away. Ms. Henderson is here with us today. Betty, please join me. (Applause.)
"Dear Mrs. Trump,
On September 22, 2017, a needle took the life of my 29-year-old son, Billy. The day after my son's death, I had to go to the medical examiner's office to claim his body. No mother should ever have to claim their child's body. I'm sure that you as a mother would have some understanding of the depths of despair that I experienced on that day.
Mrs. Trump, I'm asking for your help in claiming these lost souls before drugs take them from this Earth. I pray that we give peace to families in knowing that they told their loved ones how much they are treasured."
Betty, thank you for having the strength to reach out in the midst of your grief. Your story touched me, and I know it has now touched everyone in this room. Just as you said in your letter to me, let us all take a moment now and celebrate your son's life. Thank you very much. (Applause.)
MS. HENDERSON: Thank you.
MRS. TRUMP: Let's all keep Betty and her son, Billy, in mind today as you are working through some of the issues related to the opioid epidemic. Sadly, she is not alone in her grief, and we need to change that.
Thank you again for your hard work and commitment to this topic. You are all making a real difference, and I look forward to hearing the important action items that everyone will take away from today's summit.
Thank you all. God bless you. And God bless the United States of America. Thank you. (Applause.)
Melania Trump, Remarks by the First Lady at the White House Opioids Summit Online by Gerhard Peters and John T. Woolley, The American Presidency Project https://www.presidency.ucsb.edu/node/336173